Apple refreshed its MacBook Pro line of laptop computers and introduced two new processors Monday at an online event.
The company also introduced a new version of its AirPods wireless earbuds, added a low-cost tier to its music service, and brightened up its HomePod smart speaker line with some new colors.
The new MacBook Pros are offered in 14-inch (US$1,999) and 16-inch ($2,499) models. Both have Liquid Retina XDR displays.
Two new processors were also unveiled by Apple. The M1 Pro supports up to a 10-core CPU and 16-core GPU, as well as up to 32 GB of unified memory. The M1 Max supports a 10-core CPU, up to 32-core GPU, and 64GB of unified memory.
Apple claims that the new Macs can get up to 21 hours of battery life.
On the connectivity front, the units have an HDMI port, three Thunderbolt 4 ports, an SD card reader, and a headphone jack.
The much-maligned Touchbar has been replaced by function keys on the laptops.
"In some ways, Apple has gone retro with the new Macs," observed Kevin Krewell, a principal analyst with Tirias Research, a national high-tech research and advisory firm.
"They brought back MagSafe. They brought backports — an HDMI port and SD card port –, and the Touchbar is gone," he told TechNewsWorld.
Stunning Performance
The retro changes may mark a change in attitude by Apple, Krewell continued. "They seem to be more sensitive to feedback from their customers that some of their innovations were actually not that innovative," he said.
Krewell added that Apple's obsession with ultra-thinness also seems to be gone. "There must be some changes in the Apple design group because they're not obsessed with making things as thin as possible. They're actually focused on functionality over form," he maintained.
Tim Bajarin, president of Creative Strategies, a technology advisory firm in Campbell, Calif., noted the new M1 processors give Apple's laptops a leg up on Windows-based laptops.
"What they've done with the M1 chip is significant," he told TechNewsWorld. "They have put themselves so ahead of the PC processor guys because of what they've done with advancing performance while lowering the energy draw."
"They're creating the highest level of performance, with 70 percent less power draw," he said. "That is stunning."
"With these MacBooks, Apple is getting more ambitious with their silicon," added Mark N. Vena, president and principal analyst at SmartTechResearch, a technology advisory firm in San Jose, Calif.
"They're competing very strongly against x86 processors," he told TechNewsWorld. "In many cases, they will exceed the performance of those processors because macOS is optimized for Apple's processors. That's hard for Intel to do because OEMs create so many flavors of Windows."
Catering to Creators
Ross Rubin, the principal analyst at Reticle Research, a consumer technology advisory firm in New York City, explained that the new MacBooks are promising the performance of a leading PC laptop with discrete graphics but with a fraction of the power consumption.
"Applications that take advantage of rendering and intensive computational tasks can be done on battery power much longer than on a PC because PCs have to cut back on performance when using battery power," he told TechNewsWorld.
Bob O'Donnell, founder and chief analyst at Technalysis Research, a technology market research and consulting firm in Foster City, Calif., noted that the new MacBooks look impressive.
"The benchmark numbers Apple threw out there looked great," he told TechNewsWorld. "It'll be interesting to see how other people benchmark it."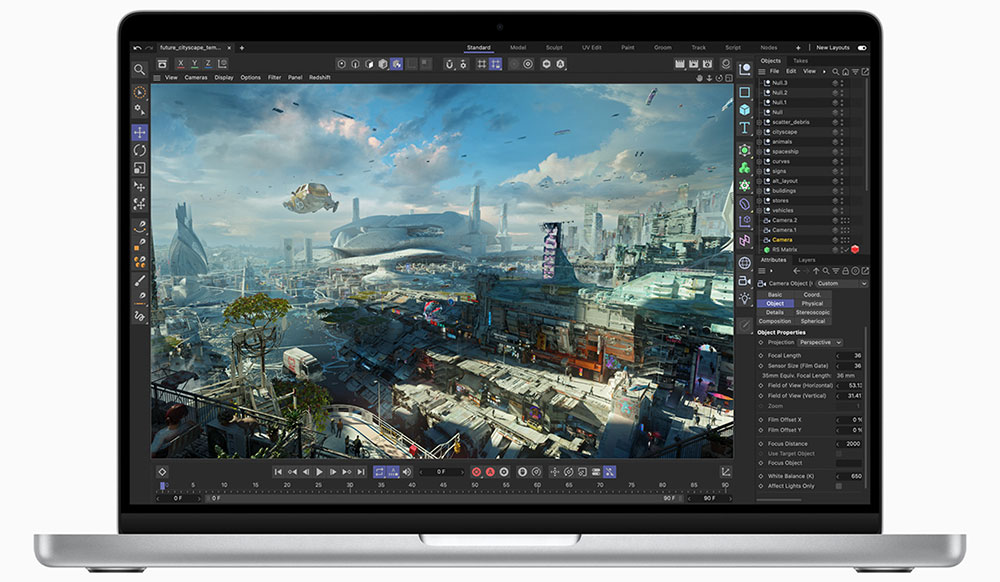 The new MacBook Pro delivers huge performance gains for even the most demanding of workflows.
---
Bajarin acknowledged that the new MacBooks are not a mass-market item. "These are for creatives — people making movies, games, and audio recordings," he explained.
He estimated that Apple sells about seven million laptops per quarter. Only about a million of them are sold to creatives.
Not for Gamers
"With the iPhone and iPad, the pro versions of those products offer features that non-creatives can find value in," observed Rubin. "That is less the case with the MacBook Pros. The processing power is so beyond what the average user would need."
Laptops with the processing power and graphics capabilities of the new MacBooks would attract a gaming following in the Windows world, but that's unlikely with the new Apple laptops, Rubin maintained.
"We didn't hear a word about games for the Mac because even machines as powerful as these aren't going to attract a lot of high-end games," he said. "The volume of Macs is too low to be a target for those developers."
The new MacBooks can support a lot of memory, but Krewell cautioned buyers to be careful when considering how much memory they want with their new laptop.
"The downside to unified memory is it isn't upgradable," he explained. "When you buy a MacBook Pro with 32 gigabytes of memory, that's all you're going to ever have. You can't upgrade."
With the new chips, Apple seems to be avoiding a big mistake made by PC makers, Vena noted.
"Over the last 25 years, Intel, and to a lesser extent AMD, have come out with too many clock speeds," he said.
"Clock speeds confuse consumers, especially if there are only minor differences in the chips," he continued. "Apple is keeping things nice and clean. They have the M1, M1 Pro, and M1 Max. Good, better, best. That model has been around forever. People understand it."
Disruptive Music Offering
Apple introduced a new version of its AirPods, which will sell for $179.
The new AirPods look similar to the pricier AirPods Pro and support spatial audio, Adaptive EQ, longer battery life, and are sweat and water-resistant.
"If you like the AirPods Pro look and feel but don't care about noise cancellation, it could be a good fit for you," Rubin said.
"They're a significant step above the entry-level model, even without noise cancellation, because of the support for spatial audio and new sensors," Bajarin added.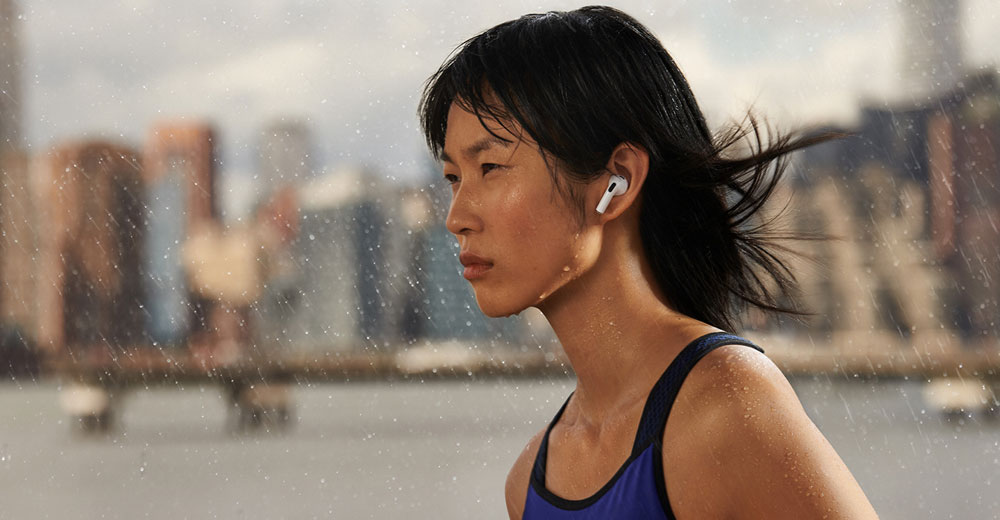 Apple says its new AirPods are resistant to both sweat and water, with an IPX4 rating for both the earbuds and the case.
---
O'Donnell noted that Adaptive EQ can make a difference in the quality of the audio you experience; although it's one of those things that sounds great in theory but in the real world may not be that noticeable to some people.
"Spatial audio is very cool," he added. "The problem is that for spatial audio to have a real impact, music has to be remixed. That's a big effort, and there's very little audio that's been premixed for spatial audio."
Apple also introduced Voice Plan ($4.99 a month), which allows subscribers to access Apple Music's catalog via the company's digital assistant Siri.
"It could be disruptive because they're offering really good value for a robust music service," Rubin maintained. "It's the biggest news in Apple Music since its launch."
In addition, Apple has added three new colors — yellow, orange, and blue — to its HomePod mini line.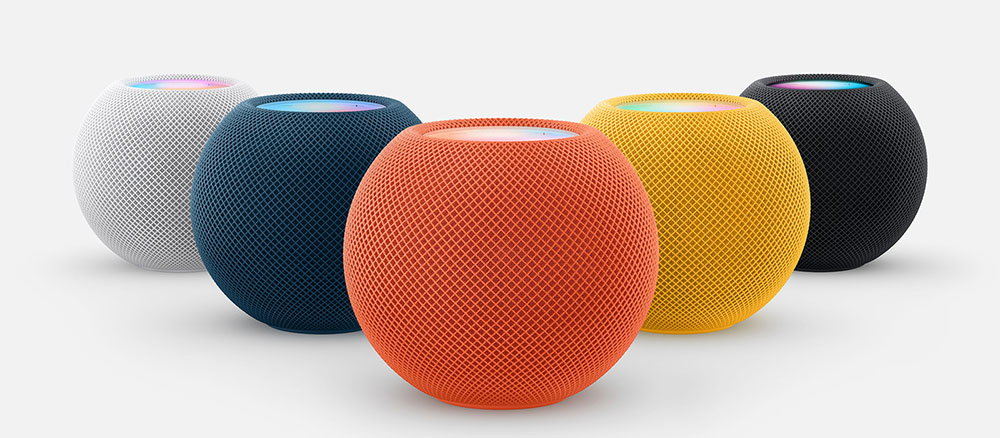 "Offering more colors is just meeting demand," Bajarin said. "They have a lot of demand for colors. If you want to put one in a kid's bedroom, for example, they don't want white or gray. Kids want color."