If there is one vendor on the planet that has the capability to fight Apple — on paper, it is Lenovo. Lenovo this week will hold its annual Lenovo Tech World event in China, showcasing the company's new breadth.
While it would be easy to position this as the U.S. (Apple) against China (Lenovo ), Lenovo is actually far more of a multinational company, with executives balanced between the U.S. and China, and with strong alliances with both Microsoft and Google.
This will not only be a battle between companies, but also between approaches to the market, and it's worth watching.
I'll go deeper into that and then close with my product of the week: the first MU-MIMO router I've got in to test the Linksys EA8500 with performance beyond anything you've seen before.
Apple vs. Lenovo
Apple and Lenovo have some rather distinct differences as well as similarities that make this battle fascinating to watch. Apple was really the only firm that had strengths in PCs, tablets and smartphones before Lenovo reinvested in smartphones in China (it had previously divested that unit) and bought Motorola.
The iPhone really has only one real competitor, Android, and the phone Google most aggressively promotes is the Nexus 6, which is currently made by Lenovo's Motorola division.
Apple went through a massively successful rebirth — largely due to Steve Jobs, who became the face of the company and had a unique ability to get us to see magical aspects in a product. No one else has replicated that part, but Lenovo is the only vendor that actually is trying to, with Ashton Kutcher.
Kutcher studied engineering — though, like Jobs, he never graduated as an engineer — and he played Jobs in the first movie about his life.
Apple's PCs are iconic and highly regarded with unique and highly differentiated designs. Lenovo bought the PC company from IBM. That got it the ThinkPad, which uses an even more consistent design language than Apple does, and it is equally well regarded in business circles.
Apple has a big retail presence in the U.S. and stores in Europe and Asia, unique among PC vendors in the states. Lenovo has a large retail presence in Asia and Europe, though it hasn't really begun to establish a significant retail presence in the U.S.
Apple is a massive marketing powerhouse with broad media spend. Lenovo CMO David Roman came from Apple and is famous for his creative use of limited budgets.
Apple is known for being insular and very hard to partner with. Lenovo has broad, active partnerships with Google, Microsoft, EMC and even IBM.
Apple's largest recent failure is the Apple server Lenovo acquired IBM's x86 division and instantly became a power in the server business.
Apple has powerful services in the cloud. Lenovo leverages the cloud services of partners like Microsoft.
Apple has a narrow and limited product portfolio of mostly luxury-class offerings using the power of marketing to convince people that what Apple has is what they want. Lenovo has a broad portfolio of products attempting to match what people believe they want with a more focused offering.
I should point out that Apple appears to be increasing diversity, while Lenovo has been focused on consolidating.
Who Wins?
I think this is the interesting part. Apple is winning — it remains the most powerful, profitable, and desirable company in the world. Lenovo is big, but not really in contention right now for that top spot.
To get there, it would have to develop far larger profit margins and spend much more on marketing. Apple went into decline about five to seven years after Jobs' departure without his leadership to keep the firm focused. However, that is a data point of one, and one data point does not a trend make.
Apple's biggest problem is remaining on top. This isn't trivial, because typically you get a major technology change every decade or so that puts the leader at high risk.
Lenovo's big issue, initially, is completing two massive mergers (Motorola and IBM's server group). Eventually it will be finding synergy across what is now a very diverse company, and getting out of the middle of the nasty U.S. vs. China technology fight.
Apple eventually will fall. Every leading company has — but there is no certainty that Lenovo ever can achieve Apple's margins. However, if Lenovo can complete the mergers successfully — and this event suggests it is close — that should give it a far more diverse revenue stream with a large part in the far more stable professional IT market.
In the meantime, Apple for the most part will remain a consumer vendor — though its IBM partnership is designed to change that.
Diversity makes Lenovo, at present, more resistant to complete failure. Lenovo has more short-term risk, but Apple's long-term risk can be avoided only if it eventually diversifies. Apple wisely killed its TV offering and is looking, as Google is, into cars. Tesla uses Apple's model and is a showcase that it works very well with cars.
If Apple Falls…
I'd put it this way: If Apple falls — and this outcome is anything but certain — then Lenovo has the greatest likelihood of emerging as the leader in most of the worldwide markets where Apple currently leads.
If Apple holds, there is no vendor — including Lenovo — that currently is structured to take its unique premium place in the market.
If these were car companies, Apple would be more like Porsche, and Lenovo like Toyota in a world where most seem to want to drive a Porsche. This also showcases that these two firms aren't mutually exclusive. Both can win or lose, irrespective of the other.
Wrapping Up: Windows 10
I'd have left it there, except for Windows 10. Like Windows 95, Windows 10 has the theoretical potential of changing the personal computing market dramatically, because it spans smartphones through PCs and scales up to the HoloLens.
Short of the HoloLens, Lenovo is the only Windows PC vendor of scale that has all of the other platforms (PCs, tablets and smartphones), and if it can create a unique offering that is both compelling and spans all of those devices, then it could change dramatically what people want.
I'm not saying that will happen — I'm just suggesting that if we were looking back from 2020 and discussing Apple's failure and Lenovo's success as facts, then the launch of Windows 10 likely would be the event we would point to as the key influencer.
Right now, I'm only saying this is possible — not that it is likely — so you Apple folks hold back on your flame mails. Still, there is no vendor better positioned to create a more compelling cross-platform Windows 10 solution than Lenovo. Those at Lenovo Tech World may see a bit of what I'm suggesting here.
That's something to noodle on this week.

The Linksys EA8500 is one of the very first MU-MIMO technology routers using Qualcomm's latest technology to ship. There have been other MU-MIMO routers, but most are still awaiting the firmware update to enable this capability; the AC2600 is the first that works out of the box.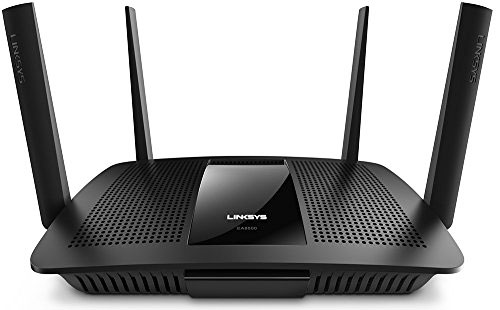 Linksys EA8500 Max-StreamAC2600 MU-MIMO Smart WiFi Router
I've been waiting for this class of router because it promises performance that approaches that of a wired gigabit router in that you basically get a dedicated data link to a compliant device. This creates a far better platform for streaming video, in particular, because you just don't get the degradation you typically get on a shared wireless network.
The problem is that for this to work, you need to have this capability at both ends. Only then do you get the big bump, which means all of my current smartphones, tablets, Fire TV boxes that use wireless, and wirelessly connected smart TVs are obsolete.
As we replace these devices, if we get devices that support MU-MIMO (typically the higher-end offerings) we should see dramatic improvements in WiFi performance.
This, by the way, suggests you might want to hold back and wait to buy a new streaming media player until it supports MU-MIMO, to make sure it doesn't become prematurely obsolete — but only if you are going to connect it wirelessly. (In my case, fortunately, I've already pulled Ethernet to most of this stuff so I'm good).
That points out one immediate benefit to using two of these routers, with the second configured as a bridge. You get wired-level performance without having to pull wire.
At US$279 retail, the price is in line with other high-end wireless routers. It is wall mountable, and it is attractive. Setup is about as easy as I've ever seen — it improves sharply on what I've seen with other routers in this class.
If you are thinking of a new high-end router and want to get ahead of the technology curve, you'll want to consider MU-MIMO and this Linksys EA8500. It has been a pleasant surprise, and it's my product of the week.