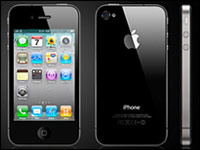 At a hastily called press conference on Friday, Apple chairman and CEO Steve Jobs offered free cases to all iPhone 4 users to make amends for widespread complaints about the design of the smartphone's antenna, which causes it to lose signal strength when the phone is held a certain way without a case.
Users who have already bought Apple's cases, called "Bumpers," will get the US$30 price refunded.
Jobs also said that iPhone 4 owners who are still unhappy with the device can exchange them for full refunds.
Spreading the Happiness
Every iPhone 4 buyer will get a free case, Jobs announced. However, not all cases will be Apple's Bumpers because the company can't make enough. So it will source some other cases and give users a choice.
Owners of iPhone 4s will be able to apply for a free case on Apple's website starting late next week, Jobs said. People who have already purchased their own Bumpers will get a refund. The offer applies to every iPhone 4 purchased through Sept. 30.
Customers who are still dissatisfied can get a full refund for their iPhone 4 provided they bring it back undamaged within 30 days of the purchase.
There will be no restocking fee.
We're Good but Not Perfect
Jobs began his speech with a disclaimer.
"You know we're not perfect," he said. "And phones aren't perfect either."
However, he pointed out that Apple has sold well over 3 million iPhone 4s since it was launched three weeks ago and that the device has had the highest customer satisfaction rating of any iPhone or smartphone.
Only 0.55 percent of iPhone 4 customers have called AppleCare complaining about their antenna, Jobs said. Further, the return rate for the iPhone 4 at AT&T is only 1.7 percent, as compared to the 6 percent return rate chalked up by the iPhone 3GS, he pointed out.
Even the call-drop rates for the iPhone 4 aren't as bad as reported, Jobs remarked.
The data shows that the iPhone 4 drops more calls per hundred than the iPhone 3GS, Jobs explained. However, the iPhone 4 drops about one call more per hundred than the iPhone 3GS, he said.
Let's Get Together and Feel Not All Right
Jobs also pointed out that other smartphone owners experience poor reception when they hold their devices in a certain way, just as iPhone 4 owners do. These devices include the BlackBerry Bold 9700 and the HTC Droid Eris, he pointed out.
The problem is not unique to the iPhone 4, and most smartphones behave exactly the same way, he said. It's a challenge for the entire industry.
The problem is partly the Federal Communications Commission's fault, Chris Hazelton, a research director at the 451 Group, told MacNewsWorld.
"This is a design flaw that impacts other smartphones, and it's partly due to the mandate by the FCC that the antenna needs to be as far away from the user's brain as possible," Hazelton explained.
"Apple did expose an issue that exists throughout the industry," Maribel Lopez, principal analyst and founder of Lopez Research, told MacNewsWorld. "I think they should've waited to release the phone but I understand how they weren't sure how big an issue this would become."
Solving the Problem
Apple released iOS 4.0.1 on Thursday to fix one problem with the iPhone 4 — the faulty rendering of signal strength on the display, Jobs pointed out. It also fixed a "nasty" bug for Microsoft exchange, he said.
Apple is also working on fixing some problems it found with the iPhone 4's proximity sensor.
This is on top of the refunds and free case offers.
Jobs also said Apple was "stunned and upset and embarrassed" by the comments from Consumer Reports, which earlier this week refused to endorse the iPhone 4 because of its reception problems. The publication called on Apple to take action.
"Consumers deserve answers and fairness," Consumer Reports spokesperson Lauren Hackett said about Jobs' speech. "Providing free Bumpers and cases is a good first step toward Apple identifying and finding a solution for the signal-loss problem of the iPhone 4."
It Don't Come Easy
The free cases will cost Apple quite a pretty penny.
"If 20 percent of the 3 million iPhone 4 purchasers left the store with a $30 Bumper, that will come up to $18 million in refunds alone," Lopez pointed out. "But at the end of the day, Apple will have done the right thing, although it will probably have to pay only $5 to $10 a case."
Apple is doing everything it can short of issuing a recall, the 451 Group's Hazelton said.
"A recall at this point wouldn't help because Apple has nothing else to provide," Hazelton explained. "It's in a tough spot but this whole thing is an issue because Apple is a huge target, there are lots of people out there using its very expensive product, and it has a very high level of expectations."
As Apple continues to grow, it may find itself under an ever-harsher limelight.
"Everybody loves a failure after a string of successes," Carl Howe, director of anywhere consumer research at the Yankee Group, told MacNewsWorld. "As Apple becomes the largest technology company in the world, the environment will probably become more hostile to it."
However, the company seems to have learned its lessons well, Howe pointed out.
Jobs' speech was "classic brand protection," Howe remarked. "You admit that you have a problem, you put out the facts as you see them, you recognize that not everyone will agree with you and you make them feel good anyway," he explained.
"Apple's clearly managing the situation well."