Apple on Monday kicked off its Worldwide Developers Conference with the biggest-ever release of its iOS mobile operating system.
CEO Tim Cook called iOS 10, coming this fall, "gigantic" and "the mother of all releases."
Among the new offerings in the upcoming version of iOS are more features in Messaging, all new designs for News, Music and Photos, and increased opportunities for developers to integrate their apps with Siri, Maps and Messages.
"Long term, the most interesting thing is the fact that Apple opened up Siri and Messaging and Maps to developers to add to those services," said conference attendee Bob O'Donnell, chief analyst at Technalysis Research.
"It reflects the way the world is moving. It's moving away from standalone apps and into integration with services," he told TechNewsWorld. "Apple is acknowledging that by opening these things up for other developers to provide add-on functionality for these services."
Smarter QuickType
The new iOS enhances the user experience at the lock screen and home screen with rich notifications, as well as interaction with apps through the expanded use of 3D touch.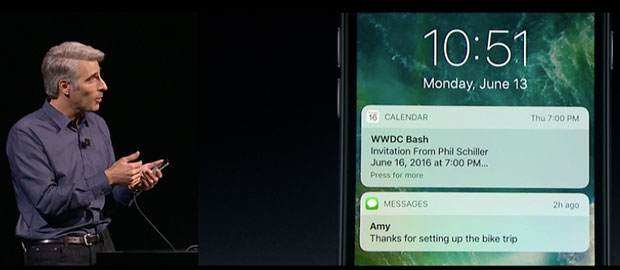 QuickType received an upgrade in the new iOS.
"We're bringing Siri intelligence to the keyboard," Craig Federighi, Apple's senior vice president for software engineering, told the audience at the Bill Graham Civic Auditorium in San Francisco.
QuickType has incorporated deep learning to produce more intelligent results and to react proactively to information on a screen, he explained. If someone sends you a message asking where you are, for instance, you may be prompted to send a map.
The photo app in the new iOS is more robust with the addition of facial recognition, as well as scene and object identification.
Advanced search techniques support a "memories" feature that automatically will scan your photos to create a montage and video of a past event.
The Maps app in the new iOS, which Apple has opened to developers, will be more proactive. It not only will allow you to see traffic patterns ahead, but also will suggest alternative routes if it sees you're heading into a traffic jam.
New Messaging Features
Both the News and Music apps are redesigned in the new iOS, and a new Home app is included in the portfolio of native apps. Home acts as a hub for controlling all home accessories — garage door, security camera, light dimmers and such.
The new iOS adds voice mail transcription to its Phone app and numerous new features to Apple's messaging app, including rich links, easier insertion of photos and video into messages, and larger emojis. Messages also will display highlighted text that can be clicked for quick insertion of emojis.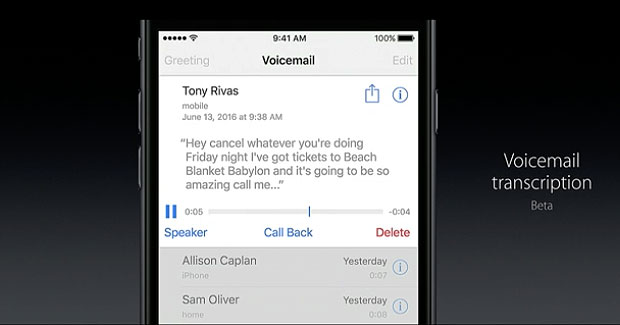 "Apple has added a ton of features for people who like to live in their messaging platforms, said conference attendee Patrick Moorhead. principal analyst at Moor Insights and Strategy.
"That's particularly true in China, where they get into WeChat and they never want to leave," he told TechNewsWorld.
Better Watch
In addition to previewing the new iOS, Apple revealed changes in WatchOS, tvOS and its desktop operating system, renamed "MacOS."
The new WatchOS improves the Apple Watch's performance and makes navigation and access to apps easier.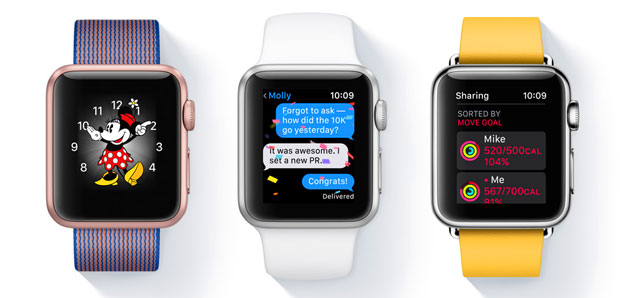 "If the experience is as good as they showed on stage today, Apple could start selling a lot more watches," Moorhead said.
Apple announced a number of channel additions to the new tvOS and a new single sign-on feature that eliminates the need to enter user credentials every time you access a service through Apple TV. It also announced an app that allows an iPhone to be used like an Apple TV remote, including access to Siri.
The new MacOS Sierra provides access to both Siri and Apple Pay. It includes picture-in-picture video, a desktop everywhere feature for accessing a Mac's desktop across devices, and a universal clipboard that allows items to be cut and pasted across devices.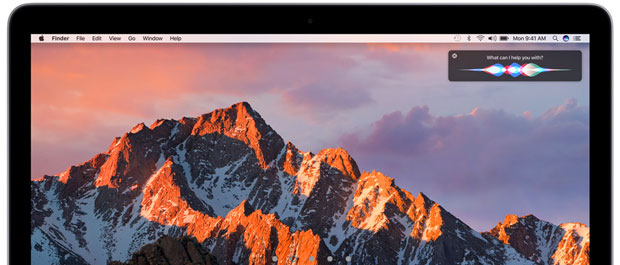 "One of Apple's main goals in this year's WWDC keynote was to open developers' eyes to opportunities beyond the iPhone," said conference attendee Charles King, principal analyst at Pund-IT.
"That's a critical issue, since faltering sales for smartphones — including Apple's — have got to be a prime concern among Apple developers," he told TechNewsWorld.
"So we saw the company announce the integration of key phone technologies, like Siri and Apple Pay, in Mac desktops and laptops. That could spark new opportunities for developers," King noted.
"Many of the other announcements — the iOS updates, design fixes for Apple Music and Apple TV, and promises of software fixes that will make the Apple Watch more responsive — were more in the line of necessary and often badly needed housekeeping," he said. "The main takeaway from the keynote is that Apple recognizes the value developers bring to the company's business, and will do all it can to keep them happy and profitable."