Aptera, a developer of a futuristic-looking, solar-powered passenger car, has pulled the wraps off its first production vehicle, which it says will be rolling off the assembly line this year.
According to the company, the all-wheel-drive, three-wheeled, two-passenger vehicle will have a range of 400 miles, can sprint to 60 mph in four seconds, and has a top speed of 101 mph.
Although designed to draw most of its power from the sun, the Aptera vehicle can also be charged from a standard 120-volt outlet.
In a location with very high sun exposure like Southern California, the average American driver would never have to plug in, based on the daily average of 29 miles, the company explained in a news release.
In locations with medium sun exposure, such as New York or Chicago, drivers may need to plug in about three times a year. At 13 mph, an overnight charge should last 150 miles.
Meanwhile, Lightyear, developer of a more conventional-looking passenger car, on Monday announced it was suspending production of its US$250,000 Lightyear 0 solar-powered vehicle and redirecting its resources on its Lightyear 2 product, which is expected to start selling at just under $40,000 and have a range of 500 miles.
"Recently, we launched a waitlist for Lightyear 2, resulting in more than 40,000 subscriptions of individual customers, and we already had approximately 20,000 pre-orders from fleet owners," Lightyear CEO and Co-founder Lex Hoefsloot said in a statement.
"We hope to conclude some key investments in the coming weeks in order to scale up to Lightyear 2, an affordable solar electric vehicle available for a wider audience," he added.
'Ambitious' Goal
Chris Jones, chief analyst at Canalys, a global market research company, explained that Lightyear 0 was always only a showcase for what's possible with solar and expected to be delivered to a few hundred customers.
"It was hoped these influential, wealthy, early adopter customers would become evangelists to help build awareness for what is a new vehicle category," Jones told TechNewsWorld.
"The second model from Lightyear will be priced in the sweet spot for EVs for its planned 2025 launch," he said. "We'll get the full reveal this year, but crucially it's a five-seater car — and it looks like a car."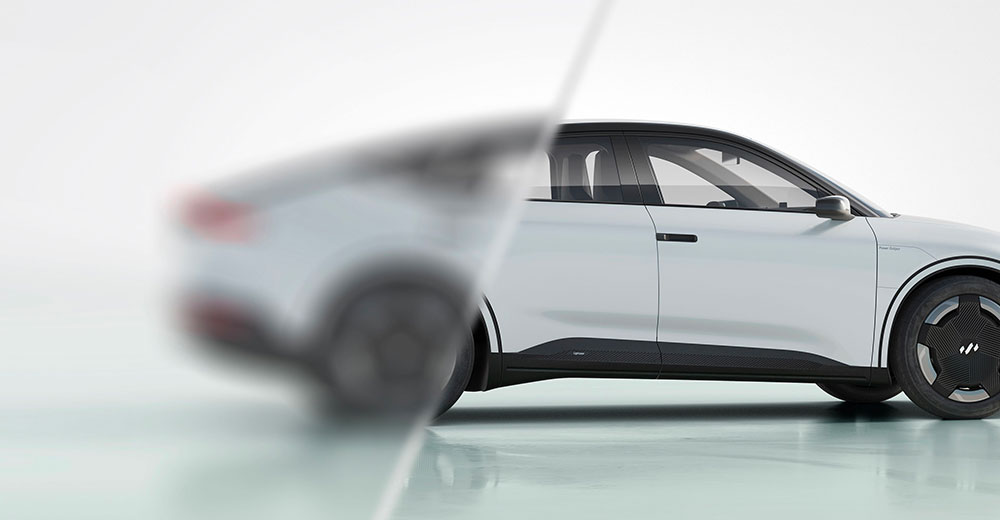 Lightyear has opened the waitlist for its second production model, the Lightyear 2. So far, the company is pulling back the curtain slowly to reveal what the vehicle will look like.  (Image Credit: Lightyear)
---
"Aptera, on the other hand, has gone for a less-traditional, more radical look," he continued. "It's a design that will appeal less to customers."
He called Aptera's declaration that it would be producing cars this year "ambitious," especially since it would need to get funding very soon if it wants to meet that goal.
Capital Scarcity
"2023 is a terrible time to be raising capital," observed Sam Abuelsamid, principal analyst for e-mobility at Guidehouse Insights, a market intelligence company in Detroit, who has been covering Aptera since 2007.
"Companies that are much better established are having a hard time right now, so I don't have much confidence that Aptera will get to the point of delivering any notable number of vehicles this year," Abuelsamid told TechNewsWorld.
If Aptera can start delivering SPEVs this year, it may want to deliver them outside North America.
"Some European markets and Southeast Asia are better prepared for such cars," asserted Roger C. Lanctot, director for automotive connected mobility at Strategy Analytics, a global research, advisory, and analytics firm.
France, for example, has a program called véhicule san permis, designed to allow drivers without licenses to operate vehicles with lower safety standards.
"There is a market for solar-powered vehicles, though it may not yet be a mass market," Lanctot told TechNewsWorld.
He added that Aptera would likely have to leverage car sharing to expose consumers to the concept of solar-powered transportation.
Too Many Angles
Once Aptera's vehicles make it to market, they could encounter more problems.
"Their technology is pretty much cooked, but the weight disparity and relative flimsiness of their design will create problems for them in the market," said Rob Enderle, president and principal analyst at the Enderle Group, an advisory services firm in Bend, Ore.
"The Aptera offers better protection than a motorcycle, but I expect the interest in the car will decline once the first accident occurs," he told TechNewsWorld.
Enderle maintained that solar technology needs further development before it can be used to power a vehicle that looks like a conventional automobile.
"You need to reduce the vehicle's weight and size to even have a remote chance of getting solar to work," he explained.
"The Aptiva design doesn't look like it would fare well in a multi-car collision, given how much lighter the vehicle is," he added.
---
Related: Tesla Models Still Dominate Market Despite Musk's Twitter Turmoil
---
Abuelsamid pointed out that photovoltaic cells have a peak generating efficiency with a fairly narrow angle of the sun. At more extreme angles, they generate very little energy. Since a vehicle typically doesn't have a lot of flat surfaces, the cells are at all sorts of angles, and the vehicle itself could be at an infinite number of positions relative to the sun.
"Solar cells are likely to be most useful for auxiliary power such as powering climate control and other systems to reduce load on the battery," he said. "For a small vehicle like the Aptera, it has limited useful surface area for cells, as well."
Forced To Compromise
Lanctot noted, however, that 70% of all vehicle trips are between six and 12 miles. "So solar can be a very practical solution, which is why companies like Sono Motors and Squad Mobility are getting into the business," he said.
Sono Motors, based in Germany, makes a vehicle that charges via the sun, an electrical socket, or both simultaneously. The solar range of the car is 70 miles a week, although its battery has a range of 190 miles. Its top speed is 86 mph.
Squad makes two solar-powered vehicles — a two-seater, with a maximum speed of 27 mph, and a four-seater, with a top speed of 44 mph. The range for the vehicles is 12 miles a day.
"With solar, one way or another, you are forced to compromise," Lanctot observed.
"Sono and Squad compromise on safety to deliver a lower price," he continued. "Lightyear compromised on price — super expensive — to deliver equivalent performance to ICE/EV. Aptera compromises on cosmetics — three wheels — to get to a lower price and acceptable performance, sacrificing interior space as well."
"There is a niche in the market for these vehicles — for each of them — but it is a niche with the limitations that that implies," he said.
"The Nissan Leaf was greeted with some skepticism because of its limited range when it launched, but it found a firm place in the market and remains popular," Lanctot explained.
"There is definitely a home for solar vehicles, but it likely represents tens of thousands of vehicles for Aptera, Sono, and Squad, not millions."