Archos on Wednesday unveiled a new Android tablet line, the Gen10 XS.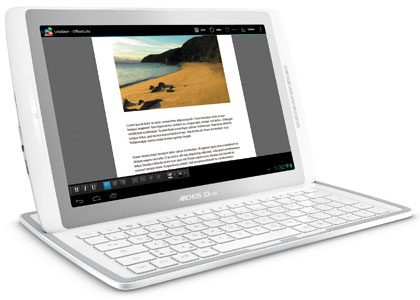 The Archos 101 XS
The first product in this family, the Archos 101 XS, is a 10-inch tablet that weighs 21 ounces and is 0.3 inches thick.
The tablet line runs an unskinned — meaning a pure — version of Android Ice Cream Sandwich and is Google-certified. It will be upgraded to Jelly Bean in Q4, Archos said.
"Only 10 or so manufacturers have Google certified devices, [including] Samsung, Asus, Acer, Motorola … and Lenovo," Craig Terblanche, Archos's director of marketing, told TechNewsWorld. That certification means Google performed more than1,000 tests on the device, on areas including the screen, operating system, battery, games, apps, movies and firmware.
Archos is using an unskinned version of Android because "we like the experience that Google has created and, by not adding layers, it is easier for us to provide OS updates later," Terblanche said.
What the Archos 101 XS Offers
The 101 XS has a 1.5 GHz smart multicore processor and comes with Gmail, Google Talk, YouTube, Google+, Google Maps and Google Drive, with 5 GB of free cloud storage.
A full version of OfficeSuite Pro 6 also comes preinstalled. This lets users work with and share Microsoft Word, Excel and PowerPoint files; open attachments; and read PDF files.
The 101 XS has a 10.1-inch screen with 1,280 by 800 resolution, 16 GB of flash memory, MicroUSB and Mini HDMI ports, and a MicroSD card slot for cards with up to 64 GB capacity. It supports WiFi and Bluetooth 4.0. The tablet also has a front-facing 1.3 MP camera for video chat.
"We don't believe tablets need back cameras," Archos's Terblanche stated. "Most users still use smartphones to take pictures."
Archos Gen 10 XS tablets have detachable magnetic covers that double as a QWERTY keyboards and magnetic kickstands. The keyboard has Chiclet-style keys and a DC socket that charges the tablet when the keyboard's plugged into the wall. It also has integrated Android shortcut keys.
Tablets in the Archos Gen10 XS come with custom media center apps for full HD video, complete codec and format support, and jackets and metadata for music and videos. They support wireless sharing over users' home networks.
The Gen 101 XS will be available in North America in November, Terblanche said. Suggested retail price will be US$400. The next items in the Gen 10 XS family will be unveiled later in Q4.
Evaluating the 101 XS
Archos has positioned the 101 XS against the market-leading iPad, but not all of the early reviews of the tablet have been kind. For example, Gizmodo's Brent Rose said that for $400, consumers could get two Nexus 7s and have a much better time.
Some critics have panned the screen, pointed out that the stainless steel used in the 101 XS is easily scratched. Some have also hit on the fact that the tablet has only one speaker and remarked that there's a bug when users try to access Gmail with the keyboard. Archos is working on to fix that.
Where's Archos Going?
"I think Archos is trying to carve out a niche that's best described as low-end Asus — it's tablet hardware that runs pure Google bits, but cheaper than the somewhat higher-touch market being staked out by Asus and others like them," Carl Howe, a vice president at the Yankee Group, told TechNewsWorld.
However, Archos is "engineering-heavy and marketing-light, which is a shame because their products have historically been some of the best in the segment," suggested Rob Enderle, principal analyst at the Enderle Group. "This one is no exception."
The integration of the keyboard into the cover "should be uniquely valuable" to end users, and this configuration, from third parties, "has been very successful with iPads," Enderle told TechNewsWorld.