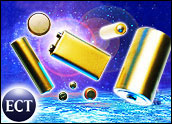 Would you like a portable power source that could run your laptop five times longer than your current batteries? How about 10 times longer?
Those kinds of run times are being dangled by the fuel cell industry before a public parched for longer-lasting power for an ever-expanding assortment of small electronic devices.
"Most micro fuel cell proponents believe that the fuel cell will replace the battery," John Goodman told TechNewsWorld. Goodman is vice president and chief technology officer for Entegris, of Chaska, Minn., a maker of components and subsystems used in fuel cells.
How soon, though, remains open to debate.
Twice the Power
"It's probably going to be two or three years before we see a migration to personal portable fuel cells, and that's optimistic," Goodman opined.
"We believe fuel cells will start appearing in consumer electronics applications at the end of 2009, the beginning of 2010," John Giolli, CFO of Millennium Cell, of Eatontown, N.J., a developer of hydrogen battery technology used to power portable applications, told TechNewsWorld.
"With the available space that a battery would occupy in a handset or a laptop," he added, "you can get roughly twice the energy out of hydrogen fuel cell than you would with a lithium ion battery."
On the laptop side, that means all-day run time — eight to 10 hours – -and for mobile phones, two to three times the talk time of a lithium ion battery, he said.
Safe Hydrogen
Millennium produces a system for fuel cells that it calls "Hydrogen On Demand."
The system uses a hydrogen-rich chemical, sodium borohydride, to produce the hydrogen needed by some fuel cells to produce energy.
The chemical is non-flammable and completely safe, Giolli maintained.
As a fuel cell demands hydrogen, he explained, a portion of the chemical is converted into that element to meet that demand.
"You only create as much gaseous hydrogen as the application needs at any one time," he explained. "It's not like having a compressed cylinder of gas on board a device."
The H-Word
That's no doubt good news to many who connect the chemical symbol "H" with Hindenburg and H-bomb.
"That perception is quite unfortunate," Jamie Holladay, a researcher with the Pacific National Northwest Laboratory in Richland, Wash., told TechNewsWorld.
"Hydrogen can be made safe," he continued. "It can be done just like we were able to make gasoline, which is a flammable fuel, [and] safe. If we take the proper precautions, we can do the same thing with hydrogen."
Energy Density
While Millennium's solution for storing hydrogen may be simple and elegant, one of its drawbacks is its energy density.
In general, fuel cells that use hydrogen extracted from methanol, or wood alcohol, produce more energy for longer periods than sodium borohydride-fueled cells, according to Ronald S. Besser, a professor in the Chemical, Biomedical and Materials Engineering department at the Stevens Institute of Technology in Hoboken, N.J.
However, designing those fuel cells can be challenging. Some of those challenges were addressed by Besser last week at a meeting in Boston of the American Chemical Society.
Heat Retention Problems
As the size of a fuel cell is reduced, heat retention becomes a problem, he explained.
"As you get smaller, it becomes more difficult to retain the thermal energy you need to process the hydrocarbon into hydrogen before you feed it to the fuel cell," he told TechNewsWorld.
To address that problem, he has created a design using cylindrical geometry to efficiently retain heat as the size of a fuel cell is reduced.
"You have the hottest temperature at the center of the cylinder and the heat radiates outwardly to different steps in the chemical process that need to operate at successively lower temperatures," he said.
Better Than Lithium
Thermal efficiency in the system is also improved by the use of aerogels, a relatively new type of insulator.
As a cost reduction measure, Besser has incorporated the use of advanced polymers in his design.
A fuel cell incorporating Besser's design with the size and power to run a laptop would have an energy density of 1,000 watt hours per kilogram. The best batteries reach 300 watt hours per kilogram — and laptop batteries are even less than that.