Artists seeking to sell their work and art lovers seeking to buy it need now go no further than their computer. With the rise in online art sales, buying and selling original art can take place entirely online.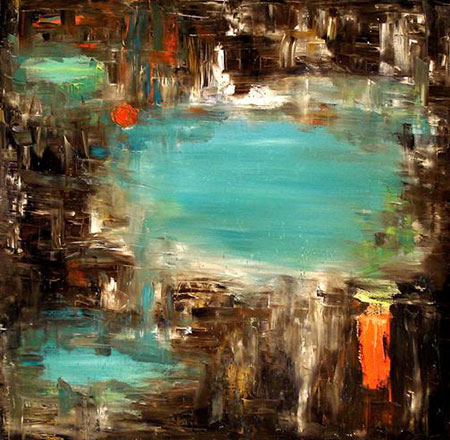 Aaron Stansberry, Marina Series 1, $2300, sold 3-15. While at The Art Institute of Portland, Aaron Stansberry studied the masters of modern art – Mark Rothko, Vincent Van Gogh, and Jackson Pollock. His paintings are inspired by these three titans, evoking similar senses of texture, emotion and grandness — but Aaron's color palette is all his own.
One such site, Ugallery, was founded by two University of Arizona college students in 2006 as a class project. Since then, the site has taken off, and it currently sells the work of over 300 emerging painters, photographers, and other artists in the U.S., Canada and Mexico.
"Ugallery gives emerging artists a place to sell their artwork and people a place to find affordable, original artwork," Stephen Tanenbaum, director of operations and cofounder of UGallery, told TechNewsWorld. "We operate like a brick-and-mortar gallery, except it's all online."
To sell on Ugallery, artists must submit information about themselves and sample images of their work. UGallery staff reviews the submissions and chooses what to offer for sale.
"If it's on Ugallery, it deserves to be in somebody's home or office," said Tanenbaum.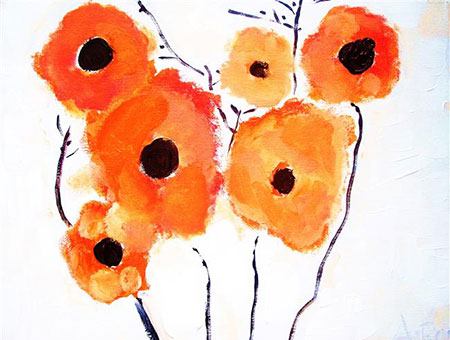 Autumn Rose, Orange Blossom, $175, sold 2-26. Autumn Rose creates delicate, slightly abstracted still lifes that recall the line work and color of Matisse. Her simple, vibrant compositions remind viewers of life's little pleasures..
Consumers interested in purchasing art on Ugallery can search by artist's name, color, size, price and style. There's even a virtual wall where a potential buyer can try out the work of art on a wall customized by size and color to see if the art will be a good fit.
Ugallery doesn't charge artists upfront fees; instead, it shares a commission with them when they sell their art. So far, the site has sold art to buyers across the U.S. and in more than 20 countries around the world.
For artists, the benefits are many, including ease of use and a risk-free way to offer their art for sale.
"From an artist's standpoint, there is no risk," said Tanenbaum. "We're always working to get their artwork and Ugallery out there."
Art Auctions
Another way that artists are reaching new potential buyers is through online auctions at sites like Artnet, which began as a database for physical art auctions back in the late 90s. Since then, it has evolved into a one-stop shop for online art buyers.
In addition to offering virtual gallery spaces and a searchable auction database, Artnet gives consumers the ability to bid for and buy major works of art entirely online.
"We're getting enormous interest from all over the world," Brian McConville, executive vice president at Artnet, told TechNewsWorld. "It's quicker, it's anonymous, and it's much less expensive for both buyer and seller."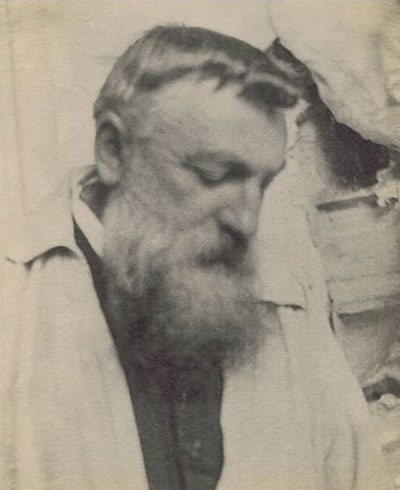 Gertrude Kasebier, Rodin, Vintage Platinum print, Signed. Sold on February 18, 2011, for $51,750. This is a record for this image.
Information about past sales and current bids is available on the site, giving potential purchasers an edge when considering what to buy and for how much.
"We're really bringing a transparency to the art world," said McConville. "We're very democratic about it."
Dealers, galleries and individual artists can all participate in the art auctions on artnet, and at any given time there are 200 to 400 artworks up for bidding.
Selling Stock
For artists wanting to sell photography, video, audio, illustrations or flash animations, a microstock site like iStockphoto is the way to go. iStockphoto lets artists upload their work and gives consumers, advertisers, media producers and others the opportunity to buy the rights to use the material.
iStock photo pays a base royalty rate of 15 percent for each file downloaded, and up to 45 percent for exclusive contributors. The company started 10 years ago with 2,000 images; it currently has more than 90,000 content creators and offers around 8 million pieces for sale on the site.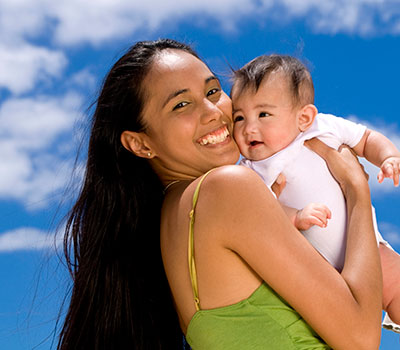 An image taken by Nicole Young, who sells her work on iStockphoto.
"iStock is popular because it provides an extremely high-value, low-cost product used by a wide variety of customers, ranging from large advertising agencies to small startups and everything in between," Nichole Desrosiers, VP of marketing and communications for iStockphoto, told TechNewsWorld. "iStock imagery can now be seen everywhere in daily life, from Fortune 500 company magazine ads, newspaper articles, corporate videos, websites and blogs, to the Grammy Awards, major motion pictures and broadcast commercials."
Content creators like Nicole Young, who has been selling her photography on iStock since 2006, appreciate the ease of use and the income that the site provides.
"Selling my stock work through iStock means that I don't have to worry about marketing or keeping up with the website, and they also take care of the legal issues, things like licensing documentation, etc.," Young told TechNewsWorld. "They also process all the transactions and provide customer support. This frees up my time to create more photographs and also work on other projects."
Sites like iStock exist at the convergence of digital, social and user-generated media, and they're likely to continue to grow in popularity as a way to connect artists and other content creators with consumers.
"iStock is one of the first profitable and thriving social networks and was also one of the first user-generated content sites to pay its users," said Desrosiers. "iStock could not have existed without the Internet, digital cameras or Photoshop."