A few years ago, several Google employees got together and asked a fateful question: What if they extended Google's technologies of gathering and archiving information into the world of visual art?
The recently launched Google Art Project is the answer to that question, taking one of the broadest steps yet in bringing the bricks-and-mortar-and-paint world of art museums to easily accessible virtual spaces.
"We started thinking about how we might use Google's technology to help museums make their art more accessible," Amit Sood, head of the Google Art Project, told TechNewsWorld. "The goal was to think about how to bring art not just to regular museum-goers or to those fortunate to have museums in their cities, but to a whole new set of people who might otherwise never get to see real works of art up close."
With the Google Art Project, 17 museums in nine countries, including The Metropolitan Museum of Art and the Museum of Modern Art, have collaborated with Google to make their collections, including over 1,000 works of art, available to the public online.
"We expect that this unrivaled access will encourage more people to interact with art in new ways and ultimately inspire them to visit the 'real thing,'" said Sood. "Few people will ever be lucky enough to be able to visit every museum or see every work of art they're interested in, but now many more can enjoy 1,000-plus works of art and explore galleries from nine countries, all in one place."
The museums involved in the project provided high-resolution images of works of art in their collections to Google, and each institution also chose one piece of art to be photographed in extreme detail using high-resolution or "gigapixel" photo-capturing technology, with the images containing around 7 billion pixels, allowing viewers to see minute details in paintings that they might miss when walking around in the museum itself.
Google then merged these still images with video images created by using a specially designed Street View "trolley" that took 360-degree images inside museums. Pieced together, these images allow viewers seamless navigation through more than 385 museum rooms.
In a Street View-like experience, visitors can explore galleries and then click on works of art that interest them to learn about the work and the artist, and watch related YouTube videos, creating a personalized museum experience. In some cases, particularly where their ultra-high-resolution images are available, the experience might even be more detailed than a "real" museum experience would be.
"Hard-to-see details suddenly become clear, such as the tiny Latin couplet which appears in Hans Holbein the Younger's 'The Merchant Georg Gisze,'" explained Sood. "Or the people hidden behind the tree in Ivanov's 'The Apparition of Christ to the People.'"
The project has a kind of populist spirit, Sood said, bringing art to the masses.
"Art is important because it's a part of our collective cultural heritage and provides a way to explore history, trends in art, moments in time and much more," he observed.
"Art has inspired and educated for millennia — but this does not mean people have always had equal access to it. This project takes a small step towards helping increase that access," noted Sood, "and we look forward to it developing over the coming years. This collaboration . . . will hopefully inspire many more people to discover their passion for art and come and visit the real thing for themselves."
Exploring at the Edge
Increasingly, museums themselves are going virtual. The Museum of Computer Art (MOCA), for instance, has a lively online presence. Physically based in New York, where it also has an actual gallery, MOCA has an extensive virtual footprint, displaying some works that because they are digital to start with, might be just as good — if not better — viewed online. And there are other perks — mainly, that you can visit the museum at any time, whenever the spirit moves you.
"The virtual world allows access over the Internet 24/7," Don Archer, director of MOCA, told TechNewsWorld. "You can view it on your computer without stepping out."
The Exploratorium, a museum of science, art and human perception in San Francisco, is also far ahead of the curve when it comes to creating exhibits and experiences in online, virtual spaces. Founded in 1969, the museum focuses on encouraging visitors to explore the natural world.
"We're a little unlike other museums in that we're a learning laboratory," Rob Rothfarb, the Exploratorium's online project director, told TechNewsWorld. "We have quite a few programs that help people to learn, and help people teach people to learn. We're focused on helping the learning world learn."
The museum works closely with both the general public and specifically with science teachers, offering them training and inspiration in the teaching of science that they can then bring into their own classrooms.
"We have a close collaboration with artists to help us pose questions about the world," said Rothfarb.
The Exploratorium uses a variety of elements to make its website interactive for museum visitors, including articles, videos, podcasts, social spaces, and downloadable activities and how-to-guides. It has a variety of exhibits that are organized around specific themes, and each one has its own interactive elements, and it also owns two islands in Second Life, where visitors can view and interact with its exhibits.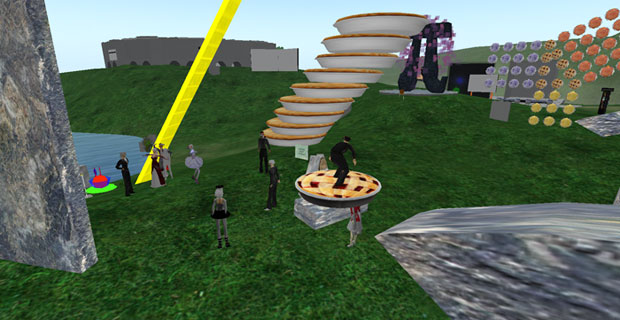 Pi Day (March 14) at the Exploratorium's island inSecond Life. Avatars fly through the air on pies and interact withexhibits and sculptures about the number Pi.
In addition to Web-based interactivity, the Exploratorium is doing innovative things with other emerging technologies, such as mobile apps and augmented reality. For a recent exhibit on surrealism, for instance, visitors could use mobile devices to view 3D versions of famous artworks by artists like Magritte and then interact with them, thus combining the museum's interests in art, science and social activity.
"It was playful, and it allowed them to do things in a social way," said Rothfarb of the exhibit. "It allowed people to do things with their friends."
At the same time, it was a high-tech introduction to a style of art that many museum visitors might not have encountered before.
"It introduced a new audience to the artworks," said Rothfarb. "We were celebrating surreal ideas and philosophy and getting people to encounter it."