Lenovo's newest product engineer got a higher-profile introduction to the world than many of the company's other employees. Perhaps that's because he's also famed actor and investor Ashton Kutcher.
Lenovo announced its multiyear partnership with the Two and a Half Men star at the launch event for the company's latest tablet. Kutcher will work with engineers on the Yoga Tablet product line, Lenovo said, by offering input and making decisions on the design, specifications and software.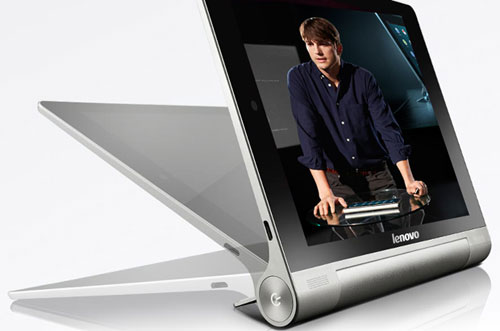 Lenovo's Yoga Tablet
Emotional Connection
"I think Lenovo working with Ashton Kutcher could be a home run both on style and on substance," telecommunications analyst Jeff Kagan told TechNewsWorld. "Lenovo may be the leading computer maker today, but they have really lost much in the way of their connection to the customer. Ashton Kutcher could help them reach the customer much more effectively and emotionally."
The potential for increased customer engagement is certainly part of Kutcher's appeal for Lenovo.
"He's got a huge following and a targeted audience of 18-to-24-year-olds that we're keen to go after," spokesperson Brion Tingler told TechNewsWorld. "It's a dual partnership, on the marketing side as well as on the product engineer side. He is a seasoned tech investor and has got a lot of interesting insights to bring to the process."
Serial Investor
Kutcher is well known in technology circles. The 35-year-old has invested in companies including Airbnb, Spotify, and Foursquare, among others, through his venture capital firm A-Grade Investments, as well as news summarization app Summly. He also starred as technology visionary and Apple cofounder Steve Jobs in the biopic Jobs, which was released earlier this year.
The star has a technical background, having studied biochemical engineering in college. However, it's not yet clear how those skills might transfer to the development process of a technology product.
Celebrity Tech Partnerships
Kutcher is far from the only celebrity to have a direct involvement with technology firms. Singer Alicia Keys was named creative director for BlackBerry earlier this year. Jennifer Lopez, meanwhile, is chief creative officer and majority shareholder of Viva Movil, a wireless retail firm targeting the Latino market. The company is a Verizon Wireless premium retailer. Lady Gaga, Leonardo DiCaprio, and Black Eyed Peas singer will.i.am have all made technology investments.
That said, Kutcher's partnership with Lenovo appears to run deeper than other technology-celebrity pairings given his participation in the product development decision-making process.
Lenovo announced Kutcher's involvement with the company at the same time it unveiled the new Yoga Tablet. One of Kutcher's first public tasks as part of Lenovo was to promote the tablet — and flash his company ID card — in a commercial.
Yoga Tablet Specs
The tablet has two key features that seem to differentiate it from competitors' devices. First, there are three ways (or modes) to position the device: Users can hold it, use the stand to sit it upright, or tilt the tablet on a surface. Second, the Yoga has up to 18 hours of battery life, Lenovo claimed.
The handle holds dual batteries, using power options more commonly found in laptops than tablets, Lenovo said, and the Yoga can charge other devices through its USB on-the-go connectivity. It runs Android 4.2, using quad-core processors. There are both 8-inch (weighing 0.88 lbs.) and 10-inch (1.35 lbs.) models, with 3G options and 16-GB or 32-GB capacity, plus Micro SD expansion. The tablet includes 1,280 x 800 displays, a 5-MP rear camera and front camera, and an optional Bluetooth keyboard for the 10-inch model that doubles as a cover.
Lenovo priced the tablets at US$249 and $299 for the 8-inch and 10-inch models respectively, while the Bluetooth keyboard is $69. The tablets are available now.
Battery Life Is Key
It is the battery life that might help the tablet stand out from competitors like the iPad, which has a 10-hour battery life.
"Battery life is one of the key measurements in customer satisfaction. Lenovo continues to lead — today, anyway," said Kagan.
"Anything that helps differentiate a product is very important for market share," Vinita Jakhanwal, director of mobile, emerging displays and technology at IHS Electronics and Media, told TechNewsWorld. "Extended battery life is definitely a plus for any mobile device."