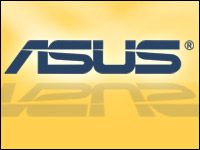 After several missed deadlines, Asus has finally introduced a combination smartphone, tablet and notebook computer aimed at consumers who are tired of toting around disparate devices.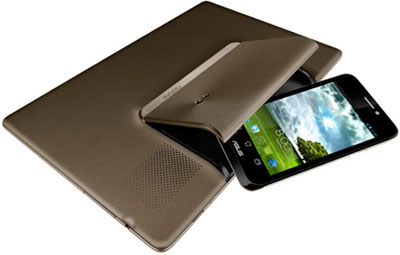 The Asus PadFone
However, delays in bringing the product to market, coupled with developments in wireless pricing and cloud storage, may have closed the window of opportunity for the all-in-one device, dubbed "PadFone."
The unit consists of three pieces. There's a smartphone running Android 4.0 (Ice Cream Sandwich), a 10.3-inch tablet and a keyboard dock. The phone slips into a compartment behind the tablet. The tablet connects to the keyboard to form a notebook.
In addition to providing a convenient form for toting around the three devices, the product also addresses the problem of purchasing data plans for multiple devices and storing data on each unit.
Hurt by Verizon?
Since the tablet uses the phone for its wireless data connection, you don't need a separate data plan for the slate. And since the phone acts as the hub of all your data, you don't have to worry about data being stored in a tablet or notebook that you may not be carrying with you.
The problem is that developments in service plans and online storage may have closed the window of viability for the PadFone, which is selling online for around US$940.
"With shared data plans, there's going to be less of a need for these all-in-one devices, especially since their costs are so high because they're not subsidized by the carriers," Chuong Nguyen, news editor for the GottaBeMobile, told TechNewsWorld.
Shared data plans have just started arriving on the market. Verizon announced the first such plan Tuesday. It allows multiple devices to share a single data plan. However, each device is added to the plan at a monthly price.
For example, if you have a Verizon shared plan with a smartphone, you pay a $40-per-month "access fee," which gives you unlimited talk and text, and $50 per month for 1GB of data, for a total of $90 per month.
If you want to add a tablet to the plan, it'll cost you an additional $10 per month. Add a netbook or mobile hotspot, and it's an additional $20 per month for each of those devices. With the PadFone, you'd only be paying for smartphone access and still have tablet and netbook functionality at no additional monthly cost.
One Form Factor for All
Nguyen explained that the goal of the PadFone is to consolidate your devices so you're not managing data on a tablet, netbook and smartphone. "Everything will be on your phone wherever and whenever you need it no matter what form factor you choose to use it in," he said.
"With better cloud solutions and Verizon rolling out a shared data plan, with AT&T to follow, I think the delay in the introduction of the PadFone may hurt the device," he added.
Nevertheless, PadFone is addressing a market need, according to Rob Enderle, president and principal analyst with the Enderle Group. "There's been a long-term interest in a modular approach to the problem," he told TechNewsWorld.
"The reason for that is you get one data plan, it covers all three devices, all your stuff is in one device and you change the configuration of the device based on what you want to do," he explained. "And the combined device is cheaper than having a notebook, tablet and smartphone."
Russian Dolls
To meet the price point to make the devices viable, though, volume sales are needed, Enderle added. "So far nobody has been able to generate the volume," he explained. "So none of these devices have been able to take off."
"Asus is one of the few companies that can do this without volume because it has enough volume on other stuff that it can subsidize an initial run on this device," he added.
Another challenge confronting the PadFone is one facing all devices of its type, noted Ross Rubin,an analyst with the NPD Group. "The Russian Doll approach — where one product is engineered to fit inside another — often results in design choices that might compromise one or more devices in the chain," he told TechNewsWorld.
Moreover, in the United States, consumers like choosing components, argued Ken Dulaney, vice president for mobile computing at Gartner. "People don't like buying everything from one vendor," he told TechNewsWorld. "It's a Utopian idea that's been tried over and over again over the ages, and it never works."