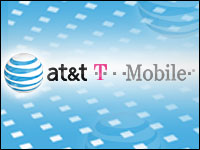 Winning regulatory approval may be a difficult battle for AT&T in its bid to buy up wireless rival T-Mobile. However, if it does indeed gain permission to purchase its GSM wireless competitor, the technological challenges could prove to be much less of a headache.
AT&T will be able to transition T-Mobile USA's networks into its own fairly easily, should regulators rubber-stamp the deal.
Ma Bell wants to incorporate T-Mobile's AWS (Advanced Wireless Services) network into its own LTE 4G network.
"The globalization of standards — GSM, HSPA, UMTS — will make it easy for AT&T to merge the AWS spectrum with its own," Chris Nicoll, a research fellow at the Yankee Group, told TechNewsWorld.
AT&T declined comment because "it's too early to answer these questions in detail," company spokesperson Mark Siegel told TechNewsWorld.
T-Mobile did not respond to requests for comment by press time.
AT&T's Plans for the Future
Announcing the proposed purchase Sunday, AT&T hinted at some of its reasons for the move. Its mobile data traffic grew 8,000 percent over the past four years, and by 2015, it expects that traffic to be eight to 10 times what it was in 2010, it said. AT&T requires additional spectrum to meet that demand.
When and if the deal is closed, AT&T will gain a number of cell sites equivalent to five to 10 years' worth of construction, the carrier said.
T-Mobile's 3G customers on its AWS spectrum will be moved off to AT&T's 850MHz and 1,900MHz spectra when they renew their contracts, Gizmodo reported.
That AWS spectrum will be combined with AT&T's 700MHz spectrum to offer 4G LTE service to what AT&T reportedly claims will be 95 percent of the population of the United States.
"AT&T needs the AWS spectrum to run its LTE network," the Yankee Group's Nicoll said. "T-Mobile has twice as much spectrum as AT&T has."
The Technical Stuff
AT&T and T-Mobile use the same spectra, which is why customers of both carriers can currently roam easily between the two carriers' networks, the Yankee Group's Nicoll stated.
"T-Mobile uses the 1700MHz/2100MHz AWS band for its 3G network and leverages HSPA+ for faster speeds and simultaneous voice and data; AT&T uses the 850MHz/1900MHz spectra for its 3G network," Carrie MacGillivray, a program manager at IDC, told TechNewsWorld.
Both companies offer HSPA+ as 4G.
About HSPA+
HSPA+, or Evolved High-Speed Packet Access, provides theoretical peak data rates of up to 84Mbps (megabits per second) on the downlink and 22Mbps on the uplink.
However, actual speeds for users will be lower and, at the edge of the cell or even at half the distance to the cell, the speed difference between an HSPA+ network and a 14.4Mbps HSDPA network may be slight unless the carrier uses a channel wider than 5MHz.
HSPA+ also enables an optional all-IP architecture for the network, where base stations are directly connected to IP-based backhaul and then to ISPs' edge routers.
Looking at LTE
LTE, or Long Term Evolution, is yet another 4G technology. It specifies downlink peak rates of at least 100Mbps and uplink rates of at least 50Mbps. It includes a flat IP-based network architecture.
Advantages of LTE include high throughput, low latency, an improved end-user experience, and a simple architecture, which will reduce operating costs.
The current generation of LTE is marketed as 4G but doesn't meet with the International Telecommunication Union's requirements for 4G. These include peak data rates of up to 1Gbps (gigabit per second). The current generation of LTE technologies is perhaps considered 3.9G, or pre-4G.
True 4G technologies will come with LTE Advanced, the next generation of LTE. The LTE Advanced standard is expected to be finalized this year.
AT&T plans to roll out LTE networks around the middle of this year. That will give AT&T 4G customers on its LTE networks the option of falling back on HSPA+.
"I talked to AT&T about HSPA+ this morning," the Yankee Group's Nicoll said. "AT&T will do the same thing as global operators, such as Telstra, plan to do. It will run LTE in the urban core, the major metropolitan areas, and overlay it with HSPA+ to provide connectivity between those areas."
Device manufacturers support this approach, Nicoll added.
"This will give customers a seamless experience because they can roam from one network to the other easily," Nicoll remarked.