AT&T announced on Monday that it would add three new 4G smartphones running Windows Phone 7.5, aka "Mango," in the fourth quarter.
It also pledged to update existing WinPho7 devices to Mango this fall.
The three new devices are the HTC Titan, with a 4.7-inch screen; the Samsung Focus S, with a 4.3-inch display; and the Samsung Focus Flash, with a 3.7-inch screen.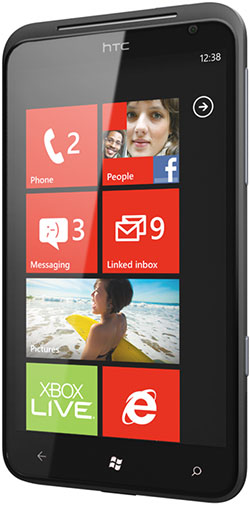 HTC Titan
The announcement could be seen as AT&T's attempt to keep its Windows Phone operating system afloat until it gets a hoped-for boost next year, when Nokia's expected marketing push is expected to kick in.
"How I see this playing out is you want to keep Windows Phone 7 viable in the market," Ramon Llamas, a senior research analyst at IDC, told TechNewsWorld.
"Windows Phone 7 has got more apps than it used to," Michael Morgan, a senior research analyst at ABI Research, told TechNewsWorld. "It's now got the upgrade to Mango. People do enjoy using the user interface and, so long as the devices come out and execute properly, it should be able to remain on life support until we see what happens when Nokia finally puts all its cards behind the Windows Phone 7 devices and launches that huge marketing push it promised."
Alternatively, the focus on 4G could actually help Microsoft stay ahead of the market until Nokia's support kicks in.
"It's important for Windows Phone 7 to be on the leading edge in order to capture market share," Rob Enderle, principal analyst at the Enderle Group, pointed out.
"4G is the next-generation network, and the vast majority of the smartphones in the market are 3G, so it looks like Microsoft will be ahead of the market," he told TechNewsWorld.
What's on the Way
The Samsung Focus S, one of the three new 4G phones AT&T has announced, leverages the success of its predecessor, the Samsung Focus, which AT&T claims is the highest-selling Windows Phone 7 smartphone in the United States.
This device has a 4.3-inch Super Amoled Plus display, a 1.4 GHz processor, and the standard front- and rear-facing cameras.
The other 4G smartphone that AT&T announced in its coming lineup is the Samsung Focus Flash.
This appears to be a device for the budget-minded, based on AT&T's description.
It will have a 3.7-inch Super Amoled screen; a 1.4 GHz processor; and the standard front- and rear-facing cameras.
The HTC Titan has a 4.7-inch display — more than 30 percent larger than the 3.5-inch screen of the iPhone 4.
HTC began conducting focus group evaluations in London, Paris, Madrid and Berlin for the Titan and another Mango smartphone, the Radar, earlier this month.
The Titan has the standard front and rear cameras. It also has a dedicated hardware camera button. This lets users take photographs without unlocking the phones.
It comes with the HTC Watch video service, which provides access to the latest premium movies and TV shows.
The Titan also offers access to Microsoft's Zune music service, and lets owners access Microsoft Xbox Live in addition to the usual social networking services.
Planning Ahead to Be Fruitful
Unveiling the three new Mango smartphones and updating existing WinPho7 devices to run Mango will "keep the installed base happy and prove that Windows Phone 7 has a pulse," IDC's Llamas said.
This appears to be part of a long-term strategy to indicate that Windows Phone "is not just the operating system but also an ecosystem of players," Llamas added.
Both Microsoft and AT&T need to fly the flag. Sales of Windows Phone devices haven't exactly taken off so far.
"We're looking at one to 1.5 million devices sold per quarter since launch last year, which isn't taking over the market as Microsoft promised," ABI's Morgan pointed out.
AT&T did not respond to TechNewsWorld's request for comment by press time.