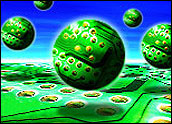 Virtual reality has been a rich vein of computer science for fiction writers and movie makers, but its less heralded cousin, augmented reality (AR), may have a greater influence over how we lead our daily lives in the future.
AR overlays the virtual world on the real world in real time. While virtual reality attempts to insulate itself from the real world, augmented reality extends the virtual world into the real one.
The Fat Yellow Line
A common use of AR is in TV sports, such as the yellow line marking a first down in football games, visible to TV viewers but not to players or fans at the game. So, too, is the use of "blue screen" technology to project advertisements on backstops behind batters at baseball games.
"In the future, we will not be getting information principally or exclusively through looking at a computer screen, but by looking at something that's in the real world and a display that's integrated with that," Henry Fuchs, a computer science professor at the University of North Carolina, told TechNewsWorld.
"What augmented reality will do is unify the real world with the computer display of it," he added.
Although the computer science community has maintained its interest in virtual reality over the years, AR's road to development has been a rocky one.
"Virtual reality has made some progress in game applications and virtual design, but augmented reality is entirely different," Rolf R. Hainich, author of The End of Hardware: A Novel Approach to Augmented Reality, told TechNewsWorld.
"It hasn't made progress," he continued. "People abandoned the field years ago. It's just recently that it's been rediscovered."
Hyperlinking the Real World
Part of that rediscovery may be related to the rapid development of the cell phone, which is considered a very promising area for AR technology, as a team of researchers at Nokia demonstrated last month at the fifth International Symposium on Mixed and Augmented Reality in Santa Barbara, Calif.
The team from Nokia's Mobile Augmented Reality Applications (MARA) project has created a prototype phone that actually makes objects in the real world hyperlink to information on the Internet.
Using the phone's built in camera, a user can highlight objects on the mobile phone's LCD and pull in additional information about them from the Internet.
Moreover, by altering the orientation of the phone, the display will toggle between live view and satellite map view. In map view, nearby real world objects are highlighted for convenient reference.
Mobiles Ripe For AR
Cell phones appear to be ripe for early AR applications, according to Steven K. Feiner, a computer science professor at Columbia University.
Not only are cell phones becoming cheaper and more powerful, he noted, but they combine hardware components that support AR applications, such as digital cameras, global positioning (GPS) sensors, and wireless Internet connections.
"AR applications for cell phones are near-term," he told TechNewsWorld. "If you know where you are with things like GPS, you can do a quite decent job of adding additional information.
"GPS, at least the kind that normally gets put into cell phones, is not amazingly accurate," he observed. "We're looking at being off by many, many meters."
No More Guidebooks
However, he continued, when using the camera in the phone and a database of geocoded imagery, the GPS readings can be corrected to produce a more accurate indication of a user's location.
"That enables you to overlay information on what you're seeing in a very precise way," he said. "If I'm a tourist, I can walk around and see the hours for a museum, a restaurant's menu or historical information about a building without having to pull out any of a variety of guidebooks and look things up in them."
Although much of the technology exists to make many AR applications a reality, other factors will determine when and if AR products will reach consumers, according to Feiner.
"The availability of a lot of these technologies depends less on technology decisions than marketing decisions," he maintained, "decisions made by people with MBAs rather than technologists."