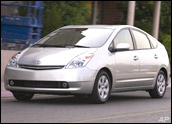 Demand for automotive blindspot monitoring technologies — which can dramatically improve safety for drivers — is poised to grow explosively, according to new market forecasts.
Boston-based Strategy Analytics said manufacturers are beginning to compete by offering different, compelling products and that this niche market will grow to nearly four million units by 2012.
Improved Car Safety
"Consumers want increased car safety and car manufacturers need new ways to differentiate their products. Furthermore, there is increasing legislative pressure regarding safety systems," said Ian Riches, service director of the Strategy Analytics automotive electronics practice. "Combined, these factors will help to drive the market for blindspot monitoring systems."
The two main technology types used for blindspot monitoring systems will be radar and vision-based systems, with radar-based solutions taking almost half of the total available market in 2010, the studies said.
The forecasts show that safety systems will provide the greatest growth in automotive electronic system dollar demand. The development of these advanced sensing systems based on radar, optical and other new technologies has created a whole new range of possible safety-oriented applications for passenger vehicles.
Years in Development
"Radar technologies will underpin the development of blindspot monitoring systems," said Asif Anwar, a director of the Strategy Analytics. "Lower-cost approaches such as optical solutions will provide competition to radar-based systems. Looking further ahead, infrared systems are also being developed."
Luxury manufacturers were the first to embrace this technology years ago, and the most sophisticated version of the technology is called Blind Spot Information Systems, or BLIS. The digital camera technology monitors the driver's blind spot, something that is very difficult for drivers to do themselves.
As long ago as 1979, Volvo was the first automotive manufacturer to provide a wide-angle exterior side mirror to minimize a driver's blind spot to reduce the risk of incident that exists, particularly when changing lanes. Through the years, Volvo worked to further minimize the blind spot by incorporating large window areas and through the use of effective side mirrors.
The next step forward is BLIS. The camera-based monitoring system keeps watch for other vehicles travelling in the "blind spot." The technology was first shown in Volvo Safety Concept Car (SCC) in 2001, and again recently at a major auto show.
When another vehicle enters the monitored zone, a warning light is illuminated near the exterior side mirror. Both sides of the vehicle are monitored in the same way. This visual warning gives the driver a clear indication that another vehicle is alongside.
The system also alerts the driver both to vehicles approaching from behind and vehicles in front being overtaken. BLIS gives the driver better scope for making the right decision in such situations.
A digital camera is fitted on each exterior mirror. The camera shoots a large number of frames each second and the system compares each picture to register when a vehicle moves into the monitored zone. The system is programmed to monitor cars as well as motorbikes, in both daylight and in the dark.
Making Progress
The monitored zone is 9.5 meters long and 3.0 meters wide. The system is also calibrated so as not to react to parked cars, roadside fences, crash barriers, lampposts and other road-side furniture.
The system is active at speeds above 10km/h and is designed to alert the driver to vehicles that are moving a maximum of 20km/h slower and a maximum of 70km/h faster than the driver's own vehicle, according to Volvo.
"We see these advanced systems as vital in our ongoing strategy of remaining world leaders in the field of safety," said Lex Kerssemakers, vice president, global marketing and head of product planning at Volvo Cars. "What we are showing now will be introduced gradually in our cars. We expect to see BLIS in production."