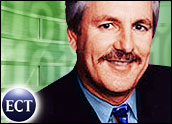 We just had a back-to-school flop. There was no apparent marketing of technology products, particularly PCs. And, surprise, we now have inventory problems and companies are warning that Christmas might not materialize as a major buying event either.
Given how fragile the technology recovery is — or perhaps was — I thought it would be a good time to revisit why it's important for companies to devote staffing to building demand.
If they don't, there are likely to be some great sales come Christmas as vendors discover they have too much inventory and too few buying customers.
Don't Cut Marketing Budgets
Right now I'm seeing too many companies cut marketing budgets as they focus on the bottom line, forgetting that these decisions often do ugly things to the top line (revenue).
This only makes the problem worse over time. There are a lot of things we need, but another market decline coupled with layoffs and "back to basics" programs isn't one of them.
Whether you work for a technology company, invest in their stock or buy their products, I thought it would be interesting to take a dive into this problem, starting with what made it crop up now and ending with some of the firms who are doing something about it.
Missing Products and Lackluster Economy
There were a number of issues that contributed to the downturn this quarter. Technology that was supposed to arrive in time for new back-to-school products didn't, and there were no contingency plans to market anything else.
Microsoft and Intel, who often promote at this time, didn't, and the increasing focus in the United States on the economy, specifically the ugly trends, kept buyers away from big-ticket items like PCs.
Corporations were focusing more and more on financial data integrity, and their own concerns about a worsening economy made any interim budget relief increasingly unlikely. As a result, there was no help from the corporate sector. Meanwhile, local governments were being squeezed by a reduction in federal funding, while the federal government was shifting money to security projects.
In short, across the board, funding declined, and there was no significant effort by the industry to generate demand and better compete for the funds that were left.
Endemic Problem with Tech
There is now a critical problem with the technology segment. It isn't just Intel or Microsoft — virtually the entire segment has lost the skills and focus needed to generate demand. The metrics that are being used by the industry focus on brand recognition.
This is important when demand already exists, but if people are pulling back from the product category as significantly as seems to be happening here, there comes a time when industry players have to work to increase sales for the segment.
If you work for a tech company, look at the background of some of the senior people and you'll likely see why this is the case. They have technical degrees or MBAs, but they learned marketing on the job. This wouldn't be bad if there were mentoring programs in these companies, but mentoring programs collapsed years ago.
Marketing Money Holes
Many of these folks got to their positions by being very good at managing their metrics, and they picked those metrics that they could directly control. As a result, the major focus in the segment has been brand recognition. Brand recognition campaigns are easy; they provide solid results. The only problem with them is that they don't generally sell products.
Measuring true marketing prowess is much more difficult. Often, you can get torpedoed by a bad product, a company financial problem or an event beyond your control.
A true expert knows how to deal with each of these instances. Someone without the education and experience does not, and the end result has been marketing organizations that spend money but don't generate sales.
In effect, the organization is doing a great job of marketing itself, but it has become a money hole from the company's perspective.
Measuring Marketing Prowess
The first thing to look for is the consistency and quality of their efforts. Marketing success is measured by demand in excess of what the product could generate all by itself or through direct sales. For instance, we buy a lot of electricity, but you can't give credit to marketing for those sales.
At one time, however, there was an effort to get people to go electric, and gas lighting was displaced at a significant pace. That was marketing, and it worked.
Look for sales spikes tied to marketing campaigns. If a company rolls a new campaign and reports a spike in revenue for a product that hasn't changed much, then the campaign worked. Remember, just because you don't like the campaign, it doesn't mean that it doesn't work for the target audience.
Also realize that if the product can't do its part, even a good marketing team won't be a great deal of help. Windows Servers aren't a good replacement for Unix servers, and the Mac operating system isn't a good replacement for Windows. Even a good campaign won't fix this.
Leadership and Measurement
Look for depth of experience and education in the senior marketing executives. Executives tend to surround themselves with similar types of people.
People who don't have a background in a key area typically favor folks who are like them, which means expertise degrades over time. If the executive team is well qualified, there is a much better chance that the organization as a whole will improve, rather than degrade, over time.
Also look at how the leaders' success is measured. If it is measured by revenue, that's good. If it is largely measured on brand recognition, that's bad. The measurement should tie back in some way to sales performance, not just visibility.
Another organization that has been hit by a similar trend is human resources. This is why you are increasingly seeing labor problems in the technology firms, and why many of us are increasingly expecting new forms of organized labor to enter the segment. But we'll leave this for another column.
Failed Corrections
Over the last year or so I've watched a number of key companies try to fix the problem by hiring someone from the outside, only to have that person either get fired, quit or become ineffective in a relatively short period. This is because they do not have a power base that can protect them. They become overwhelmed by those in the firm that don't want to see change.
In several instances these hires actually did well. By doing well, however, they became a threat to more senior executives who moved to replace them.
There have also been attempts to use existing staff and "agencies" to address this problem. Agencies, however, need to be guided, otherwise they will do what they think you want them to do and eat up resources without effecting change. If you don't really know what you're doing, all you have done by using an agency is find a way to spend money more quickly.
Industry Recovery
There are a number of companies working to correct this problem. Microsoft is rebuilding a marketing career path in which experience and expertise are encouraged. Intel just hired a new marketing vice president from Samsung. At his prior job he made Samsung products almost a household name and did wonderful things for their sales.
AMD has been bringing resources in from the outside for some time. As I'm sure you've noticed, it has generally been executing much better. And Dell is actually out-marketing Apple in some key areas, indicating that changes at Dell are taking hold.
Much of this advice is too late for this year. If implemented, however, these changes would result in a much stronger industry in 2005. Lord knows, it is about time we got some good news.
---
Rob Enderle
, a TechNewsWorld columnist, is the Principal Analyst for the
Enderle Group
, a consultancy that focuses on personal technology products and trends.
---