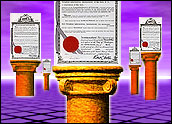 Microsoft was awarded a patent this week for a "system and process for allowing a user to treat e-mail addresses as objects" — a patent called "obvious and trivial" by one critic of the filing.
"The technique of applying object properties and methods to various data fields in a software product has been standard practice for several decades," software developer Richard S. Tallent, of Beaumont, Texas, told TechNewsWorld. "Doing so with an e-mail address is no different than doing so with a file, a Web address, a misspelled word, or any other common data."
Tallent, who works for ERM, a global environmental consulting firm, maintained that the new patent might entail a feature in a software program, but "an invention that deserves 17 years of protection from similar implementation by competing products — absolutely not."
Bound by Legalities
Microsoft offers e-mail as an Internet service provide through MSN as well as online through Hotmail.
According to the patent, "it is directed at a system and process for allowing a user to treat both incoming and outgoing e-mail addresses in the message preview pane as well as the full message window of an e-mail message program as objects or distinct entries."
The system, it states, provides "easy manipulation of the e-mail addresses, such as allowing them to be added to a contact list, copied to the computer's clipboard, or double-clicked to open the related contactinformation for that e-mail address' sender."
"Hence, this system and method of addressing e-mail messages minimizes the number of operator actions required in order to address e-mail messages by facilitating the user in completing his or her contact database or address book," it said.
When asked to explain the patent in something other than "patentese," Microsoft Director of Intellectual Property Licensing David Kaefer responded, "Very few companies will actually describe to you in lay person's terms what's covered in a patent, and the reason is this: whatever I tell you today that's on the record can be used, if this patent is ever litigated, to confine what is meant or not meant by this patent."
"Often, I find people jumping to a conclusion that this is a foundationalpatent that everybody's going to have to have because we all send e-mail," he told TechNewsWorld. "Those people often don't have a full appreciation that this patent is limited to the specific way that this innovation accomplishes the desired outcome."
Dual Strategy
Asked if the Microsoft patent was a defense, one aimed at pre-empting other companies from patenting the process, Kaefer said that his company has a mixed strategy for its inventions.
He explained that Microsoft spends US$7 billion on R&D every year. Of the inventions resulting from that research, the most important are patented.
"For other things, we don't necessarily seek a patent, but we may want to publish what is known as prior art so that no one else can patent that particular invention," he said.
Typically, he continued, Microsoft will license technology on which it has patents.
"Some companies don't have that approach," he observed. "Some companies use patents to prevent people from using an invention."
"For us," he said, "our broad strategy as a company is to make our portfolio available for licensing."
However, Tallent questions whether there should be any patents on software.
Different World
"Patents in the software world are different from patents everywhere else," he said. "We're not building little machines. This is not the cotton gin."
"When you are describing computer software," he continued, "it really can get pretty complex real fast. And frankly, I don't think that the patent reviewers are qualified to determine whether these patents are non-obvious to someone who is in the industry."
Brigid Quinn, a spokesperson for the U.S. Patent Office, noted that if a party believes that a patent was issued in error, it can be challenged at any time during the patent's life.
"If there's prior art that was overlooked by the examiner, someone can submit it to us and we will do a reexamination of the patent if the prior art raises a substantial new question of patentability," she observed.
However, she said that the office issues 180,000 to 190,000 patents a year and it receives only about 400 requests for reexamination. "A lot of people find fault with our patents," she remarked, "but they never bring the evidence to us."
Tallent called for companies to deploy a patent trust strategy rather than a patent defense strategy.
Patent Trust
"Why doesn't someone set up a patent trust?" he asked. "A company could obtain a patent under the broken system that we have now then release that patent into the trust. Then any company could make full use of that patent."
"Then you've protected yourself from a company coming in and patenting it against you, but then you and everyone else is free to use it as you see fit," he said.