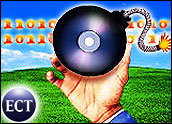 Meet Alexandra, the commercial says. She likes her computer. After she plants a smooch on her computer's display, a caption adds, maybe too much.
Suddenly, Alexandra is called away from her office. Enter Ulf, a "Silent Bob" type. People think he may be responsible for computer problems in the office, we're warned.
Sure enough, before our horrified eyes — well, my horrified eyes, anyway — watch Ulf tinker with Alexandra's PC until the dreaded "blue screen of death" appears. Ulf bolts the scene of the disaster.
There are two endings to this story. One has an Alexandra that doesn't use BackOnTrack software. It's not a pretty ending. It involves a lot of yelling in Swedish that, if translated, would probably get the commercial banned on American broadcast television.
The other ending has an Alexandra that does use BackOnTrack. When she sees the blue screen on her computer, she chuckles. She simply cuts the power to her machine and reboots. A simple message appears on the screen: Press F7 to restore your computer with BackOnTrack.
Within seconds, her computer is back to normal. It's as if Ulf didn't exist, the commercial says.
Beyond Windows Restore
While many of us don't have an Ulf in our lives, we do have Microsoft Windows. As many users of that operating system know, you don't need an Ulf to bring your system to its knees; you're totally capable of doing it yourself.
Even Microsoft recognized that fact when it added its Restore feature to Windows XP.
As someone constantly installing and uninstalling software on their computer, as well as connecting and disconnecting numerous gadgets to it, I can attest to the value of Restore, but I'm also aware of its limitations — and I have a totally zonked PC collecting dust in an alcove of my house to prove it.
The biggest problem is that Windows needs to be running for Restore to work with a minimum of effort. Sure, you can run the utility before Windows fully loads, but the process is so complicated that you need a manual to do it.
That's what makes BackOnTrack shine. A message appears on the screen. It tells you what to do. You do it. Your computer is restored.
Rollback Documents
BackOnTrack (US$39) is made by a Swedish company called SystemOK. It was recently bought by Sonic Solutions, which will introduce the software to the United States this month.
My prerelease version of the application installed effortlessly. Simply slip the program disc into a CD drive, double-click the install package and away you go. The program built a snapshot of my system in seconds.
By default, BackOnTrack won't tamper with files in certain folders on your machine where user data is stored. Those folders include My Documents, the Desktop, Microsoft Outlook's e-mail folder, Network Places, Favorites, History, Temporary Internet files and the Windows Temp folder.
You're not limited to those folders, however. You can right-click on any folder in Windows Explorer and reclassify it "user data." That will insure that files in the folder won't be altered during the restore process.
BackOnTrack also includes a "rollback" feature for your documents. It allows you to recover old versions of a document even if you accidentally delete it from your computer.
Insurance Policy
You can make modifications to BackOnTrack from its Management Console. It contains four items: configure, new snapshot, restore and undo restore.
Configure allows you to display the program's icon in the Windows system tray for quick access, turn BackOnTrack protection on and off, and password protect access to the software.
New snapshot lets you create a snapshot of your computer's current operating state. Unlike Windows Restore, which automatically saves multiple snapshots of your system, BackOnTrack stores only one snapshot at a time, so creating a new one will erase an old one.
Restore permits you to reconfigure your computer to a prior state and unrestore will undo the process.
In my book, a Windows user can never have enough insurance against operating system meltdowns. BackOnTrack is an insurance policy worth purchasing before Ulf appears at your door.
---
John Mello
is a freelance business and technology writer who can be reached at
[email protected]
.
---