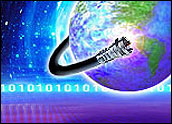 The global bandwidth glut that resulted when the telecom bubble burst in the late 1990s finally appears to be abating.
Signs of the glut's demise are evident in the industry, according to TeleGeography Research in Washington, D.C. "Following several rough years, the global bandwidth market is showing signs of improved health: supply equilibrium, price stability and competitor consolidation," the market analysis firm said in a report.
"Persistent international bandwidth demand growth has depleted inventories of unsold circuits on many submarine cables and on some segments of terrestrial networks," the report added.
Double Digit Growth
Moreover, for the second year in a row, telecommunications revenues in the international markets have shown double-digit growth, according to the Telecommunications Industry Association (TIA).
In its annual market review and forecast released last week, the TIA reported that 2005 revenues reached US$1.8 trillion, an 11.4 percent increase over the previous year.
Drivers behind the industry's strong performance include an expanding broadband market, continued growth in wireless services, and increased spending on equipment and services to support that equipment, noted the TIA.
Stopped Making Sense
The late '90s glut was caused by a serious overinvestment in longhaul network capacity in both submarine and land networks, explained TeleGeography Senior Research Analyst Alan Mauldin.
"The influx of capacity led to extreme price declines — 50 to 60 percent annually," Mauldin told TechNewsWorld. "That led to many bankruptcies."
There was a glut of fiber installed around the world during that time, added TIA President Matt Flanigan. "Everybody and their brother was putting in fiber with the anticipation that that there would be more users than there were people, which is why it didn't make sense," he told TechNewsWorld.
Demand Trumps Glut
Now, Mauldin maintained, the capacity created during the bubble has started to run out because demand has continued to grow.
"That capacity is being consumed because the amount of users has grown at double digits since early 2000," Flanigan explained, "and it will continue double digit growth for at least the next three to four years."
What that means, Mauldin added, is "that carriers have had to once again invest money to add capacity to the network. They don't need to build new networks, but they have to upgrade the existing systems to meet demand."
Internet Driving Demand
Much of that demand is being driven by the Internet, Mauldin maintained. "You're seeing a growth in new users around the world, existing users upgrading their service and more use by businesses," he said.
Demand has never been a problem for the industry, he explained. It's wholesale pricing that's been the problem.
"The rate of decline in those prices has slowed, which is a positive," he said.
Flanigan added that applications just arriving on the market will further tax capacity in the near future.
"They really haven't started to do IPTV," he said. "Once the wireline companies start to offer TV over their connections, that's really going to soak up capacity."
Redux Doubtful
With the need for capacity growing, is the industry headed for another bubble cycle?
Probably not, says Mauldin. The new capacity is being added "on a more rational basis and is being done to meet demand that actually exists — not speculation," he observed.
"I don't think there's any bank or investor that's really eager to invest in building a whole bunch of new submarine cables that are very expensive or building new networks," he noted. "The money's not there to finance another glut."
Flanigan agreed that another glut is unlikely. "They learned their lesson," he said of the telecom carriers. "It was a very expensive lesson. There was a lot of dark fiber for a lot of years — and there's probably still some out there that they put in places where it's not practical to use."