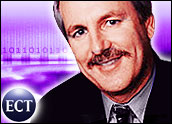 Last week was one to write home about, particularly between AMD and Intel. The AMD folks effectively created a distraction during Intel's biggest launch since the original Pentium 13 years ago — and Intel actually helped them do it. In addition, Microsoft met with a broad cross section of analysts and signaled that it is preparing for war, with Apple's iPod and Research in Motion's (Nasdaq: RIMM) BlackBerry as targets.
Intel's Power Move
Intel officially launched its Core 2 Duo platform in a major event for the industry. I brought up Intel's efforts in this area last week, but this event was the one that really drove home the point that Intel's engineering team is now in execution mode. The firm took the opportunity to take a number of solid shots at AMD.
The most powerful was a stage demonstration that included two professionals traveling on the same cross-country flight, one with a laptop equipped with the new Intel part and the other using the AMD Turion. The Intel user played games and worked on his notebook PC throughout the entire flight, while the AMD user ran out of power halfway to his destination and had to do his work in his hotel that night rather than going out on the town. Intel has had a battery life advantage for some time and the message here was that now, Intel is better on overall performance too. This was a staged performance, of course, but it was well played out and tied directly to user benefits.
Intel, which held the event at its Santa Clara, Calif., headquarters, also showed off a lot of very nice laptops and desktops. The new Dell XPS desktop was shown in black, my personal favorite color for that machine; and HP's new 14″- and 15″-wide laptops stood out for their very nice piano black finish. Hypersonic had a notebook with a striking alligator skin finish and Toshiba showcased its Q35 with an HD DVD player — and, for once, the HD DVD programming actually looked really good. Even Gateway was there, showing a renewed focus on Gateway-branded products and performance.
While this should have been where all attendees' eyes were focused, it wasn't, because AMD had pulled an end run earlier in the week by buying ATI and that changed the dynamics of Intel's event. Intel responded tactically and kicked ATI out of the show, which led the CTO of Voodoo, whose products were featured at the event, to blog about Intel.
Unwise Move?
Personally I thought Intel's move was unwise, as, for at least the rest of the year, ATI is still going to be independent and actively support Intel. In fact, due to the arms-length distance that merging parties are required to maintain during the approval process, ATI might have been closer to Intel this year than AMD.
In addition, for many of us, the new Intel processor was somewhat old news given Intel had been talking about it for months. This lack of surprise, along with AMD's action, took the bloom off Intel's event to some degree. Intel has made some recent staffing changes by putting two very capable people in charge of marketing and branding, so I expect their public response to occurrences like these to improve going forward.
One of the interesting things we were all talking about at the event was the impact of the ATI deal on Apple. Apple's relationship with ATI actually precedes their relationship with Intel and folks were speculating they may drop ATI and go with Nvidia or drop Intel and go with AMD, depending on where they stand on all of this. Personally, I don't think Apple has to change at all. That firm owns its implementation and bringing Nvidia up to speed would simply take too much time. However, if it does stay with ATI, AMD will clearly have a foot in the door, creating the possibility that, just like other PC vendors, Apple at some future point may have some products that use AMD rather than Intel components.
While this speculation was interesting, there is probably little risk to Apple whichever way it chooses to go. Meanwhile, Microsoft was having its own event elsewhere, and Apple is clearly in its crosshairs.
Microsoft Goes to War
On the same day as the Intel event, Microsoft had its own huge event with financial and industry analysts. The company trotted out its revitalized executive team and promised that going forward it would be focused on execution. There was a not-too-subtle sense to all this that those who didn't execute wouldn't be around too long.
The two companies most visibly targeted in Microsoft's latest war are RIM and Apple, each of which is dominant in its own space. This sets a foundation for some speculation that Apple and RIM might merge at some point, but such a scenario seems as unlikely as things ever get in this business. Both companies are very controlling and it is unlikely either would give up control to the other; in addition, both companies partner badly, suggesting a working alliance would quickly fail.
From RIM's point of view, Microsoft's success with Mobile 5 is now seen as competitive and RIM's treatment of its customers during the recent intellectual property dispute has left that firm's installed base vulnerable.
In addition, many find the new Motorola Q better than the RIM BlackBerry in terms of features and industrial design, and while it still works best when bundled with Good Technology software, it is now very usable with just the Microsoft OS.
Marketing Engines
For Apple, Microsoft further articulated plans for its Zune offerings and the hundreds of millions of dollars that would be used to create a marketing engine that could get iPod users to migrate. Expected to be based on a subscription product and to provide true peer-to-peer file sharing along with the ability to scan and recreate play lists while pulling from a broad portfolio of Microsoft tools, this will be the strongest challenge to Apple's dominance yet in the segment.
This reminds me a lot of the '80s, except that Apple was the more powerful company with vastly greater resources then, and Microsoft needed IBM to help it out-flank Apple by licensing products and creating a deeper, more compelling infrastructure of offerings. Both companies have the same intent again, but now, they're both big enough that they won't need IBM's or anyone else's help.
Apple is doing a nice job of using FUD (fear-uncertainly-doubt) to downplay the power of subscription, but that only works so long. Wherever pay-as-you-go meets flat rate (another term for subscription), flat rate wins once it is good enough to provide an equivalent or better service. Currently, subscription is the only legal way to do peer-to-peer song and media sharing.
Of course, Apple is likely not sitting still; it has one of the strongest competitive analysis groups on the planet and doubtless sees what's coming. I'm seeing mixed reports on the record labels' support for Zune, and Microsoft really hasn't been executing well of late. Then again, Microsoft has shuffled its deck, so recent history may not be a good guide here.
In short, I don't think we can call this showdown until we see Microsoft's actual execution and Apple's August announcements. By the end of the year though, we should know whether Zune can zap the iPod or whether Apple simply can laugh it off like they have other, earlier initiatives.
Overall, an incredibly powerful week is behind us, and the subtext is that in August, during the back-to-school shopping season, we should see some incredible deals in PCs and music players. I'm all for incredible deals, no matter who they come from.
---
Rob Enderle
is a TechNewsWorld columnist and the Principal Analyst for the
Enderle Group
, a consultancy that focuses on personal technology products and trends.
---