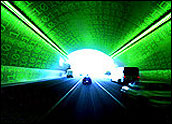 A proposed national ban on text messaging while driving, introduced in the U.S. Senate on Wednesday, is already drawing criticism that it doesn't go far enough and is unlikely to be effective without stringent enforcement and radical attitude shifts in the driving public.
"The real safety problem is not just texting, but all cellphone use while driving," Russ Rader, spokesperson for the Insurance Institute for Highway Safety, told TechNewsWorld. "The danger in passing a law that just bans texting is that people will think that everything that's not banned is safe, and it's not."
In states where bans on cellphones or texting have been passed, they've often been ineffective, added Rader, who cited research on such laws in North Carolina and New York showing cellphone use changed little in the year following their passage.
Cooperation Unlikely
"We looked at the state of New York's cellphone use while driving after the first handheld cellphone ban, and it dropped by 50 percent right after the ban, when there was still a lot of publicity and discussion — but a year after, handheld cellphone use had gone back up to almost where it had been before," said Rader.
"Unless you hear of friends getting ticketed and see people pulling over, it's going to be hard to get a long-term shift in behavior," he said.
A similar study in North Carolina found that several months after a law limiting cellphone use by young drivers was passed, the rate of teen driver cellphone usage observed in areas such as school zones actually increased slightly, from 11 percent to 12 percent.
Four Democratic senators proposed the law this week after the release of a Virginia Tech Transportation Institute report highlighting the risks of texting while driving. The report documents a 23-fold increase in the accident risk for people who drive and text at the same time.
New York Senator Charles Schumer, D-N.Y., is joined by Democratic senators Mary Landrieu of Louisiana, Robert Menendez of New Jersey and Kay Hagan of North Carolina in sponsoring the antitexting bill.
The law would require states to pass their own antitexting laws or risk losing 25 percent of their federal highway funds. If passed and signed into law, it is unlikely that it would take effect before 2011.
Enforcement Difficult
States that have passed laws limiting cellphone use or texting have often encountered strong barriers to enforcement and behavioral change. For example, in North Carolina, authorities wrote fewer than 30 citations per year for teen cellphone use while driving in 2007 and 2008.
Laws limiting cellphone use pit two large industries — insurance and communications companies — against each other in the political arena. In 2008, insurance companies contributed more than US$46 million to federal campaigns, while the electronic communications industry spent almost $140 million in the same year, according to the Center for Responsive Politics.
Insurance companies generally support stronger rules against cellphone use in the belief that such limits curb the amount they must pay in accident claims. Communications companies, particularly players in the mobile market, have usually sought to limit such legislation, though a few have come forward to support the idea of consumers limiting their texting to times when they are not behind the wheel.