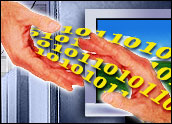 The Recording Industry Association of America (RIAA) is continuing to wage its war against peer-to-peer (P2P) file-sharing networks. On August 25, the RIAA filed new copyright infringement lawsuits against 744 individuals on a variety of peer-to-peer platforms, including eDonkey, Limewire, Grokster and Kazaa.
Meanwhile, the U.S. Court of Appeals in various jurisdictions around the country has been ruling, at least in part, against the RIAA on appeals of lower court rulings that imposed injunctions and fines against some of the P2P music networks. Typically, the appeals judges have been returning these music industry cases to the lower courts to fine-tune their original decisions.
At issue is the complicated issue of copyright infringement and online piracy when P2P users swap music from storehouses of user-contributed music. The legal basis for the lawsuits against music swapping is the Digital Millennium Copyright Act of 1998. According to the UCLA Online Institute for Cyberspace Law and Policy, the DMCA is designed to implement the treaties signed in December 1996 at the World Intellectual Property Organization (WIPO) Geneva conference, but the DMCA also contains additional provisions addressing related matters.
The provisions of the DMCA, in part, limit ISPs from copyright infringement liability for simply transmitting information over the Internet. But the Act expects ISPs to remove material from users' Web sites that appears to constitute copyright infringement. The ACT also requires "Web casters" — those streaming music over the Internet — to pay licensing fees to record companies.
While this legal quagmire continues, a new player on the music-swapping scene plans to launch a paid service by year's end that will offer subscribers an innovative P2P service. Srivats Sampath and Atri Chatterjee, cofounders of Mercora.com believe they have a way to make P2P work legally with a network they call P2P Radio.
This new P2P service already provides access to more than 3,000 channels and 2.1 million unique tracks. And there is more planned once the service comes out of beta testing.
RIAA'S View
In a prepared statement, RIAA's President Cary Sherman wrote that the RIAA's stepped-up efforts reflect a determination to pursue copyright infringement online wherever it might arise. John Doe lawsuits were filed in major cities all over the United States. An additional 152 lawsuits were filed against "named" defendants — individuals who were identified through the litigation process and then declined or ignored an RIAA overture to settle the case before it proceeded any further.
"Just as enforcement strategies for street piracy adapt with changing circumstances, the same goes for combating piracy online," said the RIAA's President. "We are adjusting and expanding our efforts to target illegal file sharing on additional platforms like eDonkey and others. There will always be a degree of piracy, both on the street and online. But without a strong measure of deterrence, piracy will overwhelm and choke the creation and distribution of music."
According to new data from the RIAA, there has been an extraordinary leap in awareness about the RIAA's position on the law and the availability of legal online alternatives during the past year. A July survey by Peter D. Hart Research Associates found that the percentage of those polled know it is illegal "make music from the computer available for others to download for free over the Internet."
Describing the music community's education and enforcement efforts during the past year, Sherman said "the difference in digital music today and last year is night and day."
P2P Radio Plan
Mercora's Atri Chatterjee is confident that P2P radio will avoid legal entanglements with the RIAA because his network will closely regulate the actions of subscribers and will ensure that all required usage fees are paid to the recording industry.
"We enable people to webcast music to each other in a P2P-style environment. Music exchanges can only be done through webcast. The file sharer becomes a mini radio station. The file receiver becomes the listener," Chatterjee told TechNewsWorld.
He said this process is totally compliant with DMCA rules. "All copyright owners get paid by us. We make sure that the performance rights are honored to the owner of the song, the producers, the performers and the record label," he said.
Chatterjee sees P2P Radio as an innovation. His service takes P2P networking topography — a distributed approach not unlike grid computing — and uses it in a form that lets subscribers legally share and listen to music just like broadcast radio.
"Music sharing is a multistep process. It involves a search for discovery of music, obtaining the music and enjoying the music. Mercora is in the business of searching and enjoying. We will get involved in obtaining music later on," said Chatterjee.
Licenses in Hand
According to the company, Mercora.com has obtained a statutory license for the noninteractive Web casting of digital audio. This puts its user radio operation in compliance with the Digital Millennium Copyright Act. This license grants Mercora the necessary digital performance rights to avoid court challenges for piracy and copyright infringement.
Under the terms of the license, Mercora will make payments for sound recordings and royalty payments to SoundExchange, an independent nonprofit organization that represents over 500 record companies and associated labels. Mercora also has obtained all U.S. and international musical composition performance rights it might need through its licenses with industry groups that pertain to the performance rights and associated royalties due to song writers.
Mercora takes care of all the reporting and royalty payments that are due to these various organizations. Subscribers do not have to worry about any user payments beyond the subscription fees for participating in P2P Radio.
How It Works
Mercora's software application lets subscribers play the network's collections of music, listen to subscriber music streams and interact through forums and chat groups.
"We are a user-contributed network. The music never leaves the subscriber's system," said Chatterjee. "This insures that all copyright laws are followed and that all payment reporting is accomplished."
Subscribers install the Mercora client and list the digital music files they would like to include in their Mercora music library. Subscribers then use the Mercora client to organize and play this music locally. They can also make the music available for Web casting to others on the Mercora network.
The Mercora client ensures that all music streams satisfy the rules governing the statutory license for noninteractive streaming. These rules include conforming to the sound recording performance complement, minimum duration for looped programming, and identification of song, artist and album.
The software allows subscribers, in some cases, to listen to one song while Web casting another.
Restrctions Keep It Legal
Subscribers cannot announce in advance when particular sound recordings will be streamed or the order in which they will be streamed. This meets the legal requirement for a noninteractive streaming service.
Subscribers also cannot stream specific sound recordings within one hour of the request by a listener. The same restriction prevents listeners from designating a time for the stream.
The only audio content permitted is music for which the subscriber has legitimate legal rights to use. In other words, music ripped from CDs that the subscriber owns or music downloaded from a legitimate online music store is permitted. But music downloaded using other file-sharing programs is considered illegitimate and thus not permitted on P2P Radio.
No Guarantee Against Abusers
The P2P Radio software client is a closed environment, so users cannot record from Mercora's software client — at least in theory. But Chatterjee admits the system is not foolproof.
"Of course, any jukebox player on a subscriber's computer system may enable a person to rip the music while listening," Chatterjee told TechNewsWorld. "But from a software-license standpoint, we do not allow that to happen. We track all activities at a central hub. Users must sign in, and we can enforce the rules," he said.
Chatterjee said the software application ensures that the music streaming between subscribers is legal.
The user agreement is very specific about adhering to the restrictions. It places subscribers on notice about the legal requirements for legal music exchange.
Beta To End in December
P2P Radio has been in beta testing since May. Chatterjee said the service already has 100,000 subscribers. They will have the option of selecting a subscription-based service or the basic free access when beta testing ends by December.
Chatterjee plans an expansion into a kind of eBay-esque network. But unlike eBay, Mercora.com will only provide music. "eBay is a gargantuan flee market. You can find anything. That's what we envision," Chatterjee told TechNewsWorld.
He said expansion plans will capitalize on the growing market for used music, which he described as a US$2.5 to $3 billion industry. The new music market is an $11.5 billion market.
The third aspect of Mercora's operation will involve contextual advertising within the software client. Using a simple Google-style ad-word system, pop-up ads will appear on the side of the user's computer screen.
Currently, users of most P2P networks — like Kazaa or Morpheus — can "stream" songs simply by previewing them after downloading a small amount of data. And companies like RealNetworks, Musicmatch and others have offered Internet streaming for quite some time — some for a fee, others not. Whether this new model of peer-to-peer radio will catch on in a market saturated with competition remains to be seen.