HTC has shown off its first two smartphones running Mango, Microsoft's upcoming update for its Windows Phone mobile operating system.
The new devices, the Titan and the Radar, are being shown to some consumers in London, Paris, Madrid and Berlin.
The Titan has a 4.7-inch display — much larger than a typical smartphone's display and more than 30 percent larger than the iPhone 4's 3.5-inch screen. The Radar's screen is smaller at 3.8 inches.
At a time when so many smartphones look so much alike, a particularly large screen could make the Titan conspicuous to consumers, if nothing else.
"Every form factor has been tried, and now it looks like manufacturers are going to larger and larger smartphones," Allen Nogee, a research director at In-Stat, told TechNewsWorld. "When almost all smartphones look exactly the same and run the same applications, how do you set your product apart from the crowd?"
HTC did not respond to requests for comment by press time.
Both the Titan and the Radar will be broadly available worldwide from October, starting in Europe and Asia.
Tech Specs for the Mango Devices
The Titan and the Radar both have the standard front and rear cameras and can shoot 720p HD videos. Both have a dedicated hardware camera button that lets users take photographs without having to unlock the phones.
They both come with the HTC Watch video service, which was introduced in April on the then-newly launched HTC Sensation 4G.
Watch is an application and service that provides access to the latest premium movies and TV shows.
Both the Titan and the Radar offer access to Microsoft's Zune music service and have Virtual 5.1 surround sound.
They both have HTML5 support and let owners access Microsoft Xbox Live. Both also provide the usual access to social networking services.
The HTC Titan has a 4.7-inch LCD screen, an ultra-slim 9.9mm curved brushed aluminum shell, and built-in Microsoft Office Mobile. It has a Qualcomm Snapdragon 1.5GHz processor and is a 3G device.
The HTC Radar is also a 3G smartphone. It has a Qualcomm Snapdragon 1GHz processor.
The Sense-less HTC Smartphones
Notably, neither the Titan nor the Radar has the HTC Sense graphical user interface, which HTC developed for mobile devices running Windows Mobile, Android and Brew.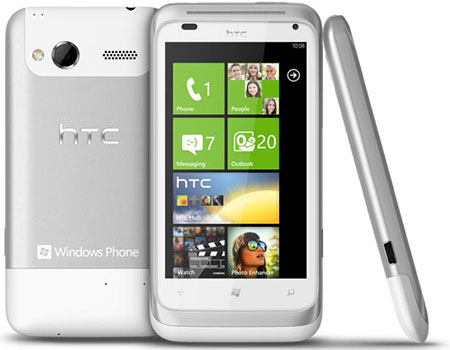 HTC Radar
That could be an attempt by Microsoft to exert some control over its new mobile phone system.
One of the issues that plagued Windows Mobile, the predecessor of WinPho7, is that each smartphone manufacturer put its own UI on top of the operating system, resulting in a fragmentation of the market and a lack of interoperability among Windows mobile phones.
"I think Microsoft is clamping down on fragmentation," IDC's Stofega opined. "They learned with Windows Mobile 5 and 6 that you need some sort of control lever to make sure people don't do things that are ultimately not good for the operating system."
A Brave New World
The Titan isn't the only smartphone with an enormous screen.
Samsung launched the Galaxy Note Thursday. This has a 5.3-inch super AMOLED screen, and Samsung calls it a new type of device.
Perhaps the smartphone market is reversing its original trend, wherein devices kept shrinking in size — or perhaps this is a whole new direction for the market.
"I think we're starting to see a new category of mobile devices emerging," Will Stofega, a program director at IDC, told TechNewsWorld.
"You might say that we're seeing a new version of the smartphone, one we might consider to be a superphone, which may look clunky compared to normal smartphones but will be a little more portable than a tablet," Stofega added.