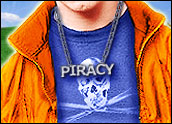 A Congressional committee last month gave universities with high volumes of student piracy violations 30 days to return a survey on Internet piracy and network practices. The committee is scheduled to resume its meetings Tuesday in Washington.
The letter hints that Congress is stepping up its crackdown on Internet piracy by college students in an effort to help the entertainment industry and higher education work together to prepare new legislation.
"The fact that copyright piracy is not unique to college and university campuses is not an excuse for higher education officials to fail to take reasonable steps neither to eliminate such activity nor to appropriately sanction such conduct when discovered," read a letter addressed to President Martin C. Jischke of Purdue University.
Opportunity to Resolve
"The real problem lies with leveraging the students through their schools. We are dealing with 17-and 18-year-olds. You go to the college and accuse them of a crime and say [they] owe us money. I have a problem with that," Donald David told TechNewsWorld.
David, a member of the New York law firm of Cozen O'Connor, represents artists and music companies.
The Recording Industry Association of America (RIAA) has initiated a new wave of pre-lawsuit letters to the targeted universities, according to David. The RIAA is requesting that college administrators forward letters to students who are being charged with illegally downloading music.
The letters offer the students an opportunity to resolve a claim of copyright infringement against them at a discounted rate prior to the filing of a formal lawsuit.
Congress, according to the letter, has long sought to address in a constructive and collaborative manner the issue of copyright piracy on university campuses. Since 2003, the House of Representatives conducted at least five hearings into this subject, involved multiple committees in the consideration of legislative alternatives and dealt directly with both the educational and creative communities.
Student Piracy Charges
The letter cites four examples of extensive college student piracy violations. One is a 2006 study by the L.E.K. Group that attributed 44 percent of the domestic piracy losses suffered by the U.S. motion picture industry to college students. That was more than half a billion dollars annually, according to the letter.
A second example the letter cited is a spring 2006 survey by Student Monitor that found more than half of all college students download music and movies illegally. A third example is a survey of college students conducted by the market research firm NPD revealing that students reported more than two-thirds of all music they acquired was illegally obtained.
NPD also concluded that college students were responsible for more than 1.3 billion illegal music downloads last year and disproportionately used P2P (peer-to-peer) networks to download unauthorized music files. College students accounted for 21 percent of all P2P users and 26 percent of all P2P downloaded music files, NPD said.
Survey Inquest
The survey that the House committee sent to the 19 university presidents seeks details of acceptable use and antipiracy policies at those campuses. The survey asks about the extent of student notifications from the colleges about copyright violations and the severity of punishments the schools imposed on the violators.
It also seeks details about the ability of the university to identify violators and the extent of records on network use.
The survey also asks the university presidents to make a full disclosure about their schools' network and data integrity policies as they existed on April 26, 2007. It directed the presidents to describe any policy changes after this date.
More Than Music
The Congressional survey additionally focused on strategies the universities have in place to block piracy and prevent misuse of other forms of intellectual property.
For example, the letter directed university presidents to specify which legitimate online services students are encouraged to use for accessing copyrighted material, such as Ruckus, iTunes, CinemaNow, Unbox, Rhapsody, or MovieLink.
Follow-up questions ask which Web sites the university uses to direct students to these services, if the campus offers free advertising to one or more services and if the school offers certificates for free downloads from or subscriptions to one or more services.
In addition, the survey inquires whether the school offers discounts on monthly use of one or more services, offers collective or site licensing of one or more services and whether the school offers free access to one or more services or parts of those services. Another question seeks information on whether schools promote services in student enrollment materials or during back-to-school events.
Lastly, the poll queries whether TV reception is available on campus. It asks what the policies are regarding the access and availability of cable or satellite television programming in university residences. Also asked is whether the school provides free or subsidized cable or satellite television programming to resident students and, if so, how much it costs students.
Backfire Possible
Attorney David seesThere's a good chance that the Congressional inquiry could result in a legal backlash and misdirected new laws, said David.
"They are trying to make 17- and 18-year-olds afraid. That bothers me. This is the equivalent of going to your boss and saying you want the employer to send the employees a letter. We need some kind of change in the criminal law because nobody will ever be prosecuted," said David.
Ultimately, the inquisition could backfire on the RIAA with a class action suit alleging a violation of state laws, invasion of privacy and possibly the fair debt collection act, according to David.
While laws vary from state to state, he believes that there is no justification for using the universities as a conduit to reach the students. While it is permissible for an organization to inform the school that its network is being improperly used for the illegal downloading of music, it is problematic for RIAA to expect the university to forward a letter to the students prior to litigation to determine liability.
Most schools have mail delivery service. The RIAA could have also attempted to contact students by e-mail, he added.
Misguided Law?
Ultimately, new laws could be proposed as a result of the Congressional survey, David said. However, he faulted the approach taken by the music industry.
"These people have access to Congressmen. I think this matter will go to some kind of legislation with criminal acts. But the legislation won't address the issues. We need to recognize the changing paradigm in the music industry," he cautioned.
David is not sure that new laws will solve the problem. "New legislation will just bring another stupid law," he said.
Studying Results
As of Monday, federal legislators have not yet determined how many university presidents failed to reply by the May 31 deadline. While the letter encouraged the school officials to respond in their best interests, it did not threaten penalties to those who did not cooperate, said Jean Smith, spokesperson for Rep. Howard Berman, chairman of the House Judiciary Subcommittee on Courts, the Internet and Intellectual Property.
"We may require penalties, but we won't know how many replied until we study the results," she told TechNewsWorld. "We presume the universities respect the laws involving Internet piracy."
Lawmakers in Washington have not planned their next step and are waiting for the results of the survey before proposing action, said Smith.
New Solution Offered
Software may be one possible solution to the nagging problem of enforcing antipiracy laws on the Internet, according to Florida-based SafeMedia CEO and President Safwat Fahmy.
His company recently introduced a product that Fahmy claims will take universities off the hot seat regarding student piracy. Clouseau is a network appliance that prevents P2P downloading of copyrighted music and other materials.
"This is a country-wide issue beyond colleges. Colleges are having the hardest times with P2P because they don't want to stop it or don't have the technology to stop it," said Fahmy.
"Many universities are networks built upon subnets," he added. "So blocking schemes have to be applied at multiple locations to control P2P between subnets. You have to be very careful with P2P."