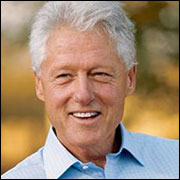 Security guards at the 2011 RSA conference in San Francisco had a little surprise in store for reporters queuing up to attend former President Bill Clinton's keynote speech on Friday.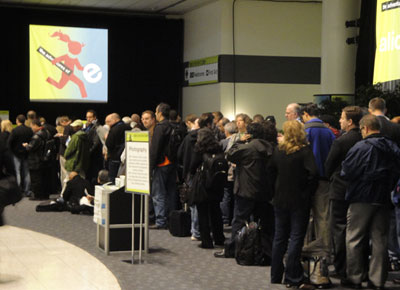 Bill Clinton drew a long line for his RSA conference keynote Friday, though not all were allowed through the doors.
Journalists were asked to leave the queue, which had begun forming shortly after 11 a.m. for a speech originally scheduled to be made at 1 p.m.
"It's only for delegates," a security guard said, suggesting journalists take their questions to the people manning the press room nearby.
A staffer from Shift Communications, the public relations agency manning the press room booth and running PR for RSA 2011, said signs announcing that Friday afternoon's keynote was closed to the press had been posted in the press room and elsewhere at the convention.
Silence Is Golden
"That's how we communicated it," the staffer said when asked why the restriction was only posted on signs at the event and had not been noted on RSA 2011's website.
There was no mention of any such restriction on the RSA 2011 Web page listing the keynote speakers, which had a photo of Clinton at the top right. This page also listed an abstract of his speech and his photo elsewhere on the page together with abstracts of other keynotes.
The silver-tongued Clinton had previously made a keynote speech at Dreamforce 2010, the convention Salesforce.com held in San Francisco in December. Members of the press were able to attend and report on that appearance.
At that speech he touched on the WikiLeaks issue as evidence of global instability, talked about science and technology, ripped America's healthcare system and discussed global instability and the uneven distribution of wealth.
It's My Party and You'll Cry If I Want You To
Perhaps Clinton was not thrilled that many news reports of his speech at Dreamforce focused on his comments about WikiLeaks, which was the hot issue of the moment, and wanted to avoid a repeat of that type of coverage.
WikiLeaks had earlier published more than 250,000 United States diplomatic cables on the public Web, and Clinton said that may have endangered the jobs and possibly the lives of people overseas who were working with the U.S.
Or perhaps he wanted to limit his audience to ensure he spoke to the maximum possible number of potential contributors for his cause. Delegates, as defined by the organizers, were attendees and speakers.
Or perhaps Clinton doesn't like press attending speeches he gives at RSA.
"When I attended RSA a couple of years ago, the press wasn't allowed to attend his speech then either," journalist Howard Dyckoff told TechNewsWorld
The crowd queuing up to attend Clinton's keynote Friday stretched more than 100 feet from the entrance to the convention room where the keynote would be made.
Being Human
Although it's not clear what Clinton will talk about, the abstract for his presentation may provide a hint — it said his public speeches describe the challenge of globalization, emphasize our growing interdependence, and point the way toward a common future based on shared goals and values.
The title of his keynote for Friday is "Embracing Our Common Humanity," according to RSA 2011's Web page listing the keynotes
"I guess our common humanity has its limits," guffawed veteran journalist Peter Sussman, a member of the Society of Professional Journalists' Ethics Committee.
"It's indicative of something, but I don't really know what that is," Sussman added.