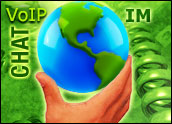 While the Federal Communications Commission (FCC) mulls over what to do about services for making phone calls on the Internet, two legislators have decided that the U.S. Congress should get into the act.
Sen. John Sununu (R-New Hampshire) and Rep. Chip Pickering (R-Mississippi) have filed bills in their respective legislative branches to place regulatory control of Voice over IP (VoIP) technology squarely under the federal government.
Called "The VoIP Regulatory Freedom Act of 2004," the measure restricts state or local taxation or regulation on the technology and delegates regulatory authority over it to the FCC, according to a statement from Pickering's office.
Prevents Patchwork Regulation
The statement said the legislation defines a VoIP application as the use of hardware, software or network equipment for real-time, two-way or multidirectional voice communications over the public Internet or a private network utilizing Internet Protocol (IP). It excludes VoIP applications that both originate and terminate on the public switched telephone network.
"VoIP is the next step in voice communications," Pickering, who is vice chairman of the House Energy and Commerce Committee, said in a statement.
"As this efficient technology grows, consumers will benefit from advanced services and reduced costs," he continued. "But for the industry to develop and prosper, we must have a national standard that prevents patchwork regulation from stifling innovation."
Stifling Regulatory Scheme
"Voice over Internet Protocol — technology that enables efficient, cost effective delivery of voice communications over Internet broadband networks — is at a critical stage in its development, but its potential to serve consumers, business, and society is enormous," Sununu said in a statement.
"Unfortunately," he added, "some interests would like to impose an outdated and stifling regulatory framework on this service, rather than allow VoIP to continue to expand freely."
According to Sununu, the proposed law calls for the FCC to create a new system of compensation for carriers distributing VoIP calls, which would free the technology from the existing intercarrier compensation scheme termed by some as "Byzantine." The law also requires that law-enforcement agencies be given access to VoIP applications.
Access Morass
As far as some carriers are concerned, the Sununu-Pickering proposal is copasetic as long as callers are charged for accessing telecommunications networks. "If you place a call from a regular phone and it uses Voice over IP and it goes to another voice telephone, you should pay access charges on those calls," Sprint spokesperson James Fisher told TechNewsWorld.
"We have a lot of concern about the whole morass that is the intercarrier compensation issue, and it is our hope that the FCC will address the broader issue of intercarrier compensation in a way that will allow technologies to proceed in an aggressive way," he added.
Not all carriers, though, agree on how VoIP should be treated by regulators. "We don't believe that an information service like VoIP should be subject to the same kinds of regulation that traditional phone service is subject to," AT&T spokesperson Tom Hopkins told TechNewsWorld. "That would include access charges and so on."
200-Year Trend Snapped
"VoIP is not the same thing as regular telephone service," Hopkins added. "It's an information service, and, as such, it shouldn't be regulated in the same fashion."
Arguments by the legislation's sponsors that VoIP is a new technology that needs protection from overregulation and taxation to grow have a familiar ring for the 50 states, which have been shut out of taxing another nascent technology — the Internet — for years.
"We went for over 200 years without the federal government preempting the states' taxing authority until the moratorium came along on Internet access," Ray Scheppach, executive director of the National Governors Association in Washington, D.C., told TechNewsWorld.
Ominous Overtones
"What you're seeing now is a very bad trend," he said. "Any time there's a new technology now, we feel we have to protect it." Because the states collect some US$12 billion per year from telephone taxes, tax-free VoIP has ominous overtones for them.
"This technology in the last year has arrived," Scheppach observed. "Most of these telephone companies now say that within five years, 100 percent of their calls will be going over the Internet."