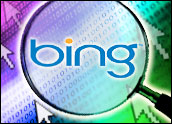 Microsoft unveiled an update to Bing on Thursday that strongly leverages social networks, including a redesigned interface to provide a three-column look.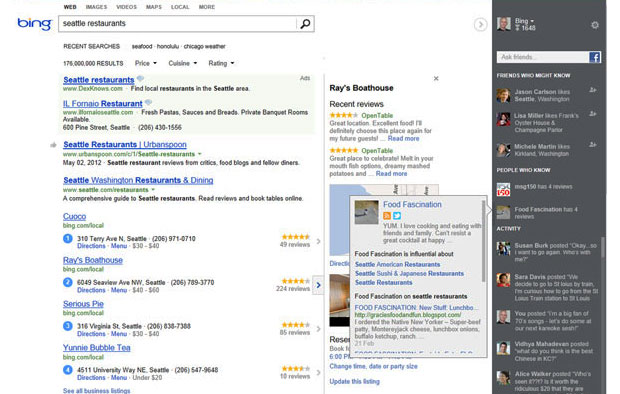 A restaurant search using Bing's new features
Responses to queries keyed into Bing will list experts and the user's friends, who can comment on the topic in the right panel. A new feature called "Snapshot" will display useful information about a specific place or topic in the middle column.
The updated version of Bing will roll out over the next few weeks and will be broadly available in the United States in early June. It will run on desktops and smartphones.
The revamp could be viewed as Microsoft's response to Google's rollout of Search Plus Your World in January.
"It's a leap forward, and it will offer real differentiation from Google if it does work," Greg Sterling, senior analyst at Opus Research, told TechNewsWorld. "Previous efforts by Google, Yahoo and Bing have been very muddled."
What the New Bing Will Offer
The "recent" section in Bing results has been moved to the top of the page, the "related searches" section has been moved to the middle column, and the right-hand column will list experts and friends who have commented on the subject of the search and can be queried.
The "snapshot" feature, which will display detailed information about the topic of a search, will initially be displayed for searches where Bing can determine a clear customer intent focused on accomplishing a particular task, such as booking a table in a restaurant. It will later be expanded, Microsoft said.
The social sidebar on the right displays the names of people who have blogged or tweeted about topics related to a user's search. Clicking on a name will let the user read that person's blog or follow that person on Twitter. The sidebar will also display a list of the user's friends who may be able to comment on the query, gleaned from information in the user's public profile about them.
Users will be able to post a question and include Web links to get input from the friends listed. Friends can respond on Facebook or Bing, Microsoft said, but some reports claim responders can also come in from Quora, Foursquare, Blogger and Google+.
Whether or not this will work "will depend on whether people can actually engage with [the social sidebar] and get help from their networks," Opus Research's Sterling pointed out. "Otherwise, it'll just be a novelty."
Microsoft representatives were not immediately available to provide further details.
Taking on the Big G
It's not clear whether the updated Bing will make any inroads into Google's dominance in the search and online advertising markets.
"Market share is what drives the search advertising market," Mike Moran, chief strategist at Converseon, told TechNewsWorld. "No one can advertise only on Bing, but many searchers advertise only on Google, and that won't change until the market shares change. If Bing could break 40 percent, I think that would be the tipping point for them, but they haven't budged from 30 percent after a quick rise."
Microsoft "has the money to be in this game for the long haul if they want to," Moran added. "If they are committed to search, they might have another move left in them, but insiders say that Bing is costing Microsoft a lot of money every month, so unless it can break through to a new level in the U.S. or make significant inroads in other countries, [it] eventually might have to back off."
On the other hand, Google is in the same position with Google+, Moran suggested. "[Google+] has interesting features not found in Facebook and Twitter, but it is undoubtedly a money loser for Google."