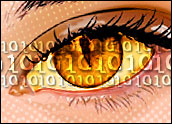 Swappers using the popular file-sharing protocol BitTorrent are spied on constantly by monitoring services, some of them seeking to identify media pirates, researchers at the University of Birmingham in the United Kingdom reported Tuesday.
Monitoring is particularly intense for files that are currently popular among sharers — less so with less popular files, reported a research team led by Tom Chothia of the School of Computer Science.
Quick Response
"Peers sharing popular content are likelyto be monitored within three hours of joining a swarm," the researchers wrote in a paper titled "The Unbearable Lightness of Monitoring: DirectMonitoring in BitTorrent."
A "swarm" is a group of hosts on the Net used by sharers to facilitate file sharing. For example, a swarm might be created around swappers of a movie file, pieces of which could be stored on many computers in the swarm.
Erratic Blocklists
BitTorrent users exchange a range of legal content, but BitTorrent is also widely used for the illegal exchange of copyrighted material such as music, movies and software, the researchers explained.
"Many copyright holders perceive this illegal exchange of content as a threat to their business models and have increasingly sought to prevent it," they wrote. "In particular, copyright holders are known to routinely monitor file-sharers, collect evidence of infringement, issue cease-and-desist letters and, in some cases, demand financial compensation from the users they deem to have infringed their copyright."
Swappers concerned about monitoring have resorted to blocklists to evade detection, the researchers explained. Blocklists identify sharers, or peers, suspected of suspicious activity.
The privacy protection provided by blocklists was erratic, the researchers found, because they were plagued with large numbers of false positives and negatives.
A Decade Of Monitoring
Monitoring of BitTorrent sharing isn't anything new, according to Ernesto Van Der Sar, who closely follows the torrent scene as editor of the TorrentFreak website. "Monitoring has been going on for almost a decade," he told TechNewsWorld.
"It's not a big surprise to people in the BitTorrent community," he added. "It's quite well known that there's these outfits checking what people do."
What's new in this research, he continued, is that the researchers found that copyright enforcement agencies are using direct as well as indirect monitoring of swarms. Direct monitoring is a more precise way of identifying who is sharing files.
The researchers identified half a dozen companies they suspect are engaged in direct monitoring of BitTorrent users: Speakeasy, Cogent/PSI, Qwest, Net2EZ, TELESP and HEAnet.
Tag Team Enforcement
More precise monitoring of Internet file sharing could prove to be more valuable to rights holders in the United States as they implement their new graduated response program to fight piracy with their ISP allies, which include Comcast, Verizon, Cablevision and Time Warner.
Under that program, when a rights holder notifies an ISP that one of its users is allegedly downloading copyrighted material illegally, the ISP forwards the notice to the user.
If the user doesn't stop, the ISP then sends confirmation notices to the accused pirate. If the user is still unresponsive, the ISP can take a number of measures to mitigate the alleged infringement. Those measures can range from throttling a connection to cutting it entirely.
"I think they're going to up the monitoring and try to nail as many people as possible," Van Der Sar maintained.
ISP Moderation
However, it's doubtful that graduated response would result in increased monitoring, said Sherwyn Siy, vice president for legal affairs for Public Knowledge, an advocate of Internet openness. "Monitoring has been done before and it will continue to be done," he told TechNewsworld.
The program could have an impact on file sharing, though, he added. "After a warning, recidivism is low," he added.
While rights holders have resorted to extreme measures to attack piracy in the past — most notably the recording industry's massive lawsuit campaign against digital downloaders — the ISPs appear to be less inclined to do so.
"We've seen indications that the ISPs don't want to disconnect anyone from the Internet," Andrew McDiarmid, a senior policy analyst at the Center for Democracy & Technology, told TechNewsWorld.
"The Internet isn't a luxury anymore; it's a necessity," he added. "No one should lose their Internet connection because of accusations untested in court."