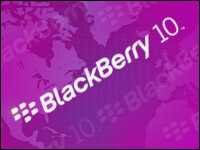 While Research In Motion's BlackBerry 10 won't be released until the first quarter of 2013, the platform has already received a highly prized U.S. government security clearance, the company announced Thursday.
BlackBerry 10 won the FIPS 140-2 certification that will allow government agencies to deploy devices that run the OS. The clearance also applies to Enterprise Service 10, RIM's new mobile enterprise management solution.
The FIPS certification, which is given by the National Institute of Standards and Technology (NIST), is in essence one of the minimum criteria required for products that are used by U.S. government agencies, as well as regulated industries that collect, store, transfer, share and disseminate sensitive information.
"The FIPS 140-2 is applicable to all federal agencies that use cryptographic-based security systems," said Randall J. Easter, director of the Cryptographic Module Validation Program at NIST.
"The security requirements cover areas related to the secure design and implementation of a cryptographic module," he told TechNewsWorld.
"Research In Motion has been active in the validation of modules for use in BlackBerry mobile devices and BlackBerry Enterprise Server applications since 2001, creating an end-to-end security solution," Easter noted.
Security in Motion
Given that RIM has seen BlackBerry's once strong dominance in the smartphone market slip away to Apple's iOS and Google's Android, and that it now faces new competition from Microsoft's Windows Phone 8, this stamp of approval could be what it takes for BlackBerry to remain viable in markets where security is crucial.
"For many of our customers, security is top of line," said Michael K. Brown, vice president of security product management at Research In Motion.
"The approval process can be quite lengthy and can take up to six months," he told TechNewsWorld. All the due diligence needed to be in place, and RIM worked to ensure that the task was accomplished well in advance of the launch.
"With BlackBerry, security has been one of the things that our customers looked to us for; this has been a driving force for us," Brown added. "Security is and always will be what customers can rely on with us in the future."
Having the certification in place ahead of the launch could induce corporate and government customers to take another look at RIM.
"This shows that the product is as mature and ready for use," said Ian Fogg, and analyst at IHS Screen Digest.
"The current BlackBerry is a very mature product with few bugs, and it is very reliable," he told TechNewsWorld, "and if RIM wants users of BlackBerry 7 to adopt BlackBerry 10, they need to release it with that level of quality on day one."
Advanced Security
Although RIM has faltered badly in the past few years, the company clearly remains committed to those who rely on the BlackBerry and its enterprise platform for its security.
"The fact that RIM has this sophistication ahead of the launch shows that they are doing everything they can to be ready," said Fogg.
"They will also want to be able to unveil the first device and have it ready to go on sale pretty quickly," he added. "Everyone who buys the new device will have a great experience on day one."
This could be crucial as some organizations may test the waters before making a commitment.
"In those areas where organizations are likely to purchase only a few handsets at first and determine if this system is reliable, RIM knows the product has to be good so that those organizations will follow through with larger purchases," Fogg pointed out. "Success of the company could depend on BlackBerry 10 being a good product on day one."
Still, whether winning this security clearance is a significant enough development to help RIM regain some of its lost market share is a big unknown.
"RIM still has their core business like various government agencies both here in the USA and around the world. That however is just enough to keep them treading water, not growing," said telecommunications analyst Jeff Kagan. "The marketplace has changed, and RIM slept through it."
Competition in the Government Sector?
The changing marketplace has also seen some government agencies looking to RIM's rivals — and increasingly, many businesses have been adopting BYOD — that is, bring your own device — policies. RIM still has the advantage, but it is slowing losing it.
"RIM has always had their eyes on building the world's most secure network. That's why every company and government agency uses them," added Kagan. "RIM was always on the business and government side. Getting the FIPS 140-2 certification in advance is a good start for that customer group."
Apple and Microsoft may be looking to grab some of that market, however.
"Apple started life on the consumer side of the house where security was never that important," Kagan told TechNewsWorld.
"They were never that concerned with the same security concerns as RIM — the same with Microsoft and Google," he observed.
However, "it would be a great idea if Apple and others could quality for the same stamp of approval," suggested Kagan. "This is one of RIM's secret weapons — so RIM hopes that others don't."