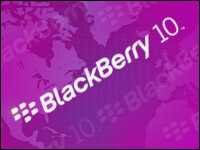 BlackBerry, which had 3 percent of the global smartphone market in Q1, according to Gartner, is taking bold steps to turn around its fortunes.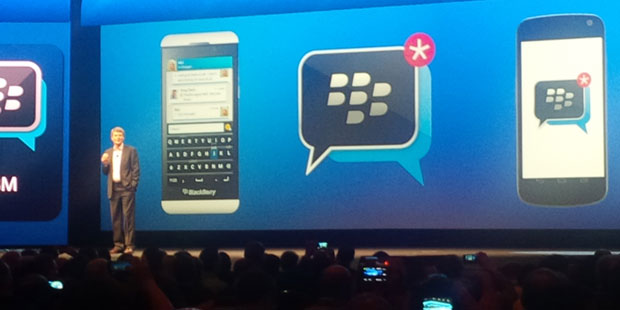 CEO Thorsten Heins at BlackBerry Live
The company announced those moves Tuesday at its BlackBerry Live conference in Orlando, Fla.
It will bring its BlackBerry Messenger (BBM) to the iOS and Android platforms later this year, and announced its own social network, BBM Channels, which will run on top of the BBM messaging service.
BlackBerry also announced the Q5, a new, low-end smartphone for emerging markets.
"BBM is for BlackBerry what iTunes is for Apple, being enough better — faster and more secure — than other alternatives that it could spread like iTunes did, and so could bring others into BlackBerry's family of users," said Rob Enderle, principal analyst at the Enderle Group.
BlackBerry did not respond to our request for more details.
BBM for the Masses
"A major attraction for people to use BlackBerry devices is BBM, and extending it to iOS and Android could be a way for BlackBerry to down the road attract those users to its devices," said Julien Blin, a directing analyst at Infonetics. BlackBerry devices are "very efficient in terms of data consumption, and that could be attractive to iOS and Android users."
BBM would be available on iOS 6 and Android 4.0, aka Ice Cream Sandwich, or higher.
"This is like Mercedes, who gives their safety technology to competitors for free, pointing out that it actually works best on their cars," Enderle said. "As long as iOS and Android are relatively unsecure and exposures are tied to those platforms, BlackBerry can argue that, once folks are on BBM, the only secure path is to the BlackBerry hardware."
Will BBM Channels Annoy Facebook?
BBM Channels lets people connect with individuals and groups in real time. They can stay up to date on their favorite things, receive timely updates and participate by commenting on, liking and sharing posts. Users can also create, edit and publish their own channels.
That may sound like a Facebook marketing message. Might Facebook take umbrage, especially since it has a tie-in with BlackBerry Messenger?
"I don't think Facebook will see them as a threat," Infonetics' Blin told TechNewsWorld. "BlackBerry has, what, 60 million users and Facebook has over one billion."
About the Q5 Smartphone
BlackBerry CEO Thorsten Heins introduced the Q5, a smartphone for emerging markets, and said the company will introduce several smartphones in the future.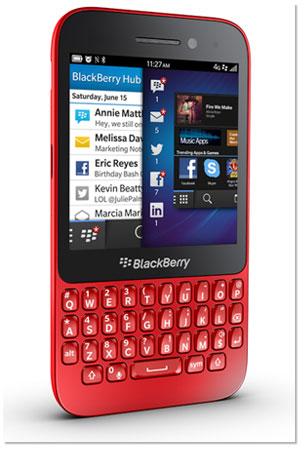 The BlackBerry Q5
The Q5 has a classic BlackBerry keyboard with Instant Action shortcuts. It comes with BlackBerry Time Shift Mode and Story Maker, and can be used for BBM video conversations. The device will also come preloaded with BlackBerry Hub.
The Q5 will run BlackBerry 10. It will be available in July in Europe, the Middle East, Africa, Asia and Latin America.
Laying Down the Groundwork
BlackBerry "has to stabilize the business, and we've seen some good corrective action, but Thorsten [Heins] is very circumspect and focused in letting people know this is not the end of the game," Will Stofega, a program director at IDC, told TechNewsWorld. "BBM's not necessarily about going to other platforms. That's part of it, but the big vision is to build things that go outside the current environment."
BBM could be extended to be part of a platform for people to communicate with cars, Stofega said. "Linux is in 60 to 70 percent of cars today, so BlackBerry is miles ahead of the game."
A version of QNX, a Linux derivative that's at the heart of the BlackBerry 10 OS, runs on almost any modern CPU that's used in the embedded market. It is widely used as the basis for automotive electromechanical components.