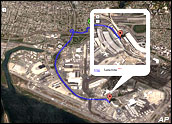 Tightening controls over distribution of commercial satellite photos may not be in the best interest of the nation, according to academic and industry experts on the subject.
"It is sometimes more advantageous for our military to have satellite imaging broadly available, especially if you're in a situation with allies, like Iraq," Christopher Simpson, director of the Satellite Imagery and the News Media project at American University in Washington, D.C., told TechNewsWorld.
"I don't think the military, by itself, should have a yes/no authority over private companies," he added.
Global Imaging Economy
Moreover, closing the tap on U.S. sources of satellite imaging will only open it for overseas imagers, according to Mark Brender, vice president for communications and marketing for GeoEye.
GeoEye, along with DigitalGlobe, is licensed by the federal government to conduct satellite imaging operations.
"Our government is aware that many countries operate imaging systems, and to restrict U.S. commercial companies, when foreign competitors are not so restricted, is not going to be worthwhile," Brender told TechNewsWorld.
The Admiral Speaks
Tighter control of satellite imaging grabbed headlines this week when the head of a spy agency that collects and analyzes satellite imagery said he could forsee circumstances where restrictions would have to be imposed on commercial distribution of sky pics.
"If there is a situation where any imagery products were being used by adversaries to kill Americans, I think we should act," Vice Adm. Robert Murrett, director of the National Geospatial-Intelligence Agency, told the Associated Press Tuesday.
"I could certainly foresee circumstances in which we would not want imagery to be openly disseminated of a sensitive site of any type, whether it is here of overseas," he said.
Genie Out of Bottle
In Iraq and Afghanistan, releases of satellite photos have been suppressed or delayed by the military with questionable results, contended Simpson of American University.
"Whether that has saved lives is certainly open to debate," he said. "There's no indication that any of the opposition forces in Afghanistan have realistic access to this imagery or the capability to use it."
Tightening the wraps on satellite imaging, though, won't be easy, maintained Brender.
"The imaging genie is out of the bottle," he declared. "We've entered an age of transparency.
"We've all been Googlized," he continued. "There's no going back to the cartoon maps of the last century."
Could Hurt Google
Pulling in the reins on the distribution of satellite imaging could potentially hurt companies like Google, which use such imaging in a number of ways.
"We have paid close attention to concerns that Google Earth creates new security risks," Google spokesperson Megan Quinn told TechNewsWorld.
However, she noted: "Google is a consumer, not a creator, of the imagery. Accordingly, we expect security concerns to be addressed primarily by the companies and governmental agencies that gather and distribute the images.
"The government has the power to limit the capturing of satellite images whenever appropriate," she added. "Google both supports the federal government's decision and understands the government's interest to set limits wherever appropriate."
Preclusive Buying
Through its licenses with the satellite imaging companies, the federal government has substantial control over what's done with eye-in-the-sky pics — including barring the photographing of any area of the earth entirely — but it appears to have used its powers with restraint.
"In five years of operation, we haven't been requested to either not to image or hold imagery back from certain areas," DigitalGlobe spokesperson Chuck Herring told TechNewsWorld.
While the government hasn't asked to imagers to avoid taking pictures of particular areas, it has sought to control distribution of images through "preclusive buying," or buying all the photos of a particular area on an exclusive basis. That was done for three months during the war in Afghanistan.
"Our government pays farmers not to farm, so they can buy up imagery over a particular part of the world — but it's expensive," GeoEye's Brender observed.
He explained that at the time the government embarked on its preclusive buying spree, satellite technology was new and the feds weren't quite sure how handle it.
"On a 'let's be safe' basis, they decided to buy up the imagery," he opined, "but they quickly realized that was fruitless because foreign providers were selling the imagery."