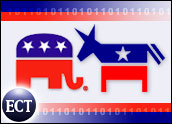 Dan Rather delivered Henry Copeland a Christmas gift three months early. On Sept. 20, the CBS news anchor was forced to admit that his network no longer had confidence in documents used to support a now-infamous 60 Minutes piece about President Bush's service in the Texas Air National Guard.
It was a dark day for mainstream media — but a banner moment for people making a living off blogs like Copeland, the owner of BlogAds.com. Web logs, or blogs, are a mix of online diaries and self-published journalism. Several of them, including Instapundit.com and Powerlineblog.com, were credited with calling CBS on its gaffe.
A 10th of the Take
Copeland's company sells ads to run on more than 500 blogs, including political specialists like InstaPundit and DailyKos. After Sept. 20, he says, business went through the roof. "Watching big corporate media suffer at the hands of 100 individual bloggers, I have to admit I was happy," Copeland says. "There was a big traffic spike and a nice gush of ads." By some estimates, DailyKos was pulling in $20,000 per month advertising at its peak. Copeland gets a 20 percent cut.
But can the blog business survive without a Presidential election and gaffes by mainstream media firing up the Internet masses? Skeptics wonder, particularly since some blog sites damaged their credibility when they jumped the gun and erroneously predicted Senator John Kerry would win the election.
"On Nov. 3, [political blogs] won't be making a 10th of that" $20,000 per month in advertising, says Matt Haughey, a fellow blogger who writes about TiVo's digital video recorder. Haughey says his blog's ad haul is considerably more modest — in the range of a few hundred dollars per month.
'Conflict Is Good'
Copeland acknowledges that traffic at the political blogs will be down sharply in November and December. But he predicts it will surge in next year's first quarter. Sure, the candidates will be gone, but once advocacy organizations like pro-choice group Planned Parenthood start eyeing the next national and local elections, the blog will be ramping up once again.
Furthermore, as much as he hated to see it, liberal blogger Markos Moulitsas of DailyKos says the Bush victory will likely be great for his business. "The country is so polarized, there's plenty of material to really keep things going," he says. "Conflict is good for blogs."
Still, Copeland knows the key for his business is diversifying beyond hot-button political issues. Right now, only 30 percent of his blogs are political, but such pages make up 60 percent of those Web surfers read. About 40 percent of the ads themselves are from candidates or advocacy groups.
Narrow Formula
Here's how Copeland's business works: He's a middle man for advertisers and bloggers. Advertisers can go to his Web site and pick from a list of blogs with a variety of prices set by the bloggers — and do so at a moment's notice. That flexibility has allowed him to cash in during the election year, but it has also left Copeland vulnerable to a big drop in revenues after Nov. 2.
That risk is underscored by the politics-related bookings of mainstream blog advertisers. Knopf & Pantheon, a division of Random House Books, has bought seven such ad campaigns on BlogAds since August, including a graphic novel about the September 11 terrorist attacks. The same is true for Paramount Pictures, which has promoted two politically themed movies on BlogAds: The remake of the 1960s political thriller "The Manchurian Candidate" and "Team America: World Police," a puppet spoof on the country's war on terror.
Both companies say they were happy with the campaigns. But that doesn't mean it's a formula that will translate to other books or movies. "For both of those specific films, it made a lot of sense," says Amy Powell, Paramount's vice-president for interactive marketing. "But would we buy blogging ads on every movie? No."
Rising Earnings
Whatever happens now, the last few months have been personal vindication for Copeland, whose friends laughed at him when he started his Montreat, N.C., business more than two years ago. Early on, he had to pursue bloggers doggedly to sign them up.
Advertisers were even more skeptical than the bloggers. It took Copeland three weeks cold calling them before he made his first sale — a mere $32 ad buy for a site that doesn't exist anymore.
Today he boasts that all but a few of the Washington Post's list of most influential political bloggers use his advertising service. Some of his more popular blogs sell ads for $9,000 per month. BlogAds is profitable and has nine employees. "Many single days this year we have equaled our entire 2003 revenues," says Copeland.
Surprising Results
He's hopeful about the future. He says advertisers' curiosity is building, and he's diversifying with new offerings like Warcry, a whole network of video-gaming blogs that charges $5,000 per week for its ads. Copeland signed them the week before the election.
And he doesn't need a lot of new business to stay afloat. Even his more expensive ads are equivalent to 50 or 60 cents per thousand clicks, compared to at least $2 or $3 on traditional Web sites
Certainly, the role of bloggers in the political season has caught the attention of some ad agencies. "Initially it was something we suggested clients try, and I think the results surprised them," says Matt Bennett, creative director at San Francisco ad agency Call & Response. "Now they're coming to us and asking us to run a campaign solely on blogs to generate discussion."
A Marriage Saved
But widespread appeal will take time and tenacity. Consider how Copeland landed one of his biggest fishes: DailyKos. Two years ago, when he contacted Berkeley author Moulitsas about letting him books ads on his site, Moulitsas rudely turned him down. "BlogAds was ugly, and there was no customization," he says. "I was a total jerk about it."
vMoulitsas had already tried search giant Google's similar AdSense service and made only a couple hundred dollars per month. But Copeland kept at it, improved the look of his site, and Moulitsas signed in December last year. DailyKos has done so well he quit his day job as a Web consultant and has finally been able to justify his blogging passion to his wife. "I owe [Copeland] everything," he jokes. "He saved my marriage."
The question now is whether Copeland can save the blog business from post-election doldrums.