BMW Group this week previewed the automated parking technology it will showcase at next month's International CES in Las Vegas. The Remote Valet Parking Assistant features 36-degree collision avoidance with secure position and environment recognition. It will be demonstrated at the trade show in BMW's electric i3.
The parking assistant, which utilizes four advanced laser scanners, can identify impediments such as columns and other obstacles and reliably chart a route to a parking spot. Based on the time it took to navigate to and locate a spot, it can then calculate how long it will take to return the vehicle to the driver at a set time.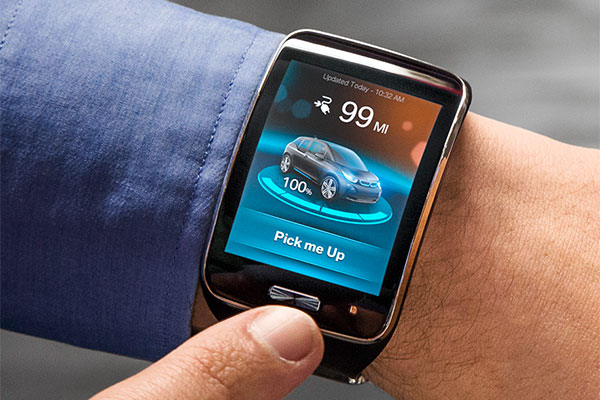 The Remote Valet Parking Assistant can be controlled via a smartwatch.
Controlled Environments
BMW has suggested that this technology could be implemented as early as 2020, but it probably would not be something drivers could use on a daily basis or on public streets or parking lots by then. It more likely would be limited to very specialized, automation-friendly parking structures.
"This is really the ultimate concept for controlled environments that have technology that helps the car react," said Praveen Chandraskar, telematics program manager with Frost & Sullivan.
"This is going to be something that could find a place at golf courses or casinos [as] an extra feature for customers with luxury cars," he told TechNewsWorld.
"The technology for controlled environments is seven to eight years away, but putting it in an uncontrolled environment has too many challenges," Chandraskar added.
Free Parking
Parking assist technology already is a feature of many vehicles, but it currently requires that someone be in the driver's seat.
"Lexus has had self parking for a while, as has Ford," noted Michelle Krebs, industry analyst for AutoTrader.com.
"We've been moving closer with full driving assist, but it will be a while before you can let the car actually park for you," she told TechNewsWorld.
"There are still a lot of regulatory and insurance issues to be addressed first," Krebs said. "How are we going to regulate? Who is responsible when something goes wrong? Those questions need to be answered."
Another issue is whether consumers would trust the technology.
"In our reports, 65 percent of those surveyed said the technology is dangerous," noted Krebs.
"However, when we ask about specific features — such as collision detection — that are part of this technology, they want it," she pointed out. "We're seeing that car buyers haven't made that leap to self driving but want the technology that enables it."
Watch and See
Although most consumers are not yet sold on the automation technology — at least not yet — luxury makers such as BMW and Audi, which unveiled its own automated parking solution at the 2014 International CES, are leading the way.
BMW's system is notable in that it features smartwatches as a control platform for its Remote Valet Parking Assistant.
"The watch is sort of a style thing that BMW is embracing," said Frost's Chandraskar.
"However, it is unlikely that this would be based out of a smartwatch," he added. "It is a cool thing, and central to the early marketing, but it is something that will likely be controlled as much with a smartphone app as a watch."
Auto AI
As for fully self-driving autos on public streets, or even self-parking on public streets, "this would require level four of self-driving — a completely driverless car — and that has too many uncontrolled variables," noted Chandraskar.
"For that, a car would need to have artificial intelligence," he suggested. "That is why even this technology, which would require that controlled environment, is coming from BMW and not Ford or GM. It is clearly not a technology for the masses at this point."