Boeing this week filed an application with the United States Federal Communications Commission for a secure Android smartphone called the "Black" that will self-destruct if anyone tries to physically open the case.
The company will offer it to the U.S. defense and security communities.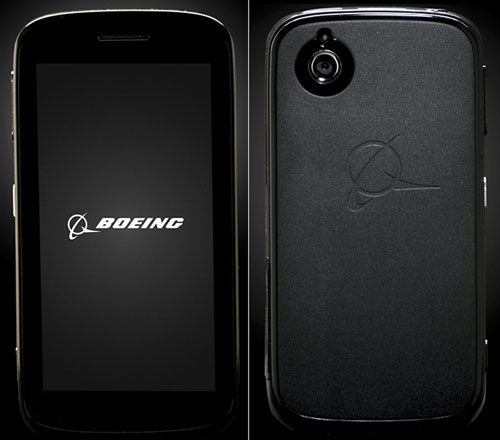 The Black has embedded hardware security features, can be configured through software policies, and has endless modularity capabilities, according to Boeing.
"With hardware encryption and other security solutions, you can significantly reduce the potential threat of attacks," Jim McGregor, founder of Tirias Research, told TechNewsWorld. However, "unless you're willing to limit the functionality of the device and/or its services, there will always be some threats."
Boeing Black Specs
The Boeing Black has a 4.3-inch qHD screen with 540 x 960 pixel resolution.
With dual 1.2 GHz ARM Cortex-A9 CPUs, it weighs 170g. It runs a secure version of Android.
The device will support dual SIM bands for LTE, WCDMA and GSM, so users can switch between government and commercial networks. It will integrate seamlessly into customer mobile device management systems and virtual private networks.
The Black supports Bluetooth v2.1 +EDR.
It has a micro-USB port, a PDMI port and a 24-pin connector, and it accepts secure SD cards.
It has a modular expansion port that can be used for integrating additional sensors or for technology enhancements such as satellite connectivity or other customizations.
For security, the Boeing Black has embedded FIPS 140-2 storage, used to accredit cryptographic modules; configurable inhibit controls to protect the device, its data and data transmission; trusted modules; and configurable OS security policies. Together, these make up Boeing's PureSecure architecture.
The Black comes in a sealed case and has tamper-proof screws, so any attempt to service it or replace parts will destroy the phone.
Pricing Patter
Boeing debuted the Black at the Mobile World Congress held this week in Barcelona, Spain, Jeff Orr, a senior practice director at ABI Research, told TechNewsWorld.
Talk at the show was that it would be offered at about US$600, "but we don't know whether that's a government-specific price, or driven by volume, or under a particular supply agreement," Orr continued.
The pricing is exclusive of connectivity.
Not a 007 Gizmo
The Boeing Black does not break any new technological ground.
"It'll be rendered a wreck if someone tries to change out parts, and that's a good thing," Orr said, "but that's no different from what Apple's doing with the iPhone. It would use certain modern components, but this is not a James Bond device."
On the other hand, "I'm sure there are a few things under the cover that are not mentioned, especially for government applications," remarked Tirias' McGregor.
Expansion Risk
The Black's ports might constitute a security risk, Stephanie Van Vactor, a research analyst at ABI Research, told TechNewsWorld.
"I don't think this is a wise move on Boeing's part," Van Vactor said. "Removable external storage has been used to steal data from government computers."
It's believed the Stuxnet worm, which targeted Iran's nuclear program, was spread through infected USB drives.
Will Anyone Want the Black?
The Black smartphone makes sense "for many government applications where the security of information is more important than the price," Tirias' McGregor said. "Phones have been a major security issue for government agencies and contractors, because there isn't a really secure solution."
The problem has gotten worse now that BlackBerry is in trouble, ABI's Orr suggested. The company's longer-term viability "could be in question, so perhaps being able to broaden and deepen the options for that market could be an opportunity for Boeing."