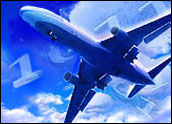 Using potatoes as an analog for humans, Boeing has come up with a new way to test for in-flight wireless signal strength.
Signal strength is everything when it comes to effective wireless connectivity, whether it's on the ground or 35,000 feet up in the air. Passengers on board a wireless-enabled plane want to access the network whether they're in first class or the middle seat in the back of the plane.
To get a better sense of signal strength throughout the plane, Boeing has come up with a new way of measuring, testing, and charting the strength of signals.
Potato People
Called SPUDS (Synthetic Personnel Using Dielectric Substitution), the project used a decommissioned plane filled with 20,000 pounds of bagged potatoes to mimic an airplane packed with passengers. Human bodies, because of their water and salt content, have a dramatic effect on the transmission and propagation of wireless signals.
"Human bodies do affect wireless signals," Muriel Medard, an electrical engineering professor at MIT, told TechNewsWorld. "The body has a real effect on propagation, so bodies are a matter to take into account."
Potatoes were used because they closely resemble the human body in the way they interact with and affect electronic signals.
"We used potatoes because they interact with signals like WiFi signals very similarly to the way the human body does," Boeing spokesperson Adam Tischler told TechNewsWorld.
Using potatoes as human substitutes, the engineers realized, would reduce the testing time from several weeks to 10 hours.
"It became clear very early in the planning stage that testing the effects humans might have on WiFi in the cabin would be very difficult using real humans because it would require the people to be sitting still in their seats for hours or days on end," Ken Kirchoff, a cabin systems research and development engineer with Boeing, explained to TechNewsWorld.
Since using subjects in testing like this was out of the question, Boeing's engineers consulted scientific research to see what might be used instead of humans. That's when they hit upon potatoes.
"A substitute for humans was sought that would mimic the way they can effect wireless signals in the airplane cabin," said Kirchoff. "Potatoes function as a stand-in for humans and mimic the effects they have on the propagation of wireless signals in the airplane cabin. Potatoes have almost the same dielectric constant as humans — which means the electromagnetic waves of a WiFi signal interact with potatoes in nearly the same way as they interact with humans."
Other network engineers — even those outside of the airline industry — are taking note of Boeing's testing method and the ways that it might be used to design networks in other situations where the presence of many people could affect wireless signals.
"What I liked about what the Boeing guys are doing is they took into equation that it's a small space, and there are many people there," Jacob Sharony, founder and principal consultant at Mobius Consulting, told TechNewsWorld. "People change the propagation of these signals, and it's nice that they took that into account this situation."
Improving Both Safety and Usability
A better understanding of signal strength and propagation throughout the plane's ecosystem can improve both the safety the and usability of in-flight wireless networks for passengers.
"Rather than taking random samples from an airplane, the new way that we developed to test for safety and usability was to essentially send out a signal and measure it," explained Tischler. "With statistical analysis, we can then very accurately describe the strongest and weakest signal areas."
Boeing first developed the technology in order to meet regulatory safety standards put in place to make sure that WiFi signals don't interfere with an airplane's navigation and communication systems. Wireless signals in an airplane are affected by everything from people in the seats to carts moving down the aisle, so Boeing's engineers have had to take into account all the many variables that exist on a plane.
The testing uses actual measurements and statistical extrapolation in order to determine the likelihood of strong and weak signals in any given point in an airplane. During the research and testing process, Boeing's engineers were able to identify strong and week signal areas and discover ways of adjusting the connectivity system to even out the signal strength throughout the plane — making the wireless system safer and more reliable.
"Rather than trying to determine where and when a peak (strong) signal or null (weak) signal might be, we sample the field in the cabin to statistically determine what the peak or null would be," explained Kirchoff. "The manner in which we sample the field and apply statistical analysis to the data allows us to determine these otherwise elusive parameters with a very high probability."
Boeing's new method reduces uncertainty and could well lead to improved cabin and system design.
"The new method allows us to bound the problem and determine the right answer with much higher accuracy and repeatability," said Kirchoff.
"There have been test equipment and measurement advances made utilizing this methodology, which allow it to be ported to more and more applications. Smaller, more portable test setups and equipment advances allow the testing to be completed in a much shorter time frame with little or no disruption to assembly line schedules."
Signaling the Future
Boeing has an active research program and will likely continue to refine its new signal testing approach.
"While we can't talk about future research, we are always looking for innovative ways to improve the safety and reliability of our products and to deliver the most advanced solutions to our airline customers," said Kirchoff.
In the end, Boeing's research is all about making passengers happy while complying with regulations and safety concerns.
"Passengers want more connectivity," said Tischler. "We will be able to continue to design and build airplanes to accommodate these signals, both for safety and usability."