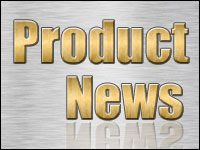 The world can be a very loud place, and New York City's Grand Central Terminal — with its trains, subways and thousands of people — served as a perfect backdrop for Bose to demonstrate how it canaddress and even combat that noise.
This week the company introduced two new audio products inVanderbilt Hall within the famous New York City train station.
Bose has long been known for its over-the-ear noise-canceling headphones, of course, and this week the company demonstrated itsupcoming QuietComfort 20, which it noted are its first in-ear noise-canceling headphones.
1.5 Ounces
The new earbud-style headphones deliver superior audio performance and are comfortable to wear even for extended periods, the company said.
Due this summer, the US$299.95 QuietComfort 20 headphones are small enough to fit in one's pocket, and they weigh just 1.5 ounces.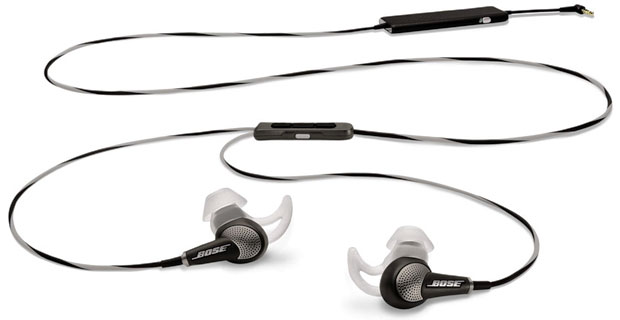 Bose QuietComfort 20 Headphones
The earbuds are able to block virtually all outside noise, including the ambient — and not entirely subtle — noise of Grand Central Terminal.
That's accomplished through a digital electronic chip — which the company claims is exclusive to Bose and moreover the first of its kind — that can calculate an equal and opposite noisecancellation signal within a fraction of a millisecond.
The result is that the background is almost completely blocked out.This is further enhanced as two tiny microphones in each earbud cansense the approaching sound while measuring the sound inside.
The result for the listener is top-notch audio quality. In addition, thecompany's StayHear+ ear tips allow the QuietComfort 20 headphones to sit at the entrance of the ear canal, creating a seal that provides for the passive blocking of outside noise while also ensuring a comfortable fit for prolonged use.
Aware Mode
Of course, not every situation calls for blocking out the outside world. For that reason, these headphones can also be switched to an Aware mode that allows the wearer to hear surrounding sounds.
One thing that this current generation of QuietComfort earbuds can'tdeliver, however, is wireless connectivity. Bose hasn't been able to cut the cord, at least not yet.
"Battery life is part of the issue," Dan Gauger, senior researchengineer at Bose, told TechNewsWorld, "but there is also the issue of comfort. Bluetooth headphones tend to be something that need larger batteries, and these aren't comfortable to wear for extended periods.
"We really didn't want to sacrifice comfort," he added, "but we'll getthere someday."
'If It's Too Loud, You're Old'
Bose is taking steps to educate itsusers about the dangers of music that is simply too loud.
While the saying, "if it's too loud, you're old" may ring true for youth, the fact remains that too much volume can impair one's hearing.
"The challenge is education," Gauger explained. "It isactually OK to listen loud — reasonably loud — but not for extendedperiods."
In fact, the noise-reduction capability in these new earbuds could allow users to turn the volume down, simply because they don't have to compete with ambient noise.
"Noise reduction offers a way to hear the quality of the audio withoutneeding to simply turn up the volume," Gauger added.
The Missing Link
In addition to staying true to the headphone side of things, Bose alsointroduced a US$199.95 Bluetooth speaker that is small enough to fit in the palm of the hand.
Due to begin shipping in July, the SoundLink Mini speaker is the latest member of the Bose SoundLink family.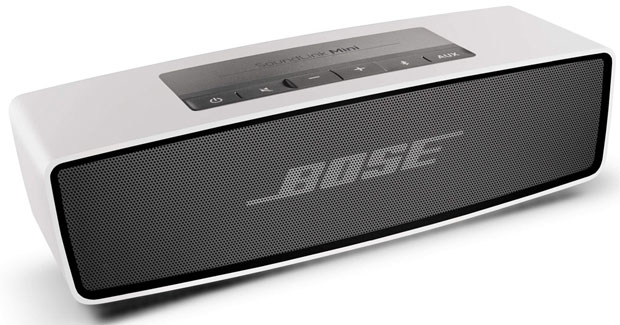 Bose SoundLink Mini Speaker
With its anodized aluminum housing, this truly mini-speaker weighs in at just 1.5 pounds and measures 2 by 7.1 by 2.3 inches. It's designed to resist scratches and fingerprints and is meant foreveryday use.
The device uses Bluetooth A2DP along with an internal antenna fora reliable wireless connection, and it can sync to portable musicplayers, tablet computers and other handheld devices to deliver richaudio far beyond what most built-in speakers can provide.
Patented passive radiators are included, as are custom transducersthat are capable of moving twice the air moved by conventional speakers, while digital signal processing provides a tonally balanced sound from a single pint-sized box.
Cutting the Cord
While the SoundLink Mini speaker offers auxiliary inputs for wireddevices, the key in this unit is its ability to pair wirelessly.
"Bluetooth hasn't been the issue," John Roselli, director of product marketing at Bose, told TechNewsWorld, "but getting it into a device such as the SoundLink Mini really does open up new possibilities for those who want to listen to music."