Boxee on Tuesday announced a new device, Boxee TV, which combines live TV, Web apps and a digital video recorder (DVR) with cloud storage.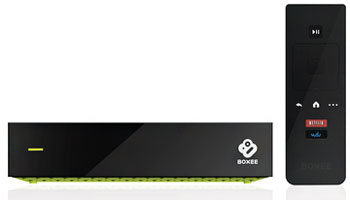 The Boxee set-top box and remote
The box hardware is based on a new chipset from Broadcom and runs software written from scratch for the device.
The Boxee Box, which is the predecessor to Boxee TV, will effectively go into cold storage.
"This box is getting to be a lot like a TiVo box," Sam Rosen, a practice director at ABI Research, told TechNewsWorld.
What You Get With Boxee TV
Boxee TV lets owners watch high-definition live TV broadcasts from the major channels, such as ABC, CBS, NBC, PBS, and Fox. It comes with antennae and also works off unencrypted basic cable, as agreed on by Boxee and Comcast in June. It has two tuners so users can watch one program and record another simultaneously.
The device offers unlimited storage in the cloud, and owners can watch programs on laptops and tablets as well as TV. Boxee's reportedly using Amazon's S3 cloud services.
Boxee TV comes preinstalled with Netflix, Vudu, YouTube and Vimeo apps as well as Pandora. It's currently available in eight markets — New York City, Los Angeles, Chicago, Dallas, Houston, Atlanta, Philadelphia, and Washington, D.C., and will be rolled out to others next year.
The device will cost US$99, and owners will have to pay a $14.99 monthly subscription for the service. Boxee TV will be available in November.
Deconstructing the Boxee TV
Boxee TV comes with built-in antenna, but "whether or not you get a decent enough signal to be able to record programs depends," Andrew Eisner, director of community and content at Retrevo, remarked. "Over-the-air reception is great when you can get it, but you don't always get great reception."
Although users will be able to hook up unencrypted cable to record shows, "I somehow doubt whether you can record them in HD" because that would consume a lot of storage, Eisner told TechNewsWorld.
"Boxee is really trying to build an alternative to traditional cable, and by adding DVR capabilities for over the air, it becomes a much more capable box," Jim Louderback, CEO of Revision3, told TechNewsWorld. "It will be interesting to see how much upstream bandwidth Boxee TV uses when recording video."
Possible Issues with Boxee TV
Boxee TV might be considered expensive. "I would like to see a lower cost — $9.99 or even $6.99 is much more transparent to users than fifteen bucks," Revision3's Louderback commented.
Whether Boxee can indeed offer unlimited storage in the cloud is another issue open to question.
"[Boxee] may start putting policies and limits on users in terms of the hours of content you can store or queue," ABI's Rosen suggested. "My guess is they'll try to manage the [cost of storage] by encouraging users to only keep things they're likely to watch."
Opposition from the cable companies might also prove to be an issue, for Boxee and other third-party set-top box companies. "You're going to have to drag cable companies kicking and screaming to get them to give over the reins to third party devices like Boxee TV," Rosen said. "There will have to be some [government] mandates in the long term to get them to do that but it won't be easy or simple."
Other Players
Competition to Boxee TV comes from TiVo, and other companies such as Simple.TV, Roku and Aereo. There are a few small players such as Channel Master and Western Digital, ABI's Rosen stated.
"Roku are a very easy to use, low-cost streaming box," Revision3's Louderback said. "Boxee provides more functionality at a higher upfront and monthly cost. Other DVRs are designed for cable or satellite customers, but this is a standalone solution at a much lower price than cable."
Overall, Boxee TV "has some nice features, but I don't think it's going to give the cable companies a lot of anxiety," Retrevo's Eisner said.