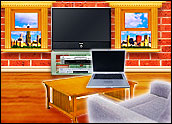 As an industry, delivery of television programming into the home over broadband connections is barely off the ground, but it's already showing signs of consolidation.
A continuing series of acquisitions in the IP video market will ultimately result in a smaller number of vendors, according to a report released by ABI Research on Wednesday.
Worldwide, there are only about three million subscribers to broadband TV services, compared to hundreds of millions watching TV through cable, satellite and broadcast connections, thus, so far, startups have dominated the market, said ABI Principal Analyst for Broadband and Multimedia Research Michael Arden.
"As bigger players start getting into this, they want scalability from vendors that supply their equipment, so some of these startups are going to be acquired and merged into other operators," he told TechNewsWorld.
E2E Solutions
Big operators, like AT&T and Verizon, are looking for a single company because they want to deal with one vendor for everything, someone who can provide an end-to-end solution for them, he maintained.
Consolidation is a natural evolution of the market, according to Ozgur Aytar, an analyst with Pyramid Research in Cambridge, Mass.
"Vendors are looking to have end-to-end solutions for their customers," she noted, "so they're looking to fill the gaps in their equipment portfolios through acquisition, just like Cisco did with Scientific-Atlanta."
Offering a carrier an end-to-end solution not only ripens a vendor's profits, but also ensures interoperability among the pieces in the value chain, Aytar said.
Potential Danger
"You're also talking about scale," Arden added. "Some of the smaller guys simply can't provide the scale that the larger system vendors can provide as far as core network and access network architecture goes."
Signs that consolidation has begun, he said, are Cisco System's acquisition of Scientific-Atlanta, Motorola's announced plans to buy Kreatel, Tandberg's proposed purchase of SkyStream and Thomson's disclosed intent to acquire Thales.
A danger consolidation poses in any industry is the potential for vendor "lock in." The IPTV industry appears to be aware of that danger and is doing something to address it, Arden maintained.
Deserting Cable Model
"Operators want to make sure that these networks are going to have some sort of standardized technologies so they can go to another vendor and have all their equipment interoperate," he said.
"There's been a fairly good effort up front to ensure that they're not truly closed and proprietary systems," he asserted, "but that is certainly a concern that arises with this kind of consolidation in the market."
Arden contended that this new breed of TV content deliverer wants to depart from legacy models. "They want to get away from the cable company model, but still have that efficiency of going through one vendor for all their equipment needs," he maintained.
Top of the First
Consolidation will be ramping up because explosive growth is expected in the industry, he reasoned. "It's a very quickly growing market, and it will probably grow tenfold over the next five years or so," he predicted.
Current IPTV deployments are small. According to Ed Graczyk, director of marketing and communications for Microsoft's TV division, which has developed software for controlling set-top boxes for IPTV, the largest deployment serves only half a million people.
"But we're only in the top of the first inning on this," he told TechNewsWorld. He said that Microsoft's customers, which include AT&T, Verizon and Swisscom, have told the software maker that their deployments will start accelerating in the second half of this year.
DVR Analogy
Asked what the barriers were to consumer acceptance of IPTV, Graczyk responded, "It's going to boil down to the value proposition and awareness."
He compared acceptance of IPTV to adoption of digital video recording (DVR).
"When we did the research on that back in the '90s, the research was dismal," he said. "There wasn't a huge demand for it. It was hard for consumers to grasp it.
"But as soon as they had they had that DVR in their homes, you couldn't pry it from their dying hands," he continued.
Michael Grasso, assistant vice president for marketing in the San Antonio offices of AT&T acknowledged that there would be challenges to breaking the duopoly cable and satellite enjoy in the current market.
"But our product, we feel, is a superior service offering," he told TechNewsWorld. "It's a robust product offering and we're going to bring it in at a competitive price with services that are unique and will differentiate our product from others in the marketplace."