Buffalo Tech on Monday became the first on the market with wireless products touting 802.11ac WiFi, also known as "5G WiFi."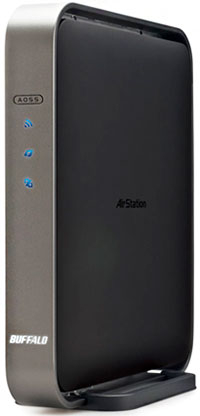 The Buffalo WZR-D1800H
These are its AirStation WZR-D1800H wireless router and WLI-H4-D1300 wireless media bridge.
They purportedly offer speeds up to three times faster than 802.11n, and they are fully backward compatible with 802.11a, b, g and n.
With the release, Buffalo Tech has just beaten out NetGear, which had announced a similar next-gen WiFi product in April and planned to release it later this month. Belkin earlier this month announced plans to offer 5G products as well.
"It was a race to the end," Jay Pechek, Buffalo Technology's spokesperson, told TechNewsWorld. "Buffalo was the first to publicly demonstrate 802.11ac technology at CES [the Consumer Electronics Show] this past January, so we felt that we had a small leg up on the competition."
Buffalo Tech 5G Products' Specs
The AirStation WZR-D1800H router is a dual band device that integrates a 2.4 GHz 3×3 802.11n radio for backward compatibility.
Since 5G operates on the 5 GHz band, total aggregate wireless throughput for the D1800H is claimed to be up to 1,750 Mbps, or 1.75 Gbps, across both the 5 GHz and 2.4 GHz bands.
The AirStation WLI-H4-D1300 media bridge is also dual band and has four ports. It's equipped with two wireless radios supporting 802.11ac and n. It operates on 2.4 GHz at 450 Mbps on each band. It's backward compatible with 802.11a, b, g and n.
Price is about $180 for either.
Speed Is What You Make of It
The 802.11ac standard boasts a throughput of 1.3 Gbps or 1,300 Mbps, but that's just the theoretical maximum.
"Real world testing is looking at rates of 1,100 to 1,300 Mbps, but actual throughput is in the 550 to 880 Mbps range because of wireless overhead," Buffalo Tech's Pechek said. That overhead consists of other information sent along with data packets to confirm they sent and received properly. Environmental conditions such as the presence of walls, buildings and wireless interference also affects the throughput rate.
Other Players
Buffalo rival NetGear had announced its R6300 dual band gigabit WiFi 5G router back in April and said it would release the device this month.
Like Buffalo Tech's router, the R6300 operates on 5 GHz and on 2.4 GHz, with a throughput speed of 450 Mbps claimed for the latter. NetGear will also release NetGear Genie, a free app for PCs, Macs, iOS and Android.
Last week, Belkin announced its entry into the 802.11ac WiFi market.
All three players use Broadcom's 5G WiFi chip.
The 802.11ac Technology
The IEEE 802.11ac standard sets a top speed of 6.93 Gbps using a bandwidth of 160 MHz, eight spatial streams, the MCS-9 coding scheme with 256 QAM modulation and a short guard interval.
QAM, or quadrature amplitude modulation, conveys two analog message signals or two digital bit streams by changing the amplitudes of two carrier waves that are out of phase with each other by 90 degrees.
IEE 802.11n uses 64 QAM and stepping up to 256QAM for 802.11ac means more bits can be transmitted per symbol.
The IEEE has had a task group working on the 802.11ac standard since 2009.
Its first draft of the standard is still up for comment, and is slated for completion in December 2013. The Wi-Fi Alliance has reportedly set up a task group to work on an interoperability test plan.
Why Fight to Be First?
Given that the technology for 5G is still being worked on, why are vendors scrambling to be first with a product?
"It's bragging rights," Rob Enderle, principal analyst at the Enderle Group, told TechNewsWorld. "It helps establish you as a segment leader."
"It's true that the leading names in WiFi connectivity are showing much interest in 5G WiFi technology," Broadcom spokesperson Henry Rael told TechNewsWorld. 5G is "Broadcom's implementation of the 802.11ac WiFi standard."
Pros and Cons of 5G
One of the problems with 5G is that it won't have as much range as 4G.
"The range won't be as good, but the spectrum will be cleaner," Phil Solis, research director, mobile devices at ABI Research, told TechNewsWorld.
Further, 5G is more sensitive to noise and other signal corruption because it uses 256QAM instead of 64. However, "the signal can fall back to lower QAM, as you get further and further away," Solis said.