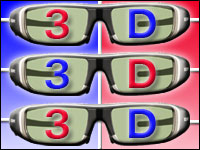 With 3D movies now mainstream fare in theaters and 3D TVs adorning retail shelves, it was only a matter of time before 3D consumer camcorders would begin to hit the market. That time was this week as two camcorder makers, Panasonic and DXG USA announced 3D camcorder products.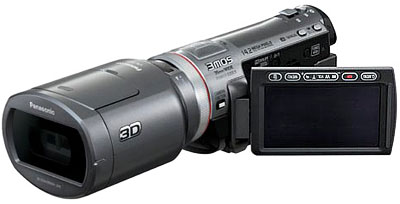 Panasonic HDC-SDT750
Panasonic's 3D offering, the HDC-SDT750, is a camcorder-lens combo expected to sell in the United states for around US$1,400. When a user wants to shoot 3D, they attach a 3D conversion lens to the camcorder. Without the lens, the unit can shoot ordinary 2D video.
The camcorder includes a number of Panasonic technologies designed for shooting better video. It uses the company's 3MOS system designed to produce brighter images with less noise even in low light conditions. 3MOS uses a CMOS sensor for each color in the RGB spectrum resulting in better color reproduction of subjects.
In addition, the unit uses Panasonic's Hybrid O.I.S. stabilization system, which includes four-axis blur detection, for taking the shake out of video shot with the camcorder and recording at 1080/60p (NTSC), which reduces flickering and detail loss associated with recording at the more conventional 1080i.
The HDC-SDT750 will be released in Japan at the end of August and in other countries during the fall.
Look, Ma, No Glasses!
Economy camcorder maker DXG USA also released a 3D package this week. It includes a pocket camcorder and media player with a seven-inch display selling in early August through Hammacher Schlemmer for $599.99. Unlike most 3D offerings, no special glasses are needed to view 3D video on the camcorder's 3.2-inch pop-out monitor or on the mediaplayer. Through the use of an HDMI port in the camcorder, 3D video can be screened on 3D TVs, as well as on the media player.
PC software for editing video shot with the camcorder is included with the package. The 3D aspect of video edited on 2D computer monitors is preserved when a finished project is output from the software. Editing in 3D can be problematic, however. "You can make your viewers sick if it isn't done properly," Eric Stine, technical editor at Videomaker magazine told TechNewsWorld.
In introducing a 3D product at this stage of the technology's presence in the market, DXG may be ahead of the demand curve, which is the reason it has gone with the camcorder-media player combo, according to Paul Goldberg, senior vice president for sales and marketing for City of Industry, Calif.-based DXG USA.
"Frankly, there aren't a whole lot of people yet who have 3D TVs at home," he told TechNewsWorld. "If you just put a 3D camcorder out there, I think people would be a lot more reticent to purchase the product."
Milking the Market's High End
Panasonic's release of a 3D camcorder rounds out its 3D ecosystem, which already includes 3D TVs and 3D Blu-ray video disc players. "There's an opportunity for a 3D ecosystem to develop the same way one developed for high-definition," Ross Rubin, an analyst with the NPD Group in Port Washington, N.Y., told TechNewsWorld.
The development of that ecosystem, however, appears to be in the fast lane compared to HD. "The time frame here seems to be relatively compressed compared to the HD transition," Rubin observed.
In addition, the 3D market gives camcorder makers a chance to milk the high end of their market. "3D represents an opportunity for the companies in the camcorder business to generate higher price premiums," Rubin explained.
In the past, 3D has proven to be a short-lived fad. Will that be the case this time? Not if the entertainment industry has anything to say about it. "There has been good industry adoption around this," Rubin said. "There seems to be an embrace of it across product categories.
"Perhaps as the industry turns its attention to new display technologies such as OLED, there won't be as much as an emphasis on 3D, he added, "but there is high potential for 3D to just become another feature on a TV as costs come down."