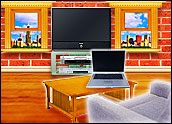 "Android is to Google TV as iOS (iPhone/iPod) is to Apple TV," said Josh Builder, vice president of product development and operations at The Orchard. Builder, who is credited with creating one of the industry's leading Internet and mobile content distribution networks, serves on the board of the Digital Data Exchange, an organization dedicated to developing and maintaining communications standards to support the digital distribution of content globally.
"Android is an Internet-powered TV OS, similar to how phones have an OS now … and it incorporates a browser and actual television, while Apple TV doesn't allow Internet browsing via a browser or cable TV viewing," he told TechNewsWorld.
Despite their different approaches, Google TV and Apple TV would have you believe "…we are now controlling the transmission … the horizontal and the vertical…" in a pitch scraped straight from the intro to "The Outer Limits." But controlling the transmission, they're not. At least not yet.
What viewers have now is an extremely fragmented space wherein only a few pieces can be viewed from any given content channel. Welcome, not to the Outer Limits, but to the Land of TV Transition.
Fine-Tuning the Picture
In fairness, much of the problem lies with the old guard which, as usual, is busy guarding the wrong thing. TV networks, satellite TV and cable providers are struggling to control your access to programming in an effort to protect their antiquated revenue streams.
They don't seem to realize that the way forward is to make their content available anywhere and on any device. They haven't figured out yet how to attach their revenue streams to the content rather than to the viewing mode. There's not enough vision among the content owners and not enough deals between content makers and content distributors. It's really as simple as that.
The result of all this "show me the money" confusion is a hodge-podge collection of far-flung programming that requires the viewer to hook up this or that cable or device: Hang a dish, buy a box, add a keyboard, add a smartphone app, reconfigure a game console, add a mini entertainment computer, or tote the laptop or desktop over to the TV.
After you work your way through the myriad configurations, you get stuck with a limited selection of content, a ridiculously clunky search interface, weird remotes, skimpy storage, and perhaps an underwhelming picture. Given these options, the perfect TV setup is anything but clear.
Built-In vs. Add-On
The battle of Google TV vs. Apple TV starts with the argument for a built-in service versus an add-on box.
Google TV can be built into the television or in an add-on box such as a DVR. One would think that would make it easier to use.
"I showed my wife the remote for Sony's Google TV. She said she would divorce me if I hooked it up to the TV," Rob Walch, host of the Today in iOS podcast, told TechNewsWorld. His happy home was restored when he bought Apple TV instead.
One could accuse Walch of being biased, given that he's an obvious Apple fanboy, except that anyone can see Google TV still needs some work. To say the remote is clunky is to be overly generous. The setup is somewhat redeemed by the option to use an iPhone or Android smartphone as the remote. Installation is a pain, but operation is relatively smooth.
"Google or some of its partners need to deliver a really simple user experience," Rakkhi Samarasekera, CEO of security startup, Rakkhis.com, told TechNewsWorld.
Apple TV is an add-on box, adding another piece to overflowing TV stands and possibly necessitating the need for an input switcher if your TV has too few inputs for all your gear.
"But the Apple TV hardware is superior to Google TV — it's quieter, smaller," Zach Larson, CPO and cofounder of SideReel, told TechNewsWorld. SideReel, a personalized guide to TV online, directs users to online viewing sources for any given TV show or movie. It is available on Google TV.
Apple TV, true to its Apple roots, is a fine piece of hardware that's very easy to use. But also true to the Apple tree from which it came, shows are expensive, it is limited in the video formats it can play, and it's slow as a drunk snail in accepting new apps.
Blocking the View
The real test lies in what you can actually watch on TV with any of these gadgets. What do you get for your money and your effort? For the most part, you get partial TV.
"On Apple TV, iTunes and Netflix and some others are available, but if you want something through Hulu or Amazon Video On Demand you'll have to go elsewhere. Also, if you rent items on iTunes, they may expire after 48 hours," explained Larson.
"Browsing isn't as simple as it should be on Google TV, and the content blocking is frustrating but once you find what you want, the 10-foot viewing optimization is impressive."
In terms of content, both are limited. Google TV is blocked from Hulu, CBS, ABC, NBC and some other popular programming, but only on the networks' actual websites. You can view those stations on your regular cable TV stations through Google TV. Not home to watch your program? Use a DVR to record it. Indeed, Google TV is a DVR for Dish Network subscribers. No biggie there unless, of course, you wanted to get rid of the cable or satellite bill.
"Google TV has greater potential because it's embedded in the TV and therefore can harness the benefits of a TV tuner, and it's not removable from your television," explained Builder. "It's also more open, so there will be a lot more on Google TV faster, while Apple TV will be very slow to accept new apps."
Apple TV is limited to iTunes, for the most part, at 99 US cents per episode for popular TV shows, $4.99 for fresh movie titles, $2.99 per for older movies. There is precious little available in the free TV category. Because it doesn't have a browser, you can't browse the Web. However, it does have an unexpected plus for some viewers.
"At our house, we are still on a relatively low speed 3G card for Internet access," said Jill Mikols Etesse, creative director of SmartyShortz.
"Apple TV is great, because my husband can download content at work or on the road via a high-speed pipe — then sync it to the Apple TV when he gets home," she told TechNewsWorld.
The reason for the stark differences between the two lies in the way they handle content from the beginning.
"In terms of content, Apple TV actually licenses content, whereas Google is mostly an app platform," explained Builder. "Apple TV will reject competing digital retail business models — Google TV will accept them. So you'll see Vudu and Amazon VOD on Google TV, for example, but not on Apple TV."
Comparing Apples and Googles on a PC Scale
Comparing the Google and Apple systems begs the question of whether it's better to just stick with a laptop or an extra small entertainment computer, such as a Mac mini or a Dell Inspiron Zino HD — or perhaps stick with a Blu-ray player loaded with YouTube, Netflix and other apps.
"For me, the Mac mini is still the way to go — at least for the time-being," said Sidereel's Larson. "It's a real computer, so you can have a Web browser open at the same time as iTunes and other things — the only drawback here is that viewing is not optimized for the big screen."
Actual computers, be they a mini, laptop or even a desktop, still hold the competitive edge. You can, after all, go to iTunes and Amazon to buy or rent movies and shows, as well as stream from Netflix, Hulu, YouTube, Veoh and all the other user-generated video sites.
Computers are also DVD players; some can even play Blu-ray.
You can also access any kind of Web radio you can find, and watch live sports via legit channels like ESPN.com.
And if you're not concerned with being a perfect goody-two-shoes in how you get and view your media, using a real computer as a set-top box also opens up ways of watching video obtained through less legitimate channels such as BitTorrent and atdhe.net.
There's also the ability to rip DVDs, store them as video files, and play them back using apps like Handbrake, Fair Use, or a half-dozen others.
In other words, you can view pretty much any video found on the Web, period.
"For full HD support and for the ability to use any service you can find on the Web, a PC or Mac is better by far," Lucas Gramajo, an iPhone Developer and Web App UI Designer Developer told TechNewsWorld.