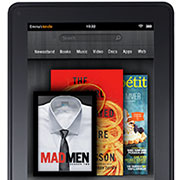 Amazon.com will release a software update for the Kindle Fire in about two weeks, company spokesperson Kinley Pearsall told TechNewsWorld.
"We're rolling out an over-the-air update … that will improve performance, touch navigation, and give customers the option to choose what items display on the carousel," Pearsall elaborated.
The moves comes in the wake of a spate of complaints from disgruntled consumers perturbed by, among other things, a lack of parental controls and privacy features, an inability to turn off Amazon's noted 1-Click ordering feature, and issues with the hardware controls.
"Kindle Fire is the most successful product we've already launched," Pearsall added.
Keeping the Customer Satisfied
Although Amazon's Kindle Fire has been one of the most talked-about tech products to emerge this holiday season, it's received its share of criticism, including a panning at the hands of noted Web design guru Jakob Nielsen of the Nielsen Norman Group. Could Amazon have begun working on the software update to address some of these complaints?
"As with all of our products, we continue to make them better for customers with regular software updates," Pearsall said.
"It looks like Amazon is trying to remain competitive with the Kindle Fire," Jennifer Jacobson, public relations director at Retrevo, told TechNewsWorld.
"The iPad sets a high bar when it comes to usability, and other tablet makers need to make their devices as user-friendly as the ever-popular iDevices."
Things People Hate About the Kindle Fire
Some users have complained that Web pages take a long time to load on the Kindle Fire.
That's a view supported by Nielsen Norman's Nielsen, who said the device's Silk browser, which uses a split architecture and was hailed by some as revolutionary when it launched in September, is clunky and slow.
Other complaints are that there's no way to edit the browsing history on the Kindle Fire, the touchscreen is problematic, and there are no parental controls that can block access to unsuitable content or prevent kids from making unapproved purchases.
Further, there's no external volume control on the Kindle Fire, it's easy to hit the "off" switch by accident, and it's easy for kids to order content without permission, accidentally or otherwise, because the 1-Click purchasing feature works so well, some critics say.
The Healthy Family blog has a review pointing out some issues with the Kindle Fire.
Putting Things in Perspective
Perhaps people are looking at the Kindle Fire as what it's not rather than what it is.
The Kindle Fire was designed as a vehicle to market Amazon's content rather than a general-purpose tablet, so "the privacy and parental control features are … in some ways diametrically opposed to what the Fire is supposed to do — provide a friction-free shopping experience that encourages impulse buying," Carl Howe, a research director at the Yankee Group, pointed out.
"The software problems are easy to fix with a software update," Howe told TechNewsWorld. "The hardware problems, such as the [location of] the power switch on the bottom and the lack of hard volume controls, aren't as easy to fix and, as such, will be with users until Fire 2.0 launches," he told TechNewsWorld.
Much Ado About Nothing?
It could be that the Kindle Fire's problems aren't as bad as they sound.
"A lot of the Kindle team is ex-Microsoft, and [their] process of releasing a major new platform followed by updates to correct problems and make minor in-line improvements has proven to be successful over time," Rob Enderle, principal analyst at the Enderle Group, told TechNewsWorld.
The Kindle Fire makes it easy to purchase products with 1-Click instant ordering and doesn't have parental controls because "it's an extension of [Amazon's] website, so it doesn't have any features the website doesn't have," Enderle pointed out.
Issues brought up in customer complaints "can be resolved, but Amazon will need to be careful to make sure they don't make the product difficult to use, which would work against their user experience," Enderle stated.
It's estimated that about 5 million Kindle Fires will be sold this quarter, many as Christmas gifts, but "even 100 complaints would seem like a lot" because "we have a tendency to lose perspective," Enderle said.
The negative portrayal of the Kindle could be because "less than 50 percent of the customer reviews on Amazon's own website are five-star reviews," the Yankee Group's Howe suggested. In contrast, more than 50 percent of the reviews of the iPad on Amazon's site have five stars, he added.
"Complaints on a new product are common … Iactually expected more complaints and a higher percentage of major ones," Enderle said.