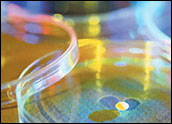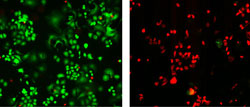 Tumor cells on the left were treated only with antibodies against the HER2 protein and then irradiated with near-infrared light. Those on the right were treated with a complex of antibodies and nanotubes and then irradiated. Green color indicates live cells while red marks areas where cells have been killed.
(click image to enlarge)
Winning the fight against cancer may end up being more of a nano-war than a surgical strike. A team led by the National Institute of Standards and Technology (NIST) has just successfully combined an antibody with single-walled nanotubes to create a precision search-and-destroy weapon that targets aggressive forms of breast cancer.
These tiny dual-mode weapons strike at the molecular level, delivering the kill in two ways: The antibody attacks the HER2 protein (an overabundance of which is associated with fast and deadly tumors); and the nanotubes detect and blow up invading tumor cells.
Molecular Bombs
In brief, here is how the nanotube weapons work: Nanotubes attached to the antibody also link to the tumor, thereby effectively detecting and targeting HER2 breast cancer cells. Near-infrared laser light at a wavelength of 785 nanometers reflects intensely off the nanotubes, and this strong signal is easily detected using a technique called "Raman spectroscopy." Increase the laser light's wavelength to 808 nanometers, and it will be absorbed by the nanotubes, incinerating them and anything to which they're attached — in this case, HER2 tumor cells.
Boom, baby! Take that you serial-killing cancer!
Building a Nanotube Aresenal
This science may sound immensely cool, but achieving the desired outcome is no small feat. For one thing, the antibody must be loaded with nanotubes that are about 90 nanometers long, or 5,000 times shorter than an amoeba. So how are we doing in producing short nanotubes in sufficient numbers to defend all the cancer-riddled human bodies?
"The fact is that carbon nanotubes can be produced in bulk today, but their relevance to real-world applications is often hindered because the delivered product is in the form of a powder, like shaved pencil lead," Peter Antoinette, president and chief executive officer at Nanocomp Technologies, told TechNewsWorld.
Turns out pencil shavings of short nanotubes are perfect for tiny cancer explosives. The longer nanotubes are better for manufacturing bigger stuff such as CNT conductive wire and cable shielding, electromagnetic interference (EMI) shielding panels, thermal spreaders, high-strength composite structures and ballistic protection material.
"The real trick is to use longer nanotubes to manufacture deliverable 'macrostructures' that not only carry forward the attractive properties of each individual nanotube, but can also be inserted easily into existing applications and manufacturing processes," explained Antoinette.
"We can currently produce kilometers of yarns and hundreds of square feet of finished CNT material per week, and are developing our path to scaled-up production," he said.
Nanocomp focuses on nanotube materials in the form of a yarn or sheet.
However, NIST doesn't want to wrap up the whole human body in nanotubes. Most likely, the loaded short nanotubes will be administered by injection, although delivery methods have not yet been disclosed. Still, the thought of taking a shot to cure breast cancer in the near future is a wonderful dream.
Which Comes First – the Chicken or the Nanotube?
HER2 is one of a whole family of genes that handle traffic control in the growth and proliferation of human cells. Normal cells carry around two copies of this gene. About a fourth of breast cancer cells carry around multiple copies of the gene, which leads to way too much of a HER2-encoded protein.
The antibody against this stuff is cooked up in chickens. It's called "chicken immunoglobulin Y" (IgY). Kind of looks like it should be called 'Iggy' with that tag, but no, it's chicken IgY. Anyway, chickens resemble humans — well, not at all — which is why chicken antibodies are so perfect: They react very strongly against the HER2 proteins on tumor cells and completely ignore other human proteins in normal cells.
The broad genetic difference between the species allows the antibody to be more precise in identifying a very specific foe as it is less confused over similar human proteins.
The chicken antibody is then attached to the nanotube and sent on its search-and-destroy mission.
Next in the Nano Wars
NIST scientists conducted the experiment in laboratory cell cultures and reported their findings in a paper published in the BMC Cancer journal. Using the HER2 IgY-nanotube complex to selectively identify and target HER2 tumors, they achieved a nearly 100 percent eradication of cancer cells, while nearby normal cells remained unharmed. In comparison, there was only a slight reduction in cancer cells for cultures treated with the anti-HER2 antibody alone.
The research is being funded under an interagency agreement between NIST and the National Cancer Institute (NCI), and in part by a grant from the National Science Foundation. In addition to the NIST researchers, the team included scientists from Rutgers University, Cornell University, the New Jersey Institute of Technology, NCI and Translabion, a private company located in Clarksburg, Md.
The next step is for the team to conduct the same experiment in mice to see if they get the same results in animals as in lab cultures. If every stage is successful, they will continue to move through the standard testing procedures until they eventually reach the human testing phase.
Meanwhile, in a separate but related project, the team is testing a similar nanotube-antibody complex targeting MUC4 to treat pancreatic cancer.