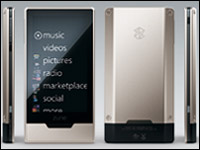 Microsoft has officially launched its war against the iPod touch, announcing that the new Zune HD is available for pre-order online at various sites.
The Zune HD will hit the shelves Sept. 15, Microsoft said.
Like the iPod touch, it is available in 16- and 32-GB models. It has WiFi, a touchscreen, HD Radio and high-definition video.
With all that, will it be able to take on the iPod touch, still the clear market leader?
The Coming of the Zune
As of Friday, consumers will be able to pre-order the Zune HD at the Microsoft store as well as at the Amazon.com, Best Buy, and Wal-Mart Web sites.
The 16 GB model will be available for pre-order in black; the 32 GB model can be pre-ordered in platinum.
From Sept. 15, both versions will be able in five colors. Consumers will be able to customize their purchases with one of 10 engravings designed by guest artists.
Tech Specs
The Zune HD has a 3.3-inch glass OLED touchscreen with a resolution of 480 by 272 pixels. It uses a custom version of the Internet Explorer browser optimized for its multitouch screen.
The device supports high-def video playback through an HDMI audio/visual docking station that can be connected directly to an HDTV at 720p resolution. The docking station is sold separately. It charges and syncs the device while playing HD videos.
The Zune HD also has a built-in HD Radio receiver. The technology allows listeners to hear songs in higher quality on local stations that broadcast using HD Radio equipment. Some stations broadcast multiple channels.
Users can play HD Radio and listen to music and podcasts while driving using the Zune Premium Car Pack. Zune capabilities will come preinstalled in at least 27 GM vehicles by next hear, and Hyundai and Kia will add them in 2011, according to a blog post by Brian Seitz, Zune's group marketing manager, at ZuneInsider.
Nvidia's Tegra Chip
The Zune HD uses Nvidia's Tegra APX 2600 chip, which Nvidia says enables "a compelling user interface and high-definition video playback." Based on the ARM11 MPCore, the chip offers enhanced NAND Flash support and features low power consumption.
Tegra processors offer always-on operation for instant Internet access, and Nvidia claims they offer up to five times the battery life of current netbooks. The Tegra processor consists of separate processor units, each designed for a different task — one for running HTML and Java; an HD video processor; an ultra low-power Nvidia GPU for handling the user interface and Flash acceleration. These can be used independently or together.
Nvidia's Tegra APX 2600 consists of a processor and memory subsystem; an HD audio/video processor; a ULP (ultra low power) Nvidia GPU; imaging; and a display subsystem.
"There will be other Tegra-based devices in the second half of 2009," Nvidia spokesperson Hector Marinez told TechNewsWorld. Those other devices will include smartphones, mobile Internet devices and smartbooks.
Reach Out and Touch an iPod
In many respects, the Zune HD mimics the iPod, and that makes it a difficult sell.
"Let's see — it's got 16- and 32-GB versions like the iPod; it's available in different colors like the iPod; it's got WiFi like the iPod; and it can store and play back music …," said Laura DiDio, principal at ITIC. "What makes you want to pick it over the iPod?"
The iPod has about 72 percent of the market, DiDio told TechNewsWorld. Over and above that, it's from Apple, with all that implies in terms of brand recognition, cachet and ancillary products.
"Apple sold 10.2 million iPods in the last quarter, down 800,000 from the 11 million they sold in the previous quarter, but that's partly the result of some cannibalization by the iPhone 3GS," DiDio said. "iPod touch unit sales grew 130 percent year over year."
While the Zune HD is a good device, it just doesn't have the chops to be a serious threat to the iPod, DiDio said. "Zune's competitive, but it's a me-too product, and I don't see a differentiator or a distinct advantage."
One advantage the Zune does have over the iPod is its price — a 16-GB Zune HD has an estimated retail price of US$219.99, and a 32-GB one goes for $289.99. Comparable models of the iPod touch retail at $299 and $399, respectively. Apple lists an 8 GB iPod touch at $229.
However, that advantage may be short-lived — DiDio expects Apple to match the Zune's prices.