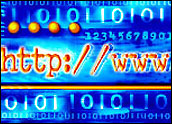 Everywhere you look today, you're hit right between the eyes with an URL. They pop up in TV ads, in ads on the big screen, on billboards, posters, soup cans, cereal boxes, on the sides of buses — just about anywhere.
If you see one that's interesting, and have pen and paper to hand, you may jot it down. But what if you're walking or driving? How would you capture the URL then?
The answer could be the smartphone — it's ubiquitous, it's handy, and you're not likely to leave home without it.
"You could do that with the smartphone camera and recognition software," Gartner VP and Distinguished Analyst Ken Dulaney told the E-Commerce Times. "I'm sure it will find its way into phones at some point, just like bar code scanning."
Smartphone Visual Options
Right now, you can capture URLs when you see them, whether you are stationary or mobile, with your smartphone camera.
"In Japan, you can use your cell phone as an electronic wallet; you can use RFID; you can use all kinds of things — but you have to have something that's transmitting information," Jim McGregor, a research director at In-Stat, told the E-Commerce Times.
While capturing URLs from print would not be feasible "because you'd have to scan that, and putting a scanner into a handheld device doesn't do it for consumer electronics," having the ad broadcast information that could be captured on the mobile device would work, McGregor added.
Some work is being done around 2D, or matrix, bar codes, which would need a scanner, and it would "drive a user to a specific URL on their mobile phone from a piece of physical media rather than capture an URL," Forrester Research analyst Charles Golvin told the E-Commerce Times.
The problem with this is, "there has to be an encoding standard for everything to be tagged or marked so you could scan it, and it would require everyone adopts that encoding scheme, and that's its Achilles heel," Jim Ready, founder and CTO of MontaVista Software, told the E-Commerce Times. "Google has to do it before everyone else will do it."
Is Voice the Answer?
Or, perhaps, voice recognition on the smartphone may be the way to go.
"We were watching some panel where someone said Google 411 has very good voice recognition, and there was a hypothesis that it could be put on Android," Ready said.
Android is Google's Linux-based wireless smartphone application platform.
"It would make more sense for me to say 'Find me a kebab place in San Jose' instead of trying to look for this information on my cell phone," Bill Weinberg, general manager, business development at the Linux Phone Standards (LIPS) Forum, told the E-Commerce Times. "That would be motivation, I would imagine, for improved speech recognition as opposed to improved image recognition."
However, speech may not be the answer: "Some things aren't pronounceable," Air2Web Chief Technology Officer Dale Gonzales told the E-Commerce Times.
Also, voice recognition is "notoriously lossy" because spoken words must be taken in context, Gonzalez said. "It's not a simple case of just recognizing the phonetic structure of words — it's understanding the conventions behind them. For example, when you say 'URL,' how do I distinguish between that and 'Earl'?"
Broadcasting Information
Perhaps it would be better to push information out to the smartphone.
We will "more likely see near-field communications technologies like RFID; embedding short-range, low-frequency transmission devices with a Bluetooth-style handshake on billboards; and advertising circulars that allow direct transmission without intermediate steps like audio or the camera," Gonzalez said.
Near field communications are another technology that can drive a user to a specific URL, Forrester's Golvin said.
Location-based services, where, as users pass a physical site, advertisements are beamed to their smartphones — possibly over Bluetooth or WiFi — or where advertising is attached to the medium or a message, are a possibility, Weinberg said.
"If you were placing ads and wanted to get feedback on the ads and raise interest, you could offer users deep discounts if they click on the URL," McGregor said, adding that this is already being done in text messages.
There are "almost unlimited possibilities in terms of pushing information automatically to users and making it easily selectable, McGregor added.
However, while that's sound thinking from a marketing point of view, it will probably trigger a backlash.
"How many consumers would want to walk into a shopping mall and be blasted with ads?" McGregor asked. "You'd get into this whole problem with consumer privacy. Is it feasible? Yes. Would it bring up privacy concerns? You'd better believe it."
Leaving the URLs
Perhaps the real problem, apart from privacy issues, is that the URL itself is in the way.
Real estate is limited on the smartphone, so "you could extend the idea of short codes, like using memorable numbers such as 26161," Gonzalez said. "There's a movement within the phone space to take that which they're good at — numeric entry — and extend it so it addresses more than just URL captures."
Or perhaps service providers should look at using the semantic Web — where the meaning of information and services on the Web is defined so the Web can understand and respond to requests.
So, instead of going to Amazon's Web site and then searching for a particular book, the semantic Web will take the user to the specific page where the book is featured.
"Those deep links that are directly tied to an offer of a specific product have much more meaning and relevance when mobile than just a company's Web site," Golvin said.
That is why iPhone users are doing Web searches more frequently than users of other devices, Weinberg noted.
"Instead of typing URLs, people are simply entering content they want, and that's becoming more common on the desktop as well," Weinberg said. "Living by search content obviates the need for URLs on a day-to-day basis."