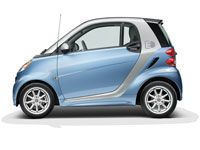 While Smart cars may be good for the environment and financially beneficial to owners, more so than other vehicles, those benefits are wiped out when a gang of vandals tips one over.
A group of as many as eight people dressed in black tipped over four of the cars in a San Francisco residential area this week.
One of the cars was upended onto its rear, with the lights pointing at the sky, one was on its roof, and the others were on their sides. The tippings took place within a one- to two-square mile area in the city. The car weighs around 1,800 pounds when unoccupied.
Police in the city started an investigation into the incident after the first reports early Monday, according to CNN.
No Surveillance
Finding the suspects may prove difficult. It appears unlikely that surveillance video was available in the residential area for investigators to view.
The suspects would face felony vandalism charges if apprehended, San Francisco Police Department spokesperson Gordon Shyy told TechNewsWorld. They could face jail time if convicted.
The department is not close to identifying the culprits, but the incident appears isolated in the city, as there have been no other recorded incidents of cars being tipped in that way. That said, vandals have been tipping Smart cars in other cities throughout the country.
There's speculation that the car tipping could be linked to the anti-tech industry movement that's been growing in the Bay Area. Protesters have hampered Google's shuttles as they have tried to take employees to work. They have demonstrated outside Twitter's headquarters against the tax breaks it gets from the city.
Rose Targeted
Protesters last weekend targeted Kevin Rose, founder of Digg and a venture partner at Google Ventures, for enabling the "tech startup bubble that is destroying San Francisco," according to a flyer handed out to Rose's neighbors.
Many demonstrators are angry that the influx of high-paid tech entrepreneurs and employees has been pushing up rents, forcing longtime residents to leave and hampering San Francisco's character.
However, it's not yet clear whether the car tipping is related to the anti-tech movement.
"Until we have the suspects in custody, it's hard to determine a motive," police spokesperson Shyy said.
Target Customers
It's also unclear whether eco-minded tech entrepreneurs are within the demographic of Smart car buyers. Target customers apparently include those who enjoy new and interesting designs, along with Millennials, urban residents and environmentalists.
Sales of the vehicle in North America are small, so it's difficult to pin down who exactly is buying the car, said Dennis DesRosiers, founder of DesRosiers Automotive Consultants.
Smart Car's Image
The incidents appear unlikely to have a strong effect on the image of the Smart car.
"At this point, it seems isolated," DesRosiers told TechNewsWorld.
"They're very popular in Europe; they're very unpopular in North America, selling just a handful of units. It's a very specialized market, and owners of these things in a small niche market tend not to be following big trends. I would suspect [the incident will have] little to no effect on the image," he explained.
"Any negative publicity is not good for any make or model, so you can't say that it won't affect sales," DesRosiers added, "but like I say, sales are so minuscule, I'm not sure how much smaller they can get."