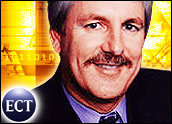 This last month saw a number of dramatic changes, not the least of which was the involuntary departure of HP's CEO, Carly Fiorina, and the voluntary departure of her closest supporter, Alison Johnson, who was largely responsible for turning HP into a marketing powerhouse.
I'd like to relate those two exits at HP to something I noticed last week, when I had the honor of speaking to two classes at Western Washington University, the first on journalism and the second on public relations. The topic of most interest at these classes was this: "How do I find a job like yours?"
I love my job but haven't always, and I remain concerned that a lot of people I know, many of them in lucrative positions, hate what they do and live weekend to weekend. For me, work is play, and I find it hard to imagine ever doing anything else.
Carly as CEO
Let's take a look at HP and see what it can tell us about finding work we love.
I've had the honor of meeting Carly Fiorina and observing her at work over the last several years. She was one of the most powerful executives in the world — articulate, intelligent, physically attractive and charismatic. There seemed to be little she could not do, which is likely why she got the job as HP's CEO in the first place.
But to hold the job she needed to do the job, and that was the problem. In any position there are things you like and things you don't; as long as there are more things to like, you'll probably be happy. Carly didn't seem to enjoy the social aspects of her position. As a CEO you need to win more and more allies in the company and ensure that they remain in power. But as her career progressed at HP, Carly's support seemed to decrease.
The position of CEO requires you to serve as the most powerful spokesperson for the firm, but you also need to keep a close eye on the people who manage operations. Carly thrived on the publicity and fame that came with the job, but she seemed increasingly uninterested in HP's internal workings.
Finally, employees at any level need to do the jobs they're paid for; if you have other interests, they should be subordinated to your job. Carly took active roles in a number of political campaigns, and her participation helped both the California governor and the U.S. President get elected. HP's performance, however, was not meeting the board's expectations.
Because she really didn't enjoy the job of CEO, she spent her time on things other than CEO work, and she lost that job as a result. She did last far longer than the 18 months averaged by outside CEOs, but being removed by your board before you can execute your vision can never be considered a success.
Johnson as Marketing VP
During Carly's reign, HP's VP of marketing, Alison Johnson, took a stick-in-the-mud company that couldn't market to save its life and turned it into a marketing powerhouse. With passion for a department long undervalued at HP, she exceeded expectations and built a marketing team that now rivals that of Apple.
For someone with a passion for marketing, Apple is the place to be. A few years ago, if you were to suggest an HP marketing person was qualified even to apply for a job at Apple, people would have thought you were drunk. By applying her passion for marketing at HP, she created an opportunity to move to a top position at Apple, the one company in the tech segment that fully understands the power of marketing.
Even with a massive compensation package, Carly couldn't get excited about her job, and she may have prematurely ended her career as a result. Alison, on the other hand, felt and acted on her passion, and she was able not only to help HP but also to move to a firm that was a better fit for her talents. Both are probably happier now than they were, but the path to a better job is likely better than the path to unemployment.
The Cost of the Wrong Path
At any time during your career, you may find yourself wondering if you are on the right path, and you may feel that you are underappreciated, overstressed and unhappy. Maybe you feel that it will get better, or maybe you no longer care as long as you are getting a paycheck. I've had a chance to watch companies come and go over the years, and the firms that decline are those that have a lot of employees who are simply doing time.
I've also noticed that when people leave jobs they hate to work someplace else, they often find the new job is worse than the one they left. I have rarely seen situations where, when a person is fired, he didn't feel he would like to go back and do some things differently in order to avoid that fate.
It is traumatic both to work in a job you hate and to get fired. Avoiding both experiences can go a long way toward insuring your own happiness and that of the loved ones around you — for when we are unhappy, we tend to make those around us unhappy as well.
Picking the Right Path
Take a moment to write down what you like about your job and what you don't like. If you are still in school, spend some time talking to people you admire about their jobs. Document what it is you like and what it is you don't like. Do you like managing people and being responsible for them, or would you rather contribute more directly to a task? Do you like repetitive work or would you like the freedom, and responsibility, to define what you do?
Don't worry as much about compensation. You'll undoubtedly find that if you love something, the amount you are paid for it becomes less significant. If you focus too much on the perks, you'll end up selling your life, and the one thing that is irreplaceable is time.
I waited until my 40s to focus on finding my ideal job, and I found it. It's never too late. Don't wait another moment. Whatever it takes, find a way to enjoy every moment you have. If you are just about to join the workforce, make this quest your passion, and you may find that retirement will come too soon.
---
Rob Enderle
, a TechNewsWorld columnist, is the Principal Analyst for the
Enderle Group
, a consultancy that focuses on personal technology products and trends.
---