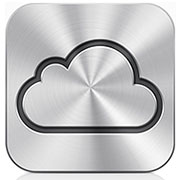 "Celebrities are stupid" seems to be the message Apple delivered last week as it attempted to recover from the release of an impressive number of nude pictures of celebrities on the Web. Fans of BlackBerry, which used to be the preferred platform for celebrities, had a field day over this.
I've often pointed out both that Apple has the most loyal customer base and that without Jobs, it seems clear it has no clue how to protect it, which is just one reason Apple historically has gone into decline when Steve wasn't at the company.
If you have folks who are loyal to you, then even if they screw up, you don't throw them under the bus — particularly if they depended on you to keep them safe and it was your service that was the source of their pain.
I agree with Jon Stewart that Apple is at fault for this scandal and would add that the practice of throwing your low-cost celebrity advocates under the bus is a great way to return the firm to the glory days of the 1990s when it was going out of business.
I'll go deeper into that this week and close with my product of the week: an interesting new tablet from Intel, backed by AARP, for older folks who are afraid of technology.
Celebrities Are Stupid…
When it comes to technology, most celebrities are clueless. Like anyone else who develops expertise in one area, they aren't going to be experts at everything else. You generally aren't going to hand celebrities a tool set and ask them to fix your car, operate on you if you need medical work (even if they do play doctors on TV), or be experts at security.
In fact, most customers are stupid when it comes to the technology and products they use.
However, standing back and pointing to its customers' shortcomings isn't a good practice for a company that wants to preserve loyalty. It is part of its job to ensure that we don't make stupid choices and to give us the information we need to make good ones.
In short, a good company doesn't blame its customers for a problem like leaked private photos — it uses the fiasco as a teachable moment and enhances its service and training to make sure the customer will become a stronger part of the solution instead of continuing to be part of the problem.
Worse for Apple
This creates two unique problems for Apple. First, it is ramping for what likely is the most important launch its new CEO has ever managed. It is doing a major refresh of its iPhone, which currently is carrying the company's stock valuation, and it is trying for an iPod/iPhone/iPad event with the iWatch. This is the first launch of a new category without Steve Jobs — and if it flops, Tim Cook is likely done.
Going into the launch, folks aren't talking as much about how wonderful these products are — they are talking about how weak Apple security is. Also, several of the celebrities whom Apple effectively called "stupid" seem focused on comparing Apple to dog excrement. Celebrities in general may have shifted very quickly from a largely rabid audience that wanted whatever Apple launched to one that is highly critical.
Apple has gotten celebrity advocates very cheap. It just had to give them a free phone or other Apple product. Compared to the hundreds of thousands of dollars celebrities typically make as advocates, that's quite a bargain. In fact, I'll bet a large number of these celebrities don't even know Apple would have given them a free phone and have bought one for themselves instead.
Celebrities are a very valuable asset, and Apple may have just blown up its relationship with them with its actions. These folks typically would lead the rave in favor of Apple's new offerings, but now they are more likely to bad-mouth the company because they are upset about how Apple treated them as a group. Instead of providing free high-profile advocacy, many may now work against Apple.
The Cloud and Passwords
When it comes to the cloud, we all need to become a bit more informed than we are in order to properly use cloud services. First, passwords inherently are unsecure. One not-so-funny-thing about this is that when I was working at IBM in the 1980s, we did the definitive report on passwords and determined that only an idiot would use them for security. Nearly 30 years later, we are using passwords — and their poor cousins, PINs — by default.
What you need to know is that if you use trivial passwords and obvious challenge questions, you will get hacked. The cost could be anything from having intimate photos published on the Web to having your bank accounts emptied, your credit scores destroyed, and your identity stolen.
I've noticed that my credit union and Microsoft have moved aggressively to dual factor authentication, but you could still get caught up — as I did — if someone can figure out your challenge questions and call in with both a password reset and a new email address.
For challenge questions, don't use ones folks can look up the answers to on the Web. I've become an advocate of using uncomfortable words instead of the real answers to these questions, because you don't want to share them with anyone.
Wrapping Up: Teachable Moment
This is what you call a "teachable moment" for consumers. It reminds us to use complex passwords and to turn on extra security features in our services so we don't get hacked.
Regardless of what Jon Stewart said on his show, using a connected device to take nude shots isn't something anyone not wanting those pictures to go public ever should do. The whole point of connectivity is sharing — and if you don't want to share pictures widely, you should use a non-connected camera. Just saying…
Still, for Apple this should have served as a reminder that celebrities have given the company a very valuable service for almost nothing, and giving those celebrities extra protection rather than calling them idiots would have been a better response.
Product of the Week: Intel-AARP RealPad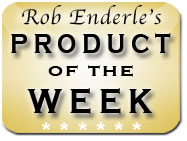 It seems a growing number of folks are scared to death of technology, and the nude picture thing likely didn't help. Personally, I don't share nude pictures of me because I'm trying not to cause the extinction of the race, but there are a lot of older folks whom we want to connect with who are afraid to use a tablet or a PC. As a result, they are missing out on special moments with their children, grandchildren, and great grandchildren, and these younger groups aren't as connected with them as they would like to be.
Intel and AARP got together and are bringing to market an Android-based tablet designed to address this unique need.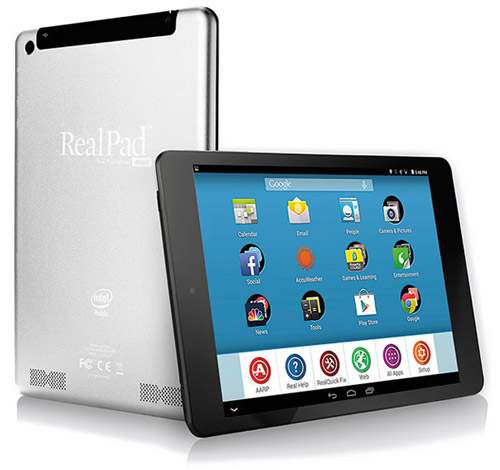 RealPad – a Tablet for 50-Somethings and Beyond
The RealPad is a simple tablet designed to be easy to use and very easy to repair if broken (one-click utility), giving users the flexibility to access and research the Web when and where they need to in order to stay in touch and be more informed. It will be sold by Walmart, which ensures it will be inexpensive.
Christmas is coming, and this might be a nice gift for aging relatives you want and need to stay in touch with, allowing them to interact more easily with their aging friends, as well as to better keep track of medical advancements. In the end, addressing the needs of my own age group is something I have to applaud, so the RealPad is my product of the week.