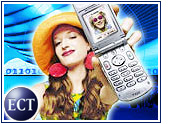 Do you hate your cell phone but can't live without it? You're not alone. Nearly one in three adult Americans told researchers in a study released Wednesday that the cell phone was the invention they hated most but couldn't live without.
Thirty percent of the adults in the researchers' sample put the cell phone at the top of their necessary evils list, 25 percent chose the alarm clock, and 23 percent picked television.
The findings were part of the eighth annual invention index study sponsored by the Lemelson-MIT program at that Cambridge, Massachusetts, university.
No Looking Back
Program director Merton Flemings told TechNewsWorld that he wasn't surprised to see the cell phone perched atop the despised-but-essential list. "Cell phones are new and they're so much with us, both for the good and the bad," he said. "The good for bringing us together; the bad for interrupting us when we want to be alone or quiet with friends."
Although cell phones can be intrusive in our lives, Flemings noted, "Most of us would not like to go back to the bucolic days before the cell phone."
Some of us, however, would like just that. "I hate my cell phone so much that I don't use it," Brad Paul, a senior program officer at a family foundation in San Francisco, told TechNewsWorld. "It's been sitting on a shelf gathering dust. I'm probably going to sell it on eBay or something."
Turn It Off
"I think we all agree that cellular users can't live without their phones, but there are times when they wish to be alone," John E. Redman, a senior communications manager for Nextel in Bedford, Massachusetts, told TechNewsWorld. "Our response to them would be to turn your phone off."
Redman said the results of the study surprised him. "I think that some people find cell phones annoying because they're disturbed by someone else's, not by their own," he observed.
"I could live without a cell phone, but it would make my life much more of a pain in the ass not to have one," Constantine von Hoffman, a freelance writer and budding stand-up comic in Brighton, Massachusetts, told TechNewsWorld.
He said he uses his cell phone primarily to manage the care of his son. "Ninety percent of my cell phone calls are to my wife," he noted.
Inventiveness Eroding
In addition to the cell phone findings, the survey revealed concerns by those surveyed over the ability of the United States to remain innovative.
More than half the adults (57 percent) and teens (55 percent) surveyed said the United States will lose ground to other countries over the next 10 years in terms of innovation. Those perceptions support preliminary observations from a recent workshop on intellectual property held by the MIT program that revealed foreign entities are to receive more U.S. patents within the next few years than American entities.
"Patent applications are only one indicator of the inventiveness of a population," said Brent A. Hawkins, an attorney with the law firm of Wallenstein Wagner & Rockey in Chicago. "Much innovation occurs that is not suitable for patent protection. Many things are invented that are more appropriate for other intellectual property regimes, such as trade secrets."
Incentives Needed
Brad Hulbert, an attorney with the Chicago law firm of McDonnell Boehnen Hulbert & Berghoff, added via e-mail: "Americans will continue their technical leadership, providing that businesses have the incentive to invest in research and development. This incentive is directly tied to how predictably such businesses can defend their innovations against copiers."
One development that may have a negative impact on America's future generations is the growing emphasis on standardized test scores, according to program director Flemings. "Spoon-feeding kids information is important," he said, "but having the right kind of classroom setting, the right kind of place to allow the kids' creativity to flower, is important, too. Those kinds of things are being crowded out of our curriculum as we concentrate more and more on test scores."