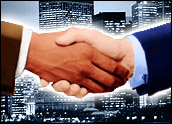 Internet security firm Check Point Software Technologies announced that it has completed the acquisition of NFR Security and is nearing completion of it purchase of Protect Data and Pointsec Mobile Technologies.
Company officials said the acquisitions will help Check Point expand its reach into the data security market. The acquired technologies will be an important part of Check Point's core platform enhancement, according to Gil Shwed, founder and chief executive officer.
The company will continue the focus begun three or four years ago on acquiring companies to expand its security product offerings, said Dave Burton, director of product marketing at Check Point.
Data Threats
"This is a big initiative, and we will continue this year with security acquisitions," Burton told TechNewsWorld. "We are pushing hard in doing this to better protect our customers' data."
Stopping ongoing threats to data is a pressing need, according to Laura Yecies, vice president of Check Point. She also serves as general manager of anti-intrusion software developer ZoneAlarm, recently acquired by Check Point.
"Our vision is to look at securing data across the network, especially mobile devices," said Yecies. "These purchases allow us to add signature-based protection. Connecting technology with firewalls is so very exciting for us."
Yecies said that the Pointsec acquisition was a vital component of achieving that vision. Pointsec has the leading product, she said.
Pointsec delivers automatic data encryption on mobile devices.
Acquisition Overview
Check Point delivers security solutions for businesses and consumers worldwide. Through its NGX platform, it provides a unified security architecture that integrates manageability and security across the full network infrastructure.
NFR Security's real-time threat protection systems secure business networks against four primary threat points: automated malware, information leakage, vulnerability windows and unsanctioned network changes.
NFR's Sentivist Real-Time Threat Protection attempts to block intrusion attacks, zero-day attacks, anomaly exploits, malicious code, backdoors, command tampering and polymorphic buffer overflows.
The acquisition will allow the company to enhance its own SmartDefense product line with NFR's Hybrid Detection Engine (HDE), Check Point officials said. The result will provide real-time attack prevention by combining preemptive, type-based protection in SmartDefense with attack detection provided by the HDE technology.
Check Point is already integrating NFR's intrusion detection and prevention (IDS/IPS) technologies into its existing network security portfolio of firewall, VPN and security management solutions, according to company officials.
Deal Details
Check Point also announced that it has completed the cash tender offer to acquire the Swedish firm Protect Data for a price of 187 Swedish kronor (US$26.66) per share.
The company received acceptances of the offer from holders of 20,012,234 Protect Data shares, representing approximately 87.1 percent of the outstanding shares, and 104,700 warrants, representing approximately 81.8 percent of the outstanding warrants, Check Point Officials said.
On a fully diluted basis, the shares and warrants tendered represent approximately 87.1 percent.
Company officials agreed to acquire the shares and warrants which have been tendered for a total cost of approximately 3,764 million Swedish kronor(US $534 million), according to written statements from Check Point.
"This acquisition is a major step in our strategy for expanding Check Point's unified security architecture into data security," said Shwed.
"With Pointsec's world-class solutions, Check Point can provide customers with best-of-breed data security solutions that complement our leading network security solutions," he noted.